News
Star Trek: Discovery Showrunners Fired
Aaron Harberts and Gretchen Berg have been replaced by Alex Kurtzman amid reports of bullying and budgetary issues.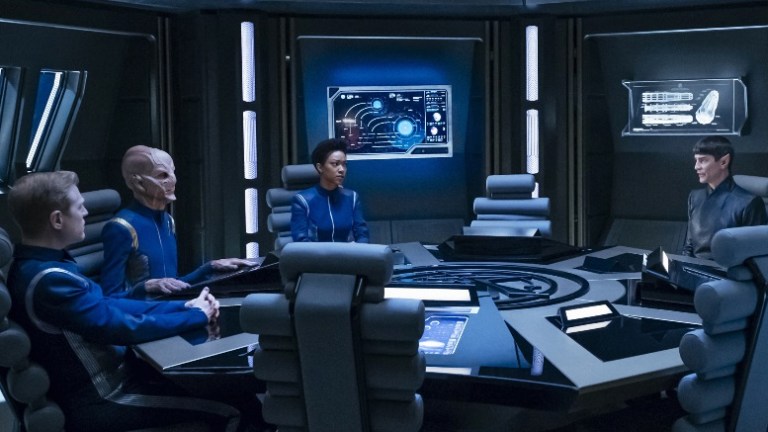 Fans hoping Star Trek: Discovery would be able to smooth out its behind-the-scenes woes in Season 2 might have to wait until Season 3.
According to THR, Star Trek: Discovery showrunners Aaron Harberts and Gretchen Berg have been fired following budgetary concerns and reports of staff mistreatment. This is the second time CBS has dismissed the Star Trek: Discovery showrunner. In the first season, showrunner Bryan Fuller was fired amidst budget and creative disagreements prior to the series' start.
Executive producer Alex Kurtzman, who directed the series premiere, will take over as showrunner in a transition that will coincide with a planned production hiatus between Episodes 5 and 6.
"We've made some producer changes at Star Trek: Discovery," CBS Television Studios said in a statement to THR. "The series continues under the creative vision and leadership of executive producer and co-creator Alex Kurtzman. Discovery remains on course for season two in 2019 with new and continuing stories that build on its successful premiere season."
According to THR's sources, Berg and Harberts went over-budget on the Season 2 premiere, but it sounds like the larger issue leading to their departure was alleged harrassment. Multiple writers were reported to have come forward to inform Kurtzman of bullying, including an incident in which Harberts reportedly leaned across the writers room table at one point to shout expletives at a member of the writing staff. When hearing rumors that members of the writing staff were planning on filing a complaint with HR, Harberts reportedly threatened the staff to stay quiet.
In addition to Harberts and Berg, executive producer Akiva Goldsman has also left the show, reportedly due to a clash with the writing staff in terms of management style and personality. It doesn't sound like anyone in the writers room has had a very good time so far, which is a shame given the excitement, ambition, and themes of this project. Star Trek: Discovery is expected to be back in 2019. We're still excited, even if it sounds like the making of this often delightful show is a bit of a mess.
For more information on Star Trek: Discovery Season 2, check out our news hub.