News
Star Trek: Discovery Season 2 Cast, Episodes, Trailer, News
Here's everything you need to know about Star Trek: Discovery Season 2, including links to all of our reviews.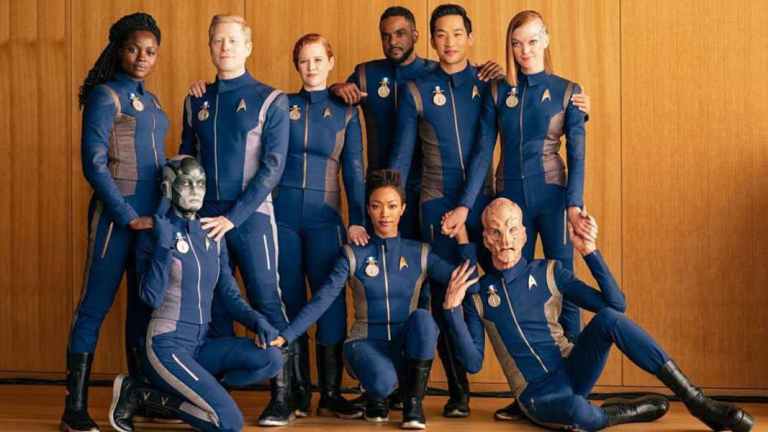 The show has cast Inhumans' Anson Mount as Captain Christopher Pike, a role previously held by Jeffrey Hunter in the unaired Star Trek pilot, Sean Kenney in original series Star Trek episode "The Menagerie," and Bruce Greenwood in the new Star Trek movies.
read more – Star Trek: Discovery Season 2 and the Reintroduction of Captain Pike
Ethan Peck will play this series' version of Mr. Spock. We have more details on that here.
Tig Notaro has been cast in Star Trek: Discovery Season 2. According to Variety, the comedian will guest star as Chief Engineer Denise Reno of the U.S.S. Hiawatha.
Will we see more of Rainn Wilson as Harry Mudd? We certainly hope so. But he did tell us about his excursion in the Mudd-focused "Short Treks" episode, "The Escape Artist." You can read all about it here.
Star Trek: Discovery Season 2 Trailer
Here's the full-length trailer for Season 2 that has tons of goodies in there, both for long-time fans and fans of this show specifically. The stakes look very high in this new season, but Spock is smiling, so things can't get that dark, right?
Star Trek: Discovery revealed this trailer during its scheduled appearance at New York Comic Con. It's pretty standard, action-packed stuf…hey! Who is that bearded Vulcan?
Here's the first trailer for season 2 coming out of Hall H at San Diego Comic-Con…
We've also got this featurette previewing "what to expect" from Season 2, with a special focus on the "cinematic" look of the show…
Earlier, CBS All-Access released a behind-the-scenes sneak peek at what we can expect from Season 2. Most notably, the video includes some voiceover from Captain Pike in "The Cage," Star Trek's original pilot, which is just pretty cool…
Star Trek: Disovery Season 2 Story
Showrunners Gretchen J. Berg and Aaron Harberts explained to the crowd at SDCC that Star Trek: Discovery season 2 will edge away from "the backdrop of war" and into a "more exploratory phase and a more diplomatic phase," steadily becoming "a bit more of a Trekian chapter."
After fielding several questions from the audience about the continuity of the show, Harberts went on to confirm that Discovery is indeed in the Prime Timeline, and that season 2 will reveal a bit more about how that stitches up to our current knowledge of Trek history:
The idea was to always be in the Prime Timeline. Obviously, there are questions and concerns and things that are different. Our technology is a little different. We have a ship that runs very differently. We are our own show in a lot of ways. Season two is really exciting for us. This is our opportunity to really show how Discovery fits into this Prime Timeline. We are firmly committed to that.
Kayti Burt is a staff editor covering books, TV, movies, and fan culture at Den of Geek. Read more of her work here or follow her on Twitter @kaytiburt.