News
Star Trek: Discovery Season 2 Reveals New Spock
Ethan Peck spoke about stepping into the iconic role in Star Trek: Discovery Season 2.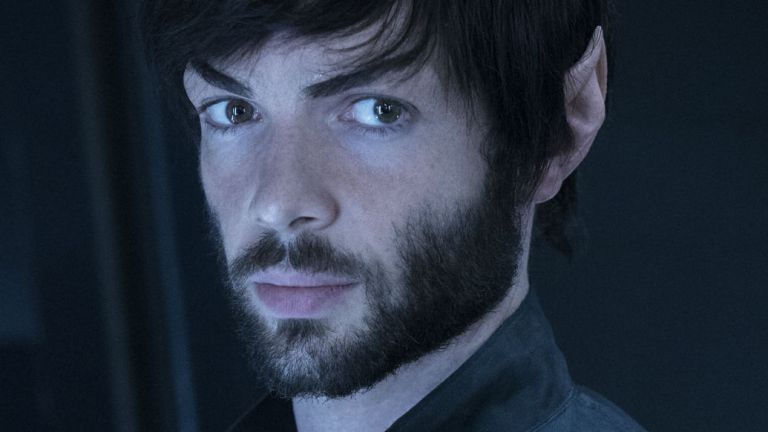 While we've known for a bit that Ethan Peck would be taking on the role of Spock in Star Trek: Discovery Season 2, the actor was properly introduced in this capacity to the Star Trek fandom at New York Comic Con, which saw Peck on stage with his Disco co-stars and creators to tease Season 2.
"It was a long audition process," said Peck, who is apparently currently reading a biography of Leonard Nimoy, of how he got the role. "At the beginning, I didn't know what I was reading for. And so I knew it was for Star Trek and this guy was struggling with emotion and logic, and duh. Later on, I found out who it was and was like, 'Oh my gosh.'"
Peck said he had a lot of anxiety going into the last audition, but decided that, whatever happened, it was "an amazing experience to brush up against this character and this world." Ultimately, of course, he did get the gig, and Peck said he sat down on a curb and cried for 15 minutes when he got the news.
How did Peck feel when he first got on set, put on the ears, and got to work?
"I had all this work to do ahead of me," said Peck of the initial, humbling and daunting experience. "Now, I feel like a little bit of ownership over it, but at the beginning, it was just like: Wow, this is such work, and what big shoes to fill. It felt kind of strange and wild and terrifying, but it kind of pulled me to the future, and here we are."
While fans have yet to properly see Peck's performance as a younger version of the iconic character (though we do catch a glimpse in the new trailer), his co-stars are already singing his praises.
"I just love how much he gives," said Sonequa Martin-Green (Michael Burnham) at the NYCC panel. "I love his soul. He has brought his entire soul to this. He knows full well what it means, and has given his all to it. And it's been very inspiring to see. And we have become very close very quickly and I could not ask for a better brother. You guys are gonna be wowed by him."
Kayti Burt is a staff editor covering books, TV, movies, and fan culture at Den of Geek. Read more of her work here or follow her on Twitter @kaytiburt.
Read and download the Den of Geek NYCC 2018 Special Edition Magazine right here!