News
Star Trek: Discovery Season 2 Casts Captain Pike
Anson Mount will play Captain Christopher Pike on Star Trek: Discovery Season 2.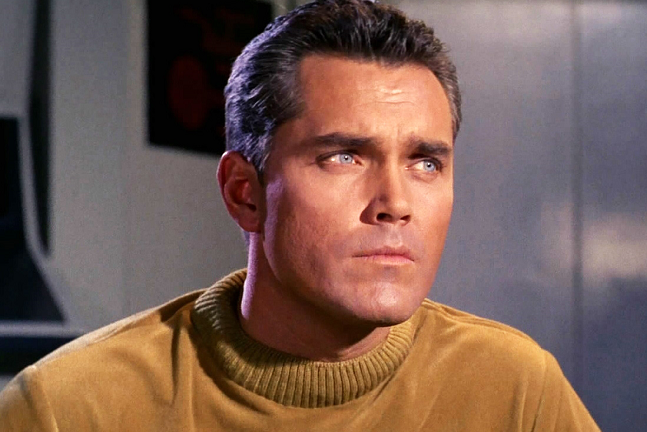 Warning: This article contains spoilers for the end of the first season of Star Trek: Discovery.
The Star Trek: Discovery season finale dropped a massive photon torpedo on fans, with the revelation of the original Enterprise coming into contact with the Discovery. We outlined the potential implications of that here. But the biggest one, of course, is whether we'd meet any members of that crew. The answer is yes, as Variety revealed that Anson Mount (Hell on Wheels…we won't mention Inhumans) will play Captain Christopher Pike on Star Trek: Discovery Season 2.
The role of Captain Pike was originated by Jeffrey Hunter, who played the role on the original, unaired pilot of Star Trek, "The Cage." The series was retooled before air, bringing in a mostly new crew and a new Captain in the form of William Shatner as James T. Kirk. Hunter's Captain Pike was an older, more seasoned, haunted character than what we eventually got with Kirk, and it was later revealed that his Starfleet career had met a tragic end.
Hunter's performance did eventually make it to air, when large sections of "The Cage" were used as flashbacks in the two-part episode "The Menagerie." In it, we meet the current day Christopher Pike (this time played under heavy makeup by Sean Kenney), disfigured by radiation burns and confined to an electronic wheelchair. Kenney's scenes as Pike were used as a kind of framing sequence that allowed the story of "The Cage" to be presented.
The character was also played by Bruce Greenwood in JJ Abrams Star Trek (2009) and 2013's truly dreadful Star Trek Into Darkness. Greenwood's interpretation was great, but was killed off, and that would seem to be the end of him. So at least we'll get to see more of Pike in the original timeline. Pike has also popped up in several novels and other "expanded universe" Trek properties,
But if Captain Pike and his Enterprise are going to appear on Star Trek: Discovery Season 2, then it's an absolute certainty that we're going to meet the Discovery version of Mr. Spock, as well. Spock was Pike's science officer on the Enterprise before Kirk took command and promoted him to First Officer, and with the show already demonstrating ties to Spock, then this is the natural next step.
The big question, then, is who will fill such an iconic role for the small screen. Even fans who aren't necessarily too high on the new Star Trek movies agree that Zachary Quinto has done an excellent job with the role, impressive considering that filling Leonard Nimoy's pointed ears and blue shirt once seemed completely impossible. It wouldn't be such a bad idea to try and convince Quinto to come back for this. And will we meet Doctor Boyce, Number One, or Yeoman Colt, too?
There's no premiere date yet set for Star Trek: Discovery Season 2, but we expect it will be in Fall 2018.