News
Star Trek: Discovery Has an Explanation for Why Spock Never Mentioned His Sister
Sonequa Martin-Green teases Star Trek: Discovery Season 2, including a possible explanation for Spock's sister-related amnesia.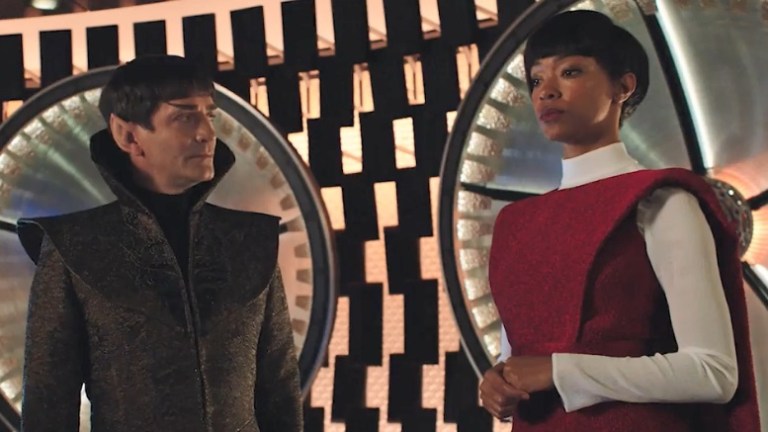 Star Trek: Discovery Season 1 ended on a hell of a cliffhanger, with the Discovery responding to a distress call from none other than the U.S.S. Enterprise. In a recent interview with Deadline, series star Sonequa Martin-Green discussed what we can expect from Star Trek: Discovery Season 2 following that canon-crazy ending…
"We all know who is on the Enterprise," teased Martin-Green. "You see Sarek and Burnham look at each other, and there you have it." That would be Spock, aka Sarek's son and Michael Burnham's brother, who we know we will at least be seeing in flashbacks come Season 2.
Martin-Green said that Star Trek: Discovery has an explanation for why Spock never mentioned his sister Michael in previous canon: "Alex Kurtzman, who helped create the show with Bryan Fuller, who obviously worked very closely with J.J. for his franchise of Star Trek films, said, 'I know a lot of people are asking why he didn't ever mention her.' He was like, 'Trust us. There will be an explanation.'"
It's tricky creating new canon that runs parallel or directly preceding what has come before, but Star Trek: Discovery does have a strategy, says Martin-Green.
"That's what happens when you come into this time period where you're couched between two iterations," said Martin-Green. "There's a lot of those things where you can only go so far, or you have to find loops or whatever, as it surfaces in the story. We are so canon-specific and canon-compliant, and the moments where we are not, there is a reason for it."
Of course, Spock isn't the only lingering question we have following Star Trek: Discovery Season 2, and the show is more than aware of that.
"We've been talking a lot gearing up for Season 2, about that story we're going to tell, and how we're going to continue, and how we're going to jump off, because the war chapter has come to a close," teased Martin-Green. "What happens now? What happens now that the war is over?"
The best part of Martin-Green's musings about Season 2, in my totally subjective opinion? The hint that we will be getting more character-driven, quieter moments in the second season of the space show.
"A lot of what happened to Michael Burnham and all the characters wasn't able to be delved into because there just wasn't time, because we were dealing with this war," said Martin-Green. "Wrestling with all of these things, it's like you have to sort of put it aside because of the immediacy of the moment. I'm thrilled to see what happens when the chips fall and things are done now. Now what are we going to do? How are we going to look at ourselves in the mirror? How are we going to look at each other?"
For more on what to expect from Star Trek: Discovery Season 2, check out our news hub.