News
Star Trek: Discovery EPs Discuss Stamets & Culber's Future
Star Trek: Discovery's executive producers have asked fans to be patient in the wake of the show's recent plot twist.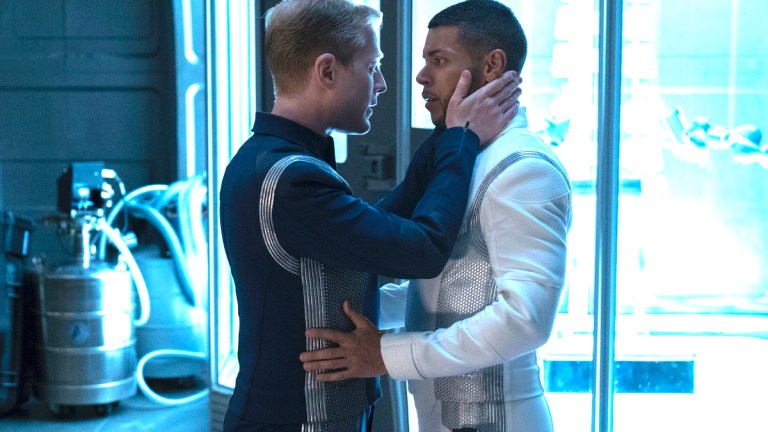 Warning: This article contains major spoilers for the Star Trek: Discovery midseason premiere.
Star Trek: Discovery's midseason premiere included a heartbreaking death in its third act when an unstable Lieutenant Tyler snapped the neck of Dr. Hugh Culber.
The move immediately came under criticism, including from this reviewer, for the frustrating way Culber's death seems to reinforce the "Bury Your Gays" trope, the name for the TV pattern that sees one character in a queer relationship killed off, preventing a happy ending for the queer romance. Autostraddle compiled a pretty impressive/depressing list  of all the dead lesbian and bisexual TV characters and how they met their end in 2016.
However, according to the Star Trek: Discovery team, there is more to this plot development than meets the eye.
Discovery executive producers Aaron Harberts and Gretchen J. Berg were very conscious of the "Bury Your Gays" trope when writing Culber's death—so much so that, according to Buzzfeed, they reached out to GLAAD for feedback when writing it.
GLAAD spokesperson Nick Adams said: "Death is not always final in the Star Trek universe, and we know the producers plan to continue exploring and telling Stamets and Culber's epic love story."
Harberts and Berg additionally had this to say in an attempt to assure fans that they are very aware of the trope, and are working to subvert it. Here's what they had to say:
Inclusion and diversity have been a cornerstone of Star Trek for over 50 years, and Lt. Paul Stamets and Dr. Hugh Culber represent an important part of Star Trek: Discovery – both as individuals and as a couple. These characters, played by the talented and trailblazing Anthony Rapp and Wilson Cruz, have a relationship that is inspirational to many. We know it might seem like the end for Wilson Cruz and his character, but this is just one chapter in an epic love story that has just begun.
In other words, Wilson Cruz's Hugh Culber will be back in some form, and his relationship with Stamets will continue. I am willing to wait and see how this plays out, especially given the show's efforts to assure viewers. Television is a unique medium in that, especially in a serialized format, an episode is only one part of the larger story.
"I give you my word that this is not what that is," Wilson Cruz told Buzzfeed, regarding the "Bury Your Gays" trope. "What's being planned is something we haven't really had an opportunity to see LGBT characters experience. I'm really excited about it."
In the Mirror Universe, anything can happen.