News
Star: Trek Discovery Cast Talks Season 1 Romance
Will there be any romance in Star Trek Discovery: Season 1? Here's what the cast had to say at NYCC...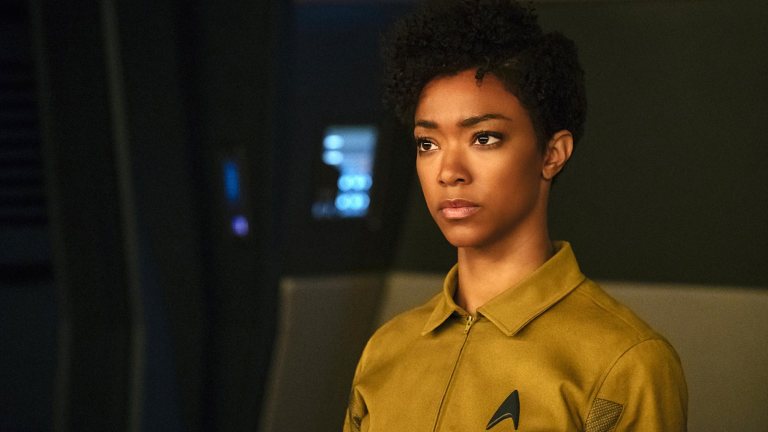 Thus far in Star Trek: Discovery there hasn't been a lot of time for romance, what with the mutinying and the starting of wars. But it doesn't sound like it will stay that way forever. When asked by a fan at today's New York Comic Con panel about the romantic future of her character Michael Burnham,  Sonequa Martin-Green said:
"There's all kinds of life on this show and I think it's very courageous in that way, our story, and that's probably all I'm gonna say … We're covering everything with everyone. You see what I'm saying?"
That sounds like a "yes" to the romance question, which is nice to hear. Romance has always been a part of the Star Trek story.
Everything You Need to Know About Star Trek: Discovery Season 1
Speaking more generally about Burnham's emotional point-of-view, Martin-Green said her character will be suffering from immense "inner turmoil" in Season 1.
Growing up on Vulcan, I had to find something about my emotions to be a point of strength. I had to find them helpful in some way. And so that's the way I did it. I decided that my emotions helped me carve out new paths of logic,a nd so that would help me in the midst of this logic-based society. But then those sorts of emotional sensibilities have led me to where I am now.
Martin Green added: "I really love that this path is one of self-discovery, for sure … but it is also a path of redemption, as well, and the yearning for that will always be there, that yearning for that absolution."
But let's get back to the romance…
Wilson Cruz teased the introduction of his character Hugh Culber in tomorrow night's episode.
"I can talk about the fact that I'll be seeing you tomorrow night on Star Trek: Discovery with my boo, my space boo," Cruz said, referring to Anthony Rapp's character Lieutenant Paul Stamets, who is in a relationship with Culber, representing the first openly gay couple in Star Trek TV canon.
"I can talk about the fact that I couldn't be more proud to be working with my friend of 20 years again," Cruz continued (he and Rapp starred in the original cast of Rent on Broadway together), "and I couldn't be more proud to be a part of Star Trek TV's first gay couple. And I can say how much that means to me, personally, as a fan of the series and as a member of the LGBT community."
Cruz added:
And I am proud of the fact that none of that really matters in the show, you know what I mean? But it exists and it's part of the story. It's part of our story and I've had the most amazing time and I can't wait for you all to see it.
Read the full Den of Geek NYCC Special Edition Magazine right here!