News
Star Trek: Deep Space Nine Documentary Gets Crowdfunding Campaign
The Deep Space Nine doc will not only reflect on the show's legacy, but speculate on what would have happened next.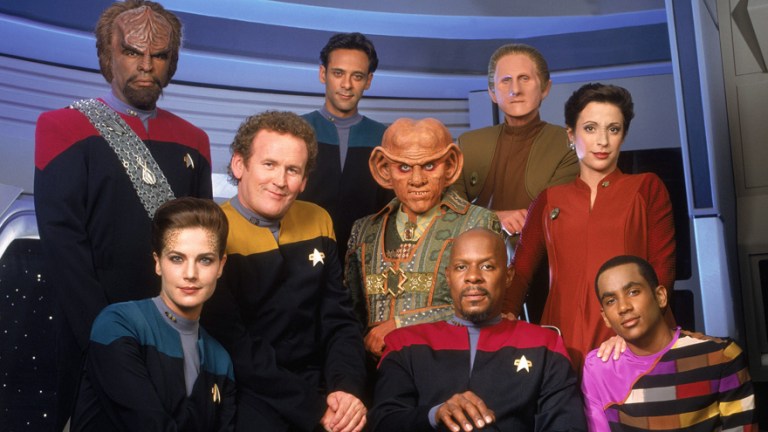 Do you miss Star Trek: Deep Space Nineas much as we do? Then it's time to shell out any extra dough you may have lying around for the What We Left Behind: Star Trek Deep Space Nine DocIndiegogo campaign.
The proposed documentary, which is already in progress, will include interviews with many of the show's cast members and writers, as well as a writers room session featuring Deep Space Ninewriters Ira Steven Behr, Ronald D. Moore, Rene Echevarria, and Hans Beimler in which they break the story for what Season 8, Episode 1 would have looked like. Pretty cool idea, right?
Check out the campaign trailer, which includes appearances from many of the show's most beloved stars, and is just all-around endearing and hilarious. We dare you not to tear up when Nana Visitor asks: "Help us finish this wonderful documentary about a television series we all love."
What We Left Behind: Looking Back at Star Trek Deep Space Ninewill be directed by Adam Nimoy, who recently released the For the Love of Spockdocumentary in honor of his father, the late Leonard Nimoy. It will be produced by Deep Space Nineshowrunner Ira Steven Behr.
Behr recently spoke to The Hollywood Reporter about the documentary and the idea to do a writers room, saying:
That was an idea that I had based on a conversation with Avery, because Avery kept saying, 'Don't make it talking heads only.' It got me thinking, what would be something you've never seen before? There were ground rules, which was everyone had to watch the final episode of season seven, so everyone remembered where everyone was on the playing field, or at least read the Wikipedia page. We weren't going to have any cheat sheets. We are going in there with nothing for one day to see if we could get through a pilot episode of the show. And we did.

Obviously, as with any show, you don't break a show in a day — and if you do, you still go back the next day and refine. This is the raw material, but it's a fascinating process. We had a fantastic time doing it. It was amazing how time slipped away and everyone was back doing their thing and interacting and arguing and getting passionate and it was really a magic day.
Speaking more generally about the legacy of Deep Space Nine,Behr said:
We were able to do so many things because Voyagerwas the Star Trek series that waved the flag of the franchise. Or TNG before that, so we had our own pace to be that kind of somewhat outlier show. So yes, I always believed the audience would catch up. If I had any idea how the delivery system was going to change over the years, if I had any idea that there would be binging, I would have been even more definitive in my belief. But I had no idea about that. I just thought it would be a slow word of mouth.
We're big fans of Deep Space Nineand are excited to see this project really get off the grounf. At the time of this writing, the campaign had raised $81,170 of the $148,978 goal.