News
Stan Against Evil Season 3: Sneak Peek of "The Hex Files"
Get ready to meet the NHBPP (aka Stan's latest headache) in this exclusive clip from Stan Against Evil's X-Files infused monster romp.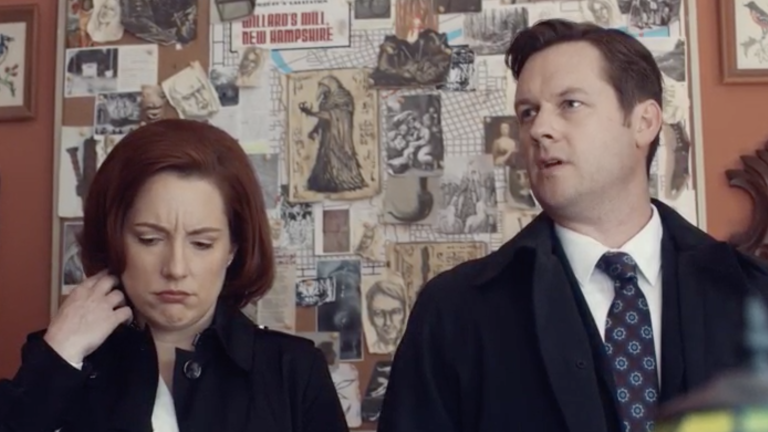 IFC's Stan Against Evil has turned horror parodies into an art form. The comedy series has successfully lampooned the genre for two seasons and if this preview is indication, the show's upcoming third season will be its most outrageous year yet. The series returns with back-to-back episodes this Wednesday (which also appropriately happens to be Halloween night), but skeptics and believers alike will both have something to look forward to in Stan Against Evil's second episode of this season, "The Hex Files." The installment sees Stan and the rest of Willard's Mill encounter some supernatural investigators that feel very familiar, and we've got an exclusive sneak peek to the mayhem. 
"The Hex Files" introduces the New Hampshire Bureau of Paranormal Phenomenaand their top agents: a scientific skeptical redhead and her intrepid partner who simply "wants to believe." The NHBPP may be eager to dig into Willard's Mill's monster problems, but they don't receive a warm welcome from everyone. If there's ever been a poster child for "not wanting to believe," it'd be Stan.
"The Hex Files" looks to offer the closest thing to a crossover between Stan Against Eviland The X-Files that fans will ever get and it looks like it will be a wild ride. While there will surely be some impressive demons for both the Willard's Mill police department and the NHBPP to hunt down, this preview highlights the awkward human dynamics that like ahead. The NHBPP and Stan are immediately critical of each other, which may pose a problem since they appear to be chasing down the same demon. Stan may be over these paranormal agents before they can even whip out their giant cell phones, but they seem to have a bit of a cheering squad in the form of Denise (you can always count on Denise to get excited over something).
Fans will get to watch all of this quasi-X-Files goodness when the episode premieres this week and Den of Geek will keep you up to date on Stan's belligerent monster hunting all season long. 
In the meantime, you've got a few days to work on your demon insults and get your wine jello ready for Wednesday!
Daniel Kurland is a published writer, comedian, and critic whose work can be read on Den of Geek, Vulture, Bloody Disgusting, and ScreenRant. Daniel knows that the owls are not what they seem, that Psycho II is better than the original, and he's always game to discuss Space Dandy. His perma-neurotic thought process can be followed at @DanielKurlansky.
Read and download the Den of Geek NYCC 2018 Special Edition Magazine right here!