News
Stan Against Evil Season 3: Creator Talks Halloween and Horror Homages
The folks behind Stan Against Evil clear some time on their busy demon-killing schedules to tease what horror influences are on the way.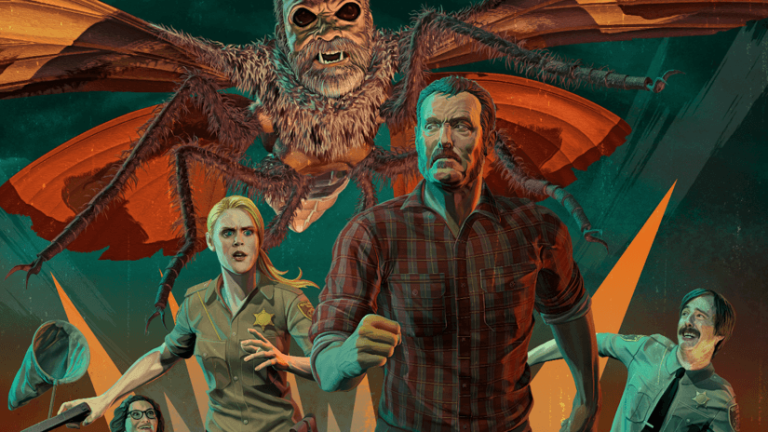 IFC's Stan Against Evil may routinely make it a habit to eliminate monsters and demons in the most gruesome means imaginable, but it's clear that Dana Gould and the creative team behind the series have a deep love and respect for supernatural creatures that go bump in the night. 
Over the course of Stan Against Evil's first two seasons there have been many odes to classic movie monsters and horror cinema. Werewolves, Satanic children, witches, and even Ouija boards have all been fair game, with the series always finding demented ways to reinvent these beloved tropes. 
"It's a beautiful vehicle to do different genres and explore different things," explains series creator, Dana Gould. This compulsion appears to be especially rampant in the show's upcoming third season. "We have to have an X-Filesepisode," is something that Gould was adamant about during production on Stan's new season. "We have an X-Filesepisode that just kisseson the edges of legality," he teases. And of course, they assure genre fans that they've also fit some Kolchak: The Night Stalker in there for good measure, too. One paranormal investigator begets another.
Read and download the Den of Geek NYCC 2018 Special Edition Magazine right here!
The show's new episodes—which appropriately premiere on Halloween night—tackle horror goldmines like insane asylums and ultra attractive vampires, but according to Gould the series is only getting started with these horror indulgences. They still have a lot of ideas that they'd like to bring to life. Gould describes his series as, "the show that likes the same stuff that you like," and he's determined to find more common ground in the future. 
When broached about some other heavy-hitting horror staples, like The Rocky Horror Picture Show, Dana Gould had positive news to share. "Yes," he says. "If we come back for a fourth season I can guarantee that we'll do a musical episode." Not all of Gould's plans involve such rigorous rehearsal and production values. Sometimes an iconic visual is more than enough. "We willdo a parody of the corn field hunt from The Planet of the Apes," he guarantees fans.
Whether you're a huge horror nerd or not, Stan Against Evil remains one of the most passionate, unique horror-comedy hybrids on television and provides something for everyone. And if all of those high concept, deep cut horror teases don't get you excited about the future of Stan Against Evil, John C. McGinley has a guaranteed plan topush the show to new heights.
"I just want to find Stan tap dancing." 
Make it so, Stan Against Evil. Make it so.
Stan Against Evil's third season premieres on Halloween night on IFC at 10pm with back-to-back episodes.
Daniel Kurland is a published writer, comedian, and critic whose work can be read on Den of Geek, Vulture, Bloody Disgusting, and ScreenRant. Daniel knows that the owls are not what they seem, that Psycho II is better than the original, and he's always game to discuss Space Dandy. His perma-neurotic thought process can be followed at @DanielKurlansky.