News
Stan Against Evil Season 2 Release Date, Trailer, and More
A surprise episode of Stan Against Evil season 2 is now ready to stream!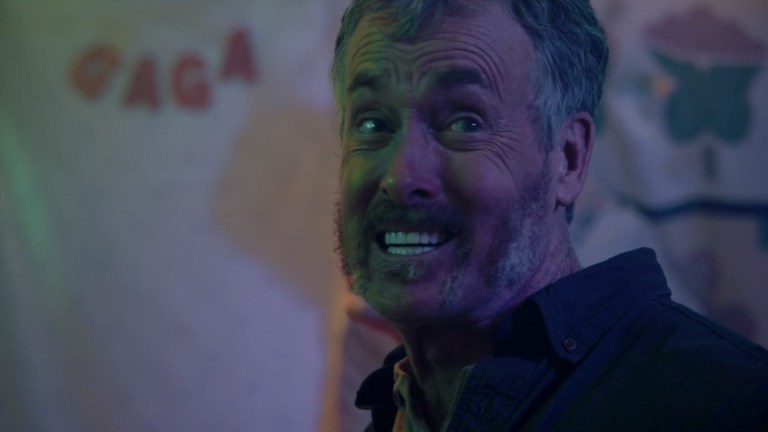 With three weeks to go before Stan Against Evil season 2 drops, IFC released episode three, "Curse of the Werepony," on the following digital platforms: IFC.com, IFC On Demand, The IFC App (Mobile, AppleTV and Roku), AMC Premiere, YouTube, and Facebook.
If you were spending your time out in the field picking berries and missed the gore-fest that was IFC's Stan Against Evil, now is your chance to catch up. Here's everything we know about the upcoming season…
Stan Against Evil Season 2 Release Date 
Stan Against Evil returns on November 1st, 2017. The 8-episode second season will air weekly on Wednesdays with two episodes back-to-back at 10 p.m. and 10:30 p.m. Fans can exclusively catch-up on Season 1 of Stan Against Evil on Hulu. 
Stan Against Evil Season 2 Trailer
San Diego Comic-Con brought fans the first Stan Against Evil season 2 trailer. Take a look:
Stan Against Evil Season 2 News
Stan Against Evil season 2 picks up again in Willard's Mill, the small New England town where the perpetually disgruntled former sheriff Stan Miller (John C. McGinley) must begrudgingly get off his couch to solve the mystery of Sheriff Barret (Janet Varney)'s time-travelling disappearance. Through thick and thin, the unlikely team continues to battle against the unleashing of wicked demons trying to take over their town, which happens to be built on the site of a massive 17th century witch burning.
Guest stars for Stan Against Evil season 2 include Denise Boutte (Meet the Browns), Jeffrey Combs (Gotham), David Koechner (Anchorman), Patty McCormack (The Bad Seed), and Steven Ogg (The Walking Dead). Deborah Baker Jr. and Nate Mooney also return to co-star.
The horror-comedy from creator Dana Gould took on demonic pigs, ghostly ghouls, and the walking undead, and came out unscathed in a successful first season. The ratings were low by cable standards, but in a release IFC touted the "significant" increase in Live+7 viewing after each episode aired in its original time slot. That's a positive sign moving forward as IFC hopes to building a following for the genre show.
Stan Against Evil stars John C. McGinley who plays Stan Miller, a chippy, disgruntled former sheriff of a small New England town who was forced into retirement after an outburst at his wife's funeral. Stan gives up his badge for big city cop Evie Barret (played by Janet Varney), and the duo forms an alliance when shit goes bananas in the haunted town.
"It was so great to see Stan connect with its fans. Thanks to DVRs, the audience more than doubled each week. That amazed me," said creator Dana Gould in a statement. "I love the characters and I love the world, and I'm very grateful we all get to go back to Willard's Mill and blow up more stuff."