News
Springfield Of Dreams: The Legend Of Homer Simpson Doc Coming to Fox Sports
25 years after Homer Simpson drove in the winning run by getting hit by an inside pitch, FOX Sports will celebrate with a documentary.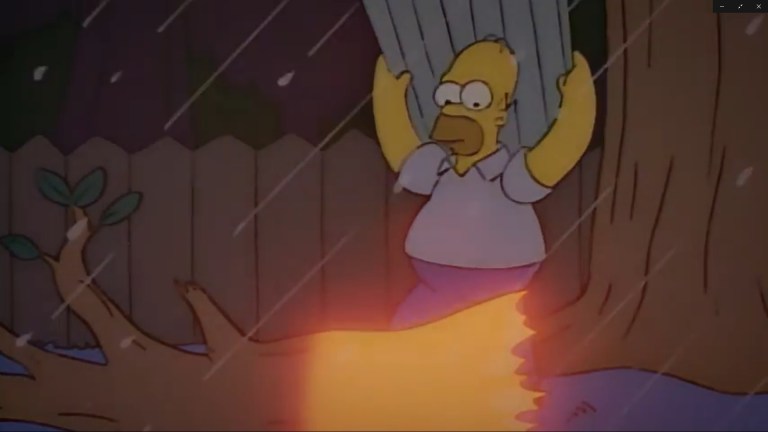 From Maine to San Diego, whether you root for Mattingly or Canseco, there is no bigger baseball fan than Homer Simpson. There may be people who enjoy the sport more, but pound for pound, Homer is the biggest. Twenty-five years ago, The Simpsons aired their classic episode "Homer at the Bat." That was five years before Fox  Sports starting airing the World Series, and might have been the Straw that, along with Homer and Ozzie, got the network that contract. FOX Sports is going to pay tribute to the first team of softball, Mr. Burns' home team, with the comedic "Simpsonized" documentary, Springfield Of Dreams: The Legend Of Homer Simpson.  The one-hour special will air adjacent to regional NFL broadcasts on Sunday, Oct. 22 on FOX. The World Series presented by YouTube TV begins Tuesday, October 24 on FOX.
The documentary also celebrates Homer Simpson's "induction" into The National Baseball Hall of Fame earlier this year. Springfield Of Dreams: The Legend Of Homer Simpson was directed by Oscar nominee Morgan Spurlock for FOX Sports Originals.
"We're glad Morgan is strange enough to take this on," James L. Brooks, Executive Producer of The Simpsons, said in a statement.
"I love The Simpsons so much and am proud to be reunited with them on this incredible special," Spurlock said in a statement. "A special so special that it not only celebrates Springfieldian Homer Simpson, but one that reminds us all, that maybe if we tried a little less, great things can happen."
According to the official statement, Springfield Of Dreams: The Legend Of Homer Simpson  is:
"A satire of Ken Burns' epic documentary, Baseball, the special features interviews from eight Major League Baseball players appearing in the original episode, along with baseball historians, sportscasters, and iconic personalities, such as FOX Sports' Joe Buck, sports announcer Bob Costas, author George Will, Dr. Oz, fashion consultant and television personality Tim Gunn and New York City Mayor Bill De Blasio. Current Yankee slugger and Major League Baseball AL MVP candidate Aaron Judge appears in the special."
The feature also contains six minutes of never-before-seen original animation from The Simpsons. Homer, Moe, Chief Wiggum and Apu, voiced by Dan Castellaneta and Hank Azaria, will talk about the time Mr. Burns' Power Plant team won the Springfield pennant in spite of Roger Clemens' being turned into a chicken by an amateur hypnotist, Mike Scioscia on the DL, Wade Boggs being bashed by Barney, Ken Griffey's elephantiasis, which does not improve memory, according to George Carlin, and Steve Sax in jail.
"Collaborating with Morgan Spurlock has been an ideal fit for FOX Sports Originals," said Charlie Dixon, FS1/FS2 EVP of Content. "Working together has allowed us to showcase our partnership with Major League Baseball in a creative and unconventional way."
The annual "Treehouse of Horror XXVIII" Halloween episode airs Sunday, Oct. 22. Ben Daniels (The Exorcist), director William Friedkin (The Exorcist) and chef Mario Batali will make guest-voice appearances.  
"Maggie becomes possessed by an ancient demon, Lisa discovers a creepy/perfect version of her family in an alternate universe and Homer cannibalizes himself," reads the official synopsis.
The Simpsons is the longest-running scripted show in television history. It spun off from The Tracey Ullman Show in 1990 and is now in its 29th season. The show has won 32 Emmys, 34 Annies, a People's Choice Award, and is the only cartoon to ever win a Peabody Award. Sadly Sherman doesn't give out trophies.
Morgan Spurlock made the films Super Size Me, Comic Con: Episode Iv, The Greatest Movie Ever Sold and Where In The World Is Osama Bin Laden? 
FOX Sports features live regionalized NFL coverage at 1:00 PM ET and 4:05 PM ET with NFL broadcasts available in both competing teams' home markets, as well as select additional cities around the country. Viewers with an NFL matchup airing at 1:00 PM ET get to watch Springfield Of Dreams: The Legend Of Homer Simpson at 4:30 PM ET; viewers with an NFL matchup airing at 4:05 PM ET get to watch the documentary at 3:00 PM ET.
Springfield Of Dreams: The Legend Of Homer Simpson will air adjacent to regional NFL broadcasts on Sunday, October 22, 2017, on Fox. "Springfield of Dreams" also airs on Friday, Oct. 20 at 6:00 PM ET on FS1.