News
SpongeBob SquarePants Season 13 Confirmed by Nickelodeon
As SpongeBob SquarePants fields 20th anniversary festivities, he can also celebrate Nickelodeon's renewal for Season 13 of his show.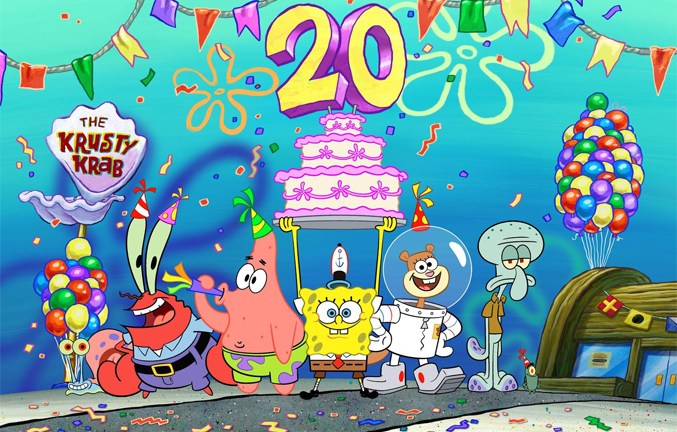 SpongeBob SquarePants Season 13 is officially set at Nickelodeon.
Sure, the SpongeBob SquarePants renewal is not the most surprising news ever delivered, seeing as the venerable undersea cartoon series is currently in the midst of a pop culture bacchanal of media exposure, with a year-long celebration of the franchise's 1999 inception set to manifest with major – 1,800 square-feet-spanning – interactive plans at Comic-Con this week. Indeed, the event heralds an imminent multimedium blitz that includes a spinoff series, a prequel series and a third feature film, The SpongeBob Movie: It's a Wonderful Sponge, set for next year. It's certainly a bittersweet high for the franchise after creator Stephen Hillenburg's passing last November.
Indeed, Nickelodeon has confirmed its renewal for this baker's dozen of a SpongeBob season, breaking the news five days after the July 12 airing of live-action/animated special, SpongeBob's Big Birthday Blowout, which the cable outlet cites as having drawn a total of 2.2 million viewers in its simulcast across Nickelodeon, TeenNick and Nicktoons. Moreover, said special is cited as the most-watched kids program of the year, with K2-11 viewers up +51% to 1.2 million. It also achieved a broad appeal, with double digit gains with Kids 6-11 (+45%), Tweens 9-14 (+36%), Teens 12-17 (+29%) and Adults 18-49 (+51%).
Further Reading: SpongeBob SquarePants' Mr. Lawrence Reveals the Finer Points of Yelling "My Leeegg!!!"
Further cementing a (welcome) two-decade-old status quo, SpongeBob SquarePants Season 13 is confirmed to see the return of the main voice cast, which consists of Tom Kenny (SpongeBob), Bill Fagerbakke (Patrick Star), Rodger Bumpass (Squidward), Clancy Brown (Mr. Krabs), Carolyn Lawrence (Sandy Cheeks) and Mr. Lawrence (Plankton). Additionally, Vince Waller and Marc Ceccarelli will maintain their positions as showrunners.
While no release date was provided for SpongeBob SquarePants Season 13, the show, as mentioned, will be the center of some seriously ostentatious events at San Diego Comic-Con this week, upon which more intel could be revealed.
SpongeBob's Comic-Con festivities will be held throughout the duration of the convention, available for fans from July 18 to 21, at Booth #4113. Additionally, the SpongeBob 20th Anniversary panel will be held on Thursday, July 18 at 1:45 – 2:45 p.m. PT.
Joseph Baxter is a contributor for Den of Geek and Syfy Wire. You can find his work here. Follow him on Twitter @josbaxter.