Features
South Park Madness, The Sweet Sixteen
March passes, but the South Park Madness continues.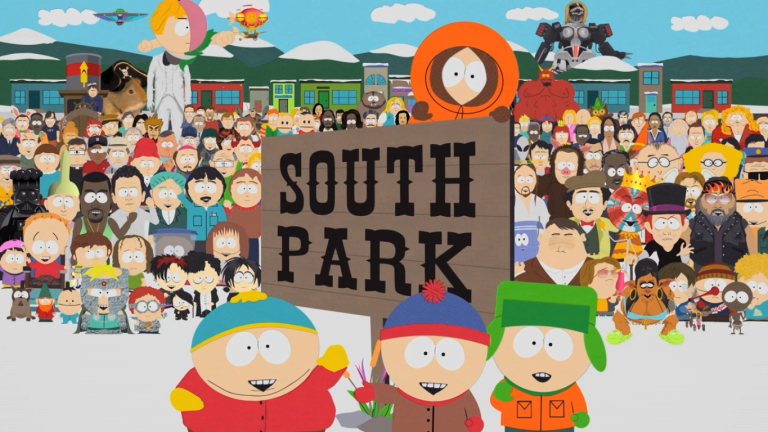 March is in the books but our South Park Madness tournament is just about to reach the tipping point. We have narrowed our field to 16 worthy episodes and our staff of writers is ready to make the tough decisions on some of their all-time favorites. Be sure to weight in on the matchups in our comments section or tweet us who you think should win it all. On to the Sweet Sixteen!
Previous Rounds:
Round Two, Part 1
Round Two, Part 2
Chris Longo: So which one do I validate, the action, or the response? I want to reward creativity, but I find it hard to give to one or the other, since Trapped in the Closet is eerily similar in format to All About Mormons and Return of Chef feels like NAMBLA 2.0. But if I'm going to reward inventiveness, I have to give the narrow win to Return of Chef for using old Chef clips and still producing a winning episode. Shock value, sadness, and finality (I have a feel Darth Chef will return someday if/when another movie is made), Return of Chef.
Nick Harley: It's funny that these two episodes would meet up, the episode that made Isaac Hayes quit and the episode that Trey and Matt used to get back at him. Obviously, Trapped in the Closet easily gets the win here. Even though the duo's sharp, biting criticism of their former friend and co-worker is really inspired, there is still something petty about revenge like this, even when it's this hilarious.
Tony Sokol: Of the two Scientology spoofs, Trapped in the Closet wins if for nothing less than pointing out that Tom Cruise isn't as good an actor as Leonardo DiCaprio. He's okay, I guess. I mean, he's not Gene Hackman or that guy who played Napoleon Dynamite. It's the first law of physics and it cost less than eight dollars. Return of Chef is a revenge episode and I like Isaac Hayes even if he did believe the whole thing about Xenu. It's not like I really know anything about diuretics, but neither did L. Ron when he started. Of course, I don't want to get DoG sued. I just closed my eyes, and wrote down whatever came to mind.
[6] Mystery of the Urinal Deuce vs. [10] Make Love Not Warcraft
CL: Hey rightwing nutjobs, here is a newsflash: the government wasn't responsible for 9/11! That's the obvious point that Mystery of the Urinal Deuce tries to make and the episode does so before the Hardly Boys douse you with clue glue. 'Warcraft' is an episode that they clearly had a plan for going into the season, whereas I can see 'Urinal Deuce' being one that was slapped together in a hurry. Sometimes those end up being the best episodes. And "sometimes all the evidence points one way, but I'm like Charlie Sheen and Gloria Estefan. I need to know what really happened on 9/11." Mystery of the Urinal Deuce.
NH: Make Love Not Warcraft won Matt and Trey an Emmy, not like they care, but it's a testament to just how artistic the episode is. That being said, I still prefer Mystery of the Urinal Deuce. South Park does convoluted and overwrought better than any show on television, and that doesn't come across in any episode better than it does in this one. Stan and Kyle run around Washington uncovering fake cover-ups for fake 9/11 conspiracies, while in the meantime; Mr. Mackey is flabbergasted by a poo in the urinal. It's the combination of high and low brow that makes South Park such an enjoyable comedic experience.
TS: Mystery of the Urinal Deuce reveals the truth behind the Twin Tower attacks, but can't survive the Sword of a Thousand Truths of Make Love Not Warcraft, which knocks it out of the rankings with 120 damage points per second, with an instant mana burn and an enchantment that boosts its stamina +80.
The Imaginationland Region
[1] Scott Tenorman Must Die vs. [5] AWESOM-O
CL: Tough matchup for AWESOM-O. Scott Tenorman is a heavyweight so I'm going to have to keep finding different reasons for advancing this episode. Now for, I'll go with the underrated acting skills of the pony that fails to bite anyone's wiener off. Scott Tenorman Must Die.
NH: Scott Tenorman Must Die, even after twelve years, is still one of the more shocking episodes of South Park, and it marks a turning point in the characterization of the shows best character, Eric Cartman. I love AWESOM-O, but nothing is sweeter than the taste of Scott Tenorman's tears.
TS: I cashed in the money I got selling my pubic hairs and bought an AWESOM-O robot that does my dishes and applies my suppository. He's awesome, my new robot friend, but he doesn't hold a candle to Scott Tenorman Must Die. Tenorman is the first South Park to have no subplot. It's all Eric being the best damn Cartman he can be. He goes beyond even Bart Simpson in his vengeance pranks and we learn so much, like how tough it is to teach a dog to bite off someone's nuts. But I licked the tears of unfathomable sadness and they taste good.
[7] Fat Butt and Pancake Head vs. [11] Butters' Very Own Episode
CL: I made it this long without mentioning Ben Affleck's spooge. Oh well. Unfortunately it will be the first and only time I get to talk about the director for the 2013 Academy Award winning Best Picture being ass naked in Cartman's bed. To my knowledge he's not even in NAMBLA. Anyway, I hate to break Ben's heart again, but Butters' is poised to have an episode reach the final four. The stronger storyline is going to advance here, even though J-LO and Mitch Conner pack plenty of laughs into their 20 minutes of South Park fame. Butters' Very Own Episode.
NH: Come on now, everyone knows it's Butters. Butters' Very Own Episode is like the little engine that could. Seeded at 11, incredibly low in my opinion, it has already knocked off a ton of other legendary episodes. Butter's journey after his attempted murder is Odyssey-esque, but instead of a hyper-aware Homer, we get an oblivious, naïve, buttery ball of joy staring predators and murderous mothers in the eye with a smile and an "awe shucks."
TS: Now, I love Fat Butt and Pancake Head more than taco flavored kisses. And although I never really listened to her music, or been interested in most of her movies, except Selena and the one she did with Jack Nicholson, there will always be a place in my heart for the girl from the Bronx with the big ass. But Butters' Very Own Episode was a departure from a series that had plenty of departures. It features one of the side characters (I kinda prefer Tweek to Butters, he just causes involuntary spasms of laughter) and screams for confessions to the Bonets, OJ and Gary Condit. This might make it a tad sanctimonious, but hey, it's South Park, who really gets hurt? Well, maybe some innocent Puerto Rican guy.
Stark's Pond Region
[1] Crème Fraiche vs. [4] Fishsticks
Chris Longo: Randy Marsh has been the unsung hero of seasons 12-16 and I'd go as far as to say he has been the main ingredient that has kept the series fresh, or fraiche, however you want to pronounce it. Daddy TV time means Randy is going to watch the no-no channel when you have become as important to the series as the four boys who made it what it is today, then by God you can get off to the Food Network as much as you want. Crème Fraiche.
NH: I think South Park does parodies, satire, and celebrity skewering incredibly well, but sometimes when their aim is smallest, say, making fun of cooking shows and shake weights, the show can transcend to a diiferent level of comedic genius. Crème Fraiche is firmly planted on that level.
David Crow: It is impressive that Crème Fraiche has made it this far, but it clearly has been seeded too high when it is coming into contact with a powerhouse opponent like Fishsticks. The latter has the funniest joke in the world and I'm not talking about fishsticks. Seeing Kanye West, the motherfuckin' lyrical wordsmith motherfuckin' genius, unable to complete the most simple mental gymnastics before shoving fishsticks down Carlos Mencia's gaping open throat can only be topped by one thing…Kanye embracing his destiny and swimming with his fellow gay fish. If only life imitated art more. Fishsticks.
[2] Broadway Bro Down vs. [14] Medicinal Fried Chicken
CL: This isn't even a contest. I'm shocked Medicinal Fried Chicken made it out of the first round, let alone a sweet sixteen run. It ends here as Broadway's Bros wine and dine you at the nearest Hooters. Broadway Bro Down is the brothority, bro. On to the next one.
NH:  Medicinal Fried Chicken has been on both ends of my favor, but I think it's finely time to put this upset machine to bed. Without a doubt in my mind, Broadway Bro Down is the better episode. It's no secret that Matt and Trey have a penchant for creating memorable songs on their show, but will one be any funnier that Splooge Drenched Blowjob Queen? And Kyle dispenses many messages in plenty of South Park episodes, but no message may have been better than the lesson Randy learned about subtext. SUBTEXT!
DC: Randy bouncing on his beach ball sized testicles for free weed is good stuff. Randy going the full-on Broadway and writing Splooge Drenched Blowjob Queen? Genius. As genius as seeing Stephen Sondheim bro-ing out with at Hooters! Plus, Randy did to the Spider-Man musical what any self-respecting Geek would wish for. I do respect you, brah. Broadway Bro Down.
The Lemmiwinks Region
[9] Big Gay Al's Big Gay Boat Ride vs. [12]Chinpoko Mon
CL: I saw Pokémon: The Movie 2000 in theaters. I wish I hadn't. I was never a Pokémon collector, although I have a lot of respect for the characters thanks to Super Smash Bros 64. South Park has been excellent at picking up on obnoxious fads (Trapper Keeper, Queer Eye for the Straight Guy, High School Musical, Ziplining… the list goes on and goes) and Chinpoko Mon might be their best take on the children hood crazes that infiltrate schools faster than Mr. Garrison and Mr. Slave… well you get it. Chinpoko Mon.
NH: Chinpoko Mon for me is a great representation of the early era of South Park; topical, aimed at both young and older audiences, and full of dick jokes. Honestly, the third season of South Park is one of the only ones I own at home on DVD, and the Chinpoko Mon episode has definitely been the most repeated episode. When the kids devolve into Japanese speaking anime characters, it cracks me up everytime, and we all can empathize with Kyle, being the only kid in class late to the newest toy craze. This, for me, may be the best episode from the first 3 seasons.
DC: Decisions, decisions. In one corner we have the absolutely best parody of Pokémon in the history of that yellow-colored night rat. In the other, we have one of the most important episodes in South Park history. While every show has a Gay character now, even if they are poorly written stereotypes in many cases, almost no network would even dare to try that in the mid-1990s. South Park beat the spread by being one of the first and it turned out super, thanks for asking. Big Gay Al's Big Gay Boat Ride.
[7] Cartman Joins NAMBLA vs. [14] The Wacky Molestation Adventure
CL
: Parents? Ah, you mean the Birthgivers. I'd be curious to see what happened if all parents on earth suddenly vanished, could be fodder for an excellent sci-fi flick. Maybe Lord of the Flies set in modern times? If this South Park episode is any indication, I think Michael Bay should direct the movie.
The Wacky Molestation Adventure
.
NH: It's getting full on inappropriate in this matchup! Honestly, this decision comes down to just a gut feeling. When I got the list of episodes that we were including for the South Park March Madness, many of them stood out and were so fresh in my mind that needn't revisit them, but other, early episodes needed a little refreshing. Whacky Molestation Adventure needed it, Cartman Joins NAMBLA did not. So the choice is simple, right?
DC: It is very

hard

difficult to even make a pun about these two episodes' names being next to one another. Yet here are two classics of political incorrectness from South Park's cruder, more demented infancy. Cartman posing for NAMBLA pictures (sometimes social networking is not a good thing) and convincing Butters to take one for the team is on one level, but posing as the mayor and convincing Butters to happily sacrifice his life and soul to a statue of John Elway is just on a whole other level of fucked up. It is a cautionary tale of what happens when the birth givers disappear into the long, long time ago. And that caution is: girl, get your tubes tied. The Wacky Molestation Adventure.