Features
South Park Madness: The Final Four
We have pitted the final four against each other, and now its up to you!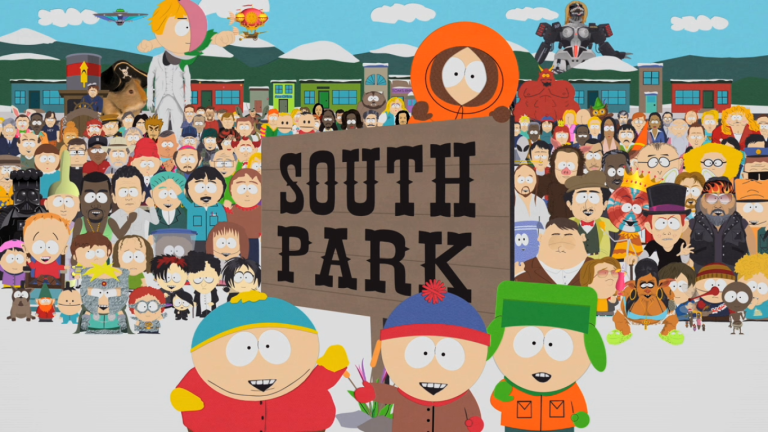 South Park Madness, The Final Four
64 episodes. Six writers. Five rounds of debate. Four worthy finalists. Our Den of Geek writers teamed up to pick the winners of the final two matchups and now YOU, the fans, will vote on the winner of our tournament.
Be sure to vote at the bottom of the page!
From the Previous Round: The Elite Eight
[2] Broadway Bro Down vs. [12] Chinpoko Mon
Chris Longo: Hats off to the Japanese. They have made frequent appearances in South Park but none quite capture our imaginations like Chinpoko Mon does. The true Cinderella of the tournament will unfortunately see the clock strike midnight, as Broadway Bro Down is a gem from first blowjob reference. Matt and Trey have been excellent when it comes to musical numbers (see Book of Mormon, the South Park Movie, Elementary School Musical) and Bro Down is the ultimate look into why they put their blood, sweat and tears into producing tunes that fans can appreciate. They do it for the BJ's.  It might be a bit of a surprise to see an episode done so late in the series advance to the finals, but purists can shove it. This episode is as worthy as any. Broadway Bro Down to the 'ship.
Nick Harley: My primary main objective is to see Chinpoko Mon make it to the finals. Sure, I'm more of an Alabama Bill type of guy, but South Park's Pokemon spoof perfectly encapsulates what it was like to be a kid when the Japanese toy juggernaut hit big. I love a good blowjob musical as much as the next guy, but I have to go with Chinpoko Mon here.
Tony Sokol: Although I like hummers more than spicy-hot Louisiana-baked Chicken Tenders, they are no match for the Primary Main Objective. I think Chinpoko Mon is chinpokorrific. Even if I already saw Broadway Bro Down twenty three times.
David Crow: As someone who helped place Chinpoko Mon in this tournament, I am stunned to have seen it come so far. I love making fun of Pokemon as much as the next person, but for some reason, I cannot get over the image of Stephen Sondheim at Hootes BRO-ING OUT with Randy Marsh. Maybe it's just all the subtext? No matter the reason, Broadway Bro Down soars above Chinpoko Mon like a stage (or rafter) bound Spidey. It is the brah-thority. Broadway Bro Down.
Joe Matar: Chinpoko Mon has a good number of dick jokes, I'll give it that. But there's still just something too funny about guys in the theater business being revealed as macho bros. Broadway Bro Down just feels like a really solid episode to me, made all the more impressive by how it came so late in the series' life.
[1] Trapped in the Closet vs. [1] Scott Tenorman Must Die
Chris Longo: "What if we got Radiohead to come here to South Park, then they can meet Scott Tenorman and see him get his wiener bitten off by a pony. If I can get this pony to bite off Scott's wiener in front of Radiohead then Scott will cry and if Scott cries then Radiohead will think Scott Tenorman is totally not cool. And that will make Scott want to die!" Indeed flawless logic for a flawless episode. Cartman and Scott Tenorman Must Die all the way.
Nick Harley: This is like clash of the titans here. Both episodes hold a special place in South Park fan's hearts and they both feature iconic moments that have become apart of the program's lore, but none more so than Scott Tenorman Must Die. It is the de facto greatest Cartman episode in existence. As good of an episode as Trapped in the Closest is, it does not feature Cartman feeding anyone their parents and Radiohead mocking the child as he cries in simultaneous grief and disgust, so therefore, it falls short.
Tony Sokol: So close, but I'd rather sell my pubes than get stuck in a closet with Tom Cruise. In the great chili cook-off, Scott Tenorman's parents are the spiciest. Don't sue me, but for that, Scott Tenorman Must Die.
David Crow: This is a match worthy of any Final Four showing. The episode where Cartman made Scott eat his parents or the one where Matt and Trey made the entire Church of Scientology eat their scathing satire. I will never get tired of Stan asking his dad why Tom Cruise just will not come out of the closet. But there is something so iconic about Cartman licking away those precious, yummy tears. It is Cartman's greatest triumph and perhaps South Park's as well. Scott Tenorman Must Die.
Joe Matar: I do love the takedown of Scientology and Tom Cruise a lot, but, for me, humor that makes me uncomfortable often wins out over plain old belly-laughs. I gotta go with Scott Tenorman Must Die because it feels like such a huge milestone for the show and Cartman licking up Scott's tears was one of the creepiest things they'd ever done.
With the Top Two chosen from the ashes of the Final Four, it falls to YOU now.
CAST YOUR VOTE!!!
"Scott Tenorman Must Die" VS "Broadway Bro Down"?
pollcode.com

free polls