News
South Park 300th Episode Clip Takes on Anti-Vaxxers
Comedy Central's flagship show, South Park, reaches its milestone 300th episode this week. Check out this preview clip!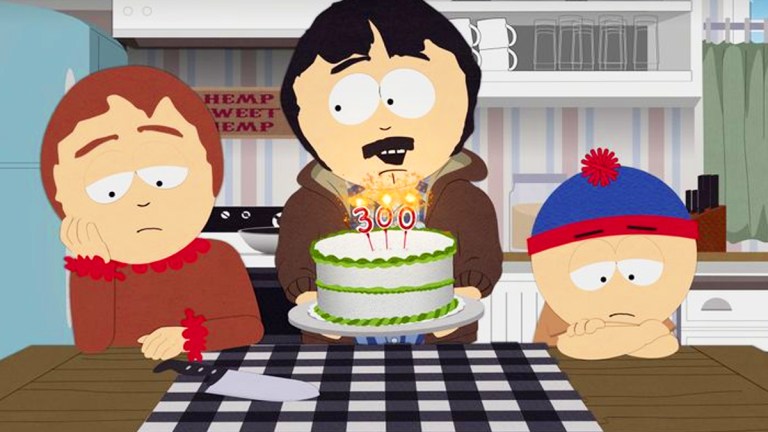 South Park defied expectations of being a brief blip in the zeitgeist, remaining a driving force on Comedy Central's lineup over 22 years after its August 13, 1997 debut, "Cartman Gets an Anal Probe," introduced viewers to the foul-mouthed foursome of the eponymous Colorado town. Flashing forward to Season 23, South Park has, in recent years, reinvented itself as an annual event series driven by ongoing season-long stories. However, the show still embraces its long-held fresh topical nature, and this week's airing of the show's 300th episode affirms that notion.
The 300th episode of South Park, Season 23, Episode 3, "SHOTS!!!," has released a preview clip, revealing its next topical target: the anti-vaxxer movement. The episode will premiere in its usual time slot, on Comedy Central, on Wednesday, October 9 at 10 p.m. To commemorate the show's big three-o-o, the network will air a South Park marathon starting 9 a.m. that morning.
As the official synopsis reads: "This week, Randy revels in a Tegridy Farms milestone. Meanwhile, Cartman stands his ground and refuses to get a shot."
Further Reading: South Park: The 20 Geekiest Episodes
While the show has a tendency to leave its topical takes open to interpretations, one can reliably look the positions of the selfish Eric Cartman to know what show creators Trey Parker and Matt Stone are spoofing. Indeed, the clip shows an already-sick Cartman representing the movement against vaccinations, thoughtlessly parading his snot strings around to the exposure of his classmates at lunch.
Interestingly, anyone who thinks that we're in the twilight period of the venerable Comedy Central series should think again. South Park just landed an early renewal for not one, but THREE more years, confirming orders for Seasons 24, 25 and 26. The move essentially guarantees that South Park – should it continue its current pattern – will be around until at least 2022, just in time for what will be the show's Silver Anniversary at 25 years old.
Further Reading: How South Park Became the Last Survivor of the Shock TV Era
In its already-long life, South Park has accrued five Emmy wins for "Outstanding Animated Program," and won the prestigious Peabody Award in 2006. Besides being responsible for myriad memes and merchandising over the decades, South Park was, during its pop culture apex, the focus of a major motion picture, 1999's South Park – Bigger, Longer and Uncut, which even earned an Oscar nomination for its ever-memorable tune, "Blame Canada."
Joseph Baxter is a contributor for Den of Geek and Syfy Wire. You can find his work here. Follow him on Twitter @josbaxter.