News
Sliders Revival Being Considered
Sliders could be coming back with help from Jerry O'Connell and John Rhys-Davies. Time to get your whisper on.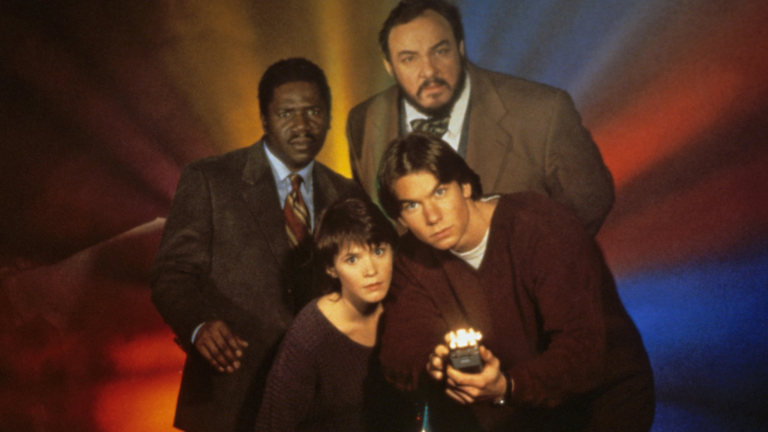 Sliiiiiiidddeerrrrrsssssss might be returning to Earth Prime! As reported by Flickering Myth, John Rhys-Davies along with fellow co-star Jerry O'Connell have been talking with NBC about a possible revival of the cult sci-fi series. For those who might not remember the series (no, it wasn't like Quantum Leap) Sliders followed Quinn Mallory, his professor Arturo, best friend Wade, and former hit singer Rembrandt slide from parallel universe to parallel universe, trying to get home. 
Davies says that O'Connell had been, "pestering me for a number of years (about a revival) and we're actually talking to NBC at the moment to see if there's any possibility of rebooting the series."
The biggest problem in their way at the moment is who actually owns the series.
"At the moment we don't seem to be able to find that out," said Davies.
Sliders premiered on Fox in 1995 and ran there for three seasons before moving to the them Sci-Fi Channel for another two seasons. In recent years NBCUniversal has distributed the series through physical and online media but the rights seem to be more complicated for a possible revival.
Davies is excited at the prospect of being a part a new series though, if only, "just to show how it should be done. It could have been the best show on television, it could still be on the air. I think maybe if we got another chance at doing it with the new technology, but also new stories, I think we could do something quite extraordinary. I wouldn't want to do it for the rest of my life, but I would do it for a season or two if it was right."
Time to go super nerd here, but while Davies' character of Arturo died during the original third season there is still a way to let him return. You see, in the season 2 episode 'Post Traumatic Slide Syndrome' it was heavily implied a double of Arturo had slid with the group and left the real Arturo on a parallel world. As for Quinn? Well, that's a whole can of worms that any reboot would need a season's worth of stories to untangle. 
Whatever the case, a Sliders revival would be very welcome. The original series has a lot of potential but never seem to be able to live up to it. Still, there are some classic episodes which you can read about in our Sliders Essential Viewing Guide.
Shamus Kelley is a pop culture/television writer and official Power Rangers expert. He also knows way too much about Sliders. Follow him on Twitter! Read more articles by him here!