News
Sleepy Hollow Season 4 Finale Promo, Cast, News
Everything you need to know about Sleepy Hollow season four...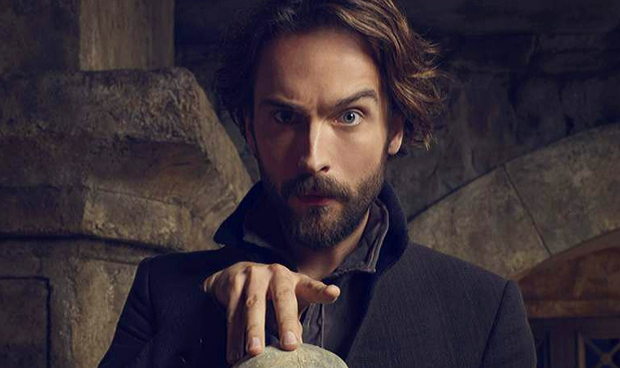 The Sleepy Hollow season 4 is coming to a close. No word yet on if Fox will renew the show for a fifth season. This show's ride has been almost as strange as the Ichabod Crane's journey through history. But these are questions for another time! 
Here's the trailer for Sleepy HollowSeason 4, Episode 13, "Freedom"…
And here's the episode synopsis:
Dreyfuss finally garners enough power to infiltrate the White House, and his group of minions grow strong enough to take action. Can Team Witness stop Dreyfuss in time?
Here's the rest of our Sleepy Hollowseason four guide…
Sleepy Hollow Season 4 Premiere "Columbia"
In the Season Four premiere of SLEEPY HOLLOW, Crane and Jenny begin to navigate life following the unexpected death of Abbie Mills. When he finds himself in a the nation's capital, Crane must forge unlikely partnerships in his quest to find the next Witness, as he discovers that there is more evil at play than he realized was possible.
Original airdate: January 13, 2017
Written by: Bryan Q. Miller
Dircted by: Marc Roskin
Sleepy Hollow Season 4, Episode 2 "In Plain Sight"
After a big discovery, Crane and Jenny struggle with breaking some difficult news to Diana. Meanwhile, the team learns that there may be witchcraft involved in a new case. Can Crane find a way to tell Diana what he knows?
Original airdate: January 20, 2017
Written by: M. Raven Metzner
Dircted by: Kellie Cyrus
Sleepy Hollow Season 4, Episode 3 "Heads of State"
When one of Crane's greatest foes comes to town to threaten the safety of Washington's highest officials, the team must work quickly to find a solution. Jake's extensive knowledge of the tunnels becomes an important piece of the puzzle as they uncover a secret from the past that could lead to answers.
Original airdate: January 6, 2017
Written by: Albert Kim
Dircted by: Russell Fine
Sleepy Hollow Season 4, Episode 4 "The People vs. Ichabod Crane"
When a monster fashioned to make its victims live out their most personal and haunting memories hits D.C., the team must find its weakness to save one of their own. Meanwhile, Jenny forms an unlikely bond that could be important in saving the world. Can the group prevail against one of the most insidious monsters yet?
Original airdate: January 27, 2017
Sleepy Hollow Season 4, Episode 5 "Blood From a Stone"
As Dreyfuss gets closer to making progress on his mission, important parts of his past come to light. His former partner returns to settle the score from years before and it becomes evident that Dreyfuss' involvement in the supernatural is not something new. Don't miss learning how Malcolm Dreyfuss came to be.
Written by: Theo Travers
Original air date: 2/10/3
Sleepy Hollow Season 4, Episode 6 "Homecoming"
When the team realizes that the talisman which Dreyfuss seeks might be hidden in the most obvious of places, they race against the clock to find it before the evil forces are aligned. Then, with heightened emotions and bittersweet memories, Jenny and Crane revisit important parts of their past as they return to Sleepy Hollow.
Written by: Joe Webb
Original air date: 2/10/17
Sleepy Hollow Season 4, Episode 7 "Loco Parentis"
Just before Molly's 11th birthday, her father returns from duty. As Diana begins to wonder if her ex might be ready to be a part of his daughter's life full-time, the team has a shocking realization.
Original air date: 2/17/17
Sleepy Hollow Season 4, Episode 8 "Sick Burn"
When internet sensation Logan Macdonald comes to town, a supernatural infection hits, via a viral video. Meanwhile, Molly has a frightening vision that could predict a bleak future. Can the team cure the curse before it takes over town?
Original air date: 2/24/17
Sleepy Hollow Season 4, Episode 9 "Child's Play"
When a monster appears that resembles Molly's childhood imaginary friend, Diana realizes her daughter's life as a Witness will be anything but normal. Meanwhile, Molly gets her chance to see the vault for the first time.
Original air date: 3/3/17
Sleepy Hollow Season 4, Episode 10 "Insatiable"
When one of Diana's mentors is targeted by a horrific monster, she decides that the team must channel all of their power toward stopping Dreyfuss. Meanwhile, Dreyfuss and Jobe have a breakthrough on a project of which Team Witness may not yet be aware.
Original air date: 3/10/17
Sleepy Hollow Season 4, Episode 11 "The Way of the Gun"
When a mysterious woman finds her way into the vault, the team struggles to understand who she is and with whom her allegiances lie. Meanwhile, Alex must come to terms with her complicated feelings when she finds herself in a tight spot.
Original air date: 3/17/17
Sleepy Hollow Season 4, Episode 12 "Tomorrow"
With a glimpse into the dystopian world that could be if Dreyfuss comes to power, the team learns more about Lara. Knowing what is at stake, can Team Witness put a stop to the billionaire mad man before it's too late?
Original air date: 3/24/17
Sleepy Hollow Season 4, Episode 13 "Freedom"
Dreyfuss finally garners enough power to infiltrate the White House, and his group of minions grow strong enough to take action. Can Team Witness stop Dreyfuss in time?
Original air date: 3/31/17
Written by: M. Raven Metzner
Sleepy Hollow Season 4 Cast
Sleepy Hollowis going to look completely different in season four. In addition to Beharie, season three regulars Zach Appelman (Joe Corbin), Nikki Reed (Betsy Ross), Shannyn Sossamon (Pandora), Lance Gross (Daniel Reynolds), and Jessica Camacho (Sophie Foster) have all left the show. 
Tom Mison (Ichabod Crane) and Lyndie Greenwood (Jenny Mills) will be back. As for other former cast members, The Headless Horseman (Neil Jackson) will be back at some point in season four and it was just announced that John Noble will be returning in season four, presumably as Ichabod's late son Jeremy/Henry Parrish…
— Sleepy Hollow (@SleepyHollowFOX)
October 9, 2016
Former True Blood star Janina Gavankar joins the cast as Diana, the new hot-headed badge with whom Tom Mison's Ichabod Crane will partner, battling supernatural threats and occasionally each other, since she happens to be a staunch skeptic.
Speaking to TVLine about what that dynamic will look like, Mison said:
[Diana] has just lost her partner, and doesn't believe in the supernatural world, and is thrust into it with a man from 250 years ago. That might sound a little familiar from maybe three years ago. So she, having lost her partner, and Ichabod loses his… there is a hole that needs to be filled, whether they will admit it or not. Janina and I seem to have found something quite nice, where we don't want to fall straight into each other's arms and be partners. And hopefully — I haven't seen any episodes yet — but hopefully, that reads.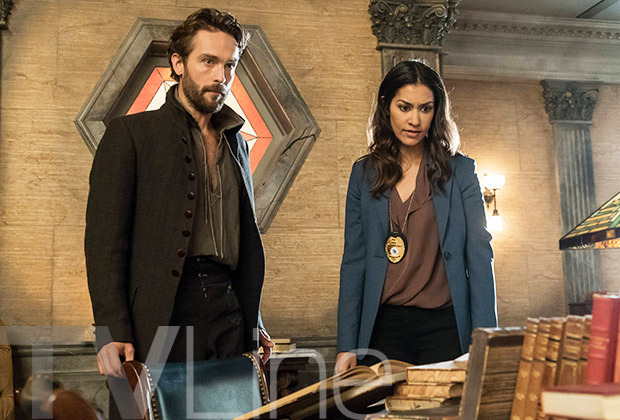 Former Lost fan favorite Jeremy Davies has also jumped onboard as a villain, playing a malevolent tech mogul named Malcom Dreyfuss. Additionally, cross-genre Fox network synergy will see Masterchef Junior contestant Oona Yaffe join the series to play Diana's daughter Molly Thomas.
Jerry MacKinnon (Empire) will appear as Jake Wells, an "eager but slightly obsessive research analyst who works in a forgotten federal archive cataloging reports of supernatural activity." He and Crane will become friends. Rachel Melvin (Awkward) will appear as engineering prodigy Alex Norwood, someone who works with Jake in the supernatural archives. 
As for former star Nicole Beharie, she's recently jumped aboard a film remake of Jacob's Ladder. However, showrunner Clifton Campbell hinted to TVLine after the airing of the April Season 3 finale that, despite her character Abbie Mills being "gone," that Beharie could still return for guest spots – intriguingly enough, just not as Abbie Mills.
Consequently, the pitch that apparently so intrigued the big brass at Fox may very well have involved a unique manifestation of Nicole Beharie's former Abbie Mills character, potentially reinvented as someone (or something) else for sporadic spots in Season 4.
Sleepy Hollow Season 4 Trailer
Sleepy Hollowis nearly unrecognizable in this first look at season four. The show has lost protagonist Abbie (Nicole Beharie), cast a new leading lady in Janina Gavankar, and relocated to Washington D.C. That's right: Sleepy Hollowno longer takes place in Sleepy Hollow.
The promo is heavy on the supernatural action, while also introducing Gavankar's Agent Diana Thomas. Apparently, she hasn't binge-watched the first three seasons of the show. "Demons don't exist," she says in the trailer. Boy is she in for a rude awakening. Check out the promo below…
Sleepy Hollow Season 4 Release Date
Sleepy Hollowseason 4 premiered on January 6th, 2017 at 9 pm.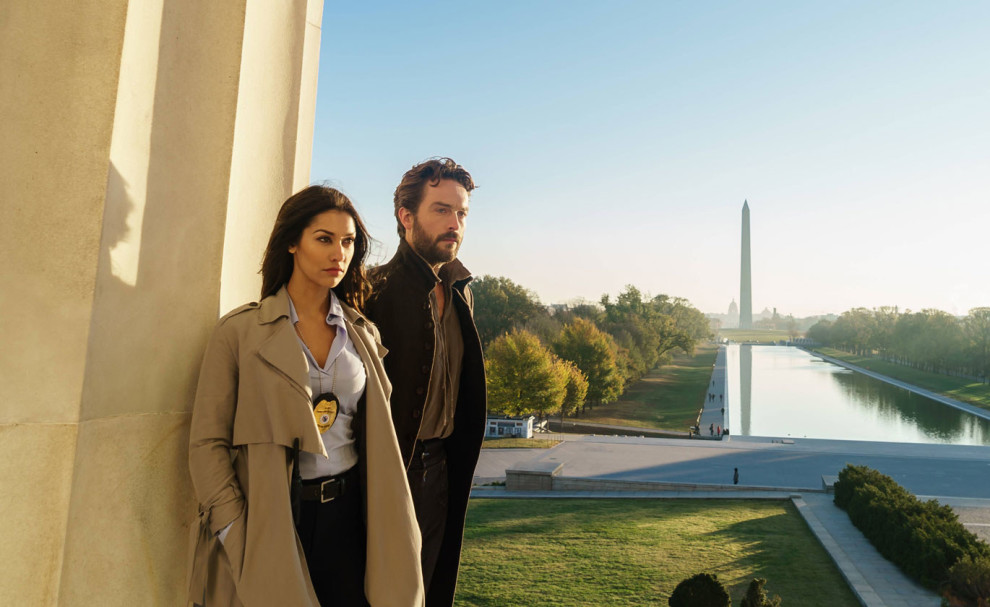 Sleepy Hollow Season 4 Renewal
At the Television Critics Association summer press tour, Fox entertainment president David Madden revealed the mindset behind this most surprising of reprieves for Sleepy Hollow. It certainly wasn't an easy decision, especially with so many downsides to consider with Tom Mison's lost-in-time Colnonial-era-sent slayer of the supernatural Ichabod Crane seemingly left with little purpose. As Madden explains of the state of the series after the exit of Beharie's Abbie Mills:
"This was obviously a very hard conversation. Crane and Abbie were the spine of the show in a lot of ways, so it was difficult to figure out if it was right thing to do, to continue or not. But the producers pitched us an array of new characters and new situations for Crane to get into."
Presumably, the ideas pitched by the producers were intriguing enough to make Madden and the rest of the Fox brass take note and consider the formerly buzz-heavy Sleepy Hollow – undoubtedly damaged by multiple seasons of sloppily executed storylines and sagging ratings – as a budget-heavy branding that is still worth salvaging. The oft-discussed upcoming overhaul of the series – migrating the show's setting away from its titular small New York town to Washington D.C. – was pitched to Fox execs, as were the initial scripts. As Madden explains:  
The first seven scripts are really fun. We think there's a lot of good new stories to tell.