News
SKAM Austin Music Video First Look
We have a first look at the new video from SKAM Austin's Shay, Tyler, and Marlon, further setting the scene for a Shay-centric Season 3.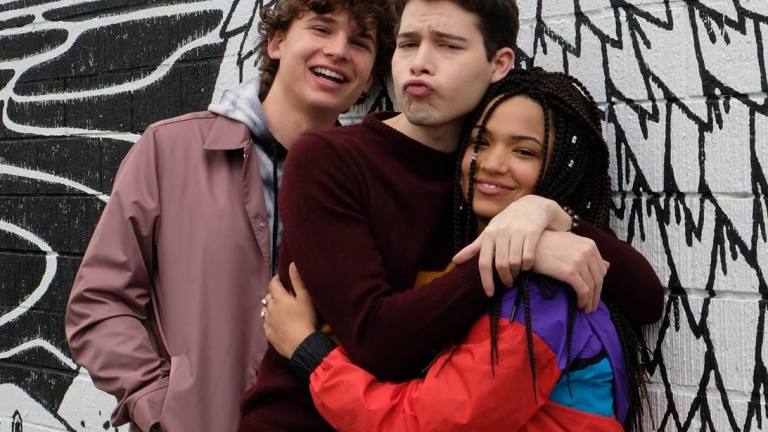 It's been a hot second since we've checked in with the narratively-rich world of SKAM Austin, the Facebook Watch TV show adaptation of the breakout Norwegian transmedia teen drama SKAM.
The transmedia web series is currently in its second season following the exploits of a group of high school friends living in Austin, Texas. The first season followed introvert Meg. The second season has her friend, Grace, as the point-of-view character.
read more: Why We're So Excited About SKAM Austin
If all goes according to the story structure laid out by the Norwegian original, Season 3 will follow one of Meg's ex-boyfriend Marlon's friends. In the original, it was the of Isak, a boy struggling to come to terms with his queerness as he falls for an older boy at his school.
However, since SKAM Austin first premiered last year, there has been much speculation that the show has gender-swapped the character based on Isak for SKAM Austin and that Season 3 will follow Marlon's female friend Shay (played by La'Keisha Slade) rather than his male friend Tyler—a guess that the Season 1 finale seemed to confirm when Meg saw a text from Shay admitting that she had fallen for Meg.
read more: SKAM Adaptations Around the World
Why am I telling you all of this? Because SKAM Austin Season 2 is currently in full swing, with some pretty excellent drama surrounding the character of Grace and her attraction to fuckboi Daniel (which Grace feels very conflicted about), but as we follow that meaty drama, we also continue to see Shay, Tyler, and Marlon's friend group life play out in the background, setting the stage for Season 3, which will probably center Shay.
The latest update in the Shay watch? Marlon, Shay and Tyler's band Clout from Grandma's closet just dropped their very own music video, and we have an exclusive first look at the endearingly teenage vid for their song "Involuntary Teenage Rebel." Check it out…
Check out our SKAM Austin How to Watch Guide or head directly over to SKAM Austin's Facebook Watch page to stream the latest clips and episodes.
Kayti Burt is a staff editor covering books, TV, movies, and fan culture at Den of Geek. Read more of her work here or follow her on Twitter @kaytiburt.