News
Six Million Dollar Man and Bionic Woman Actors to Reunite on Fuller House
Formerly bionic actors Lee Majors and Lindsay Wagner will reunite on an upcoming episode of Fuller House.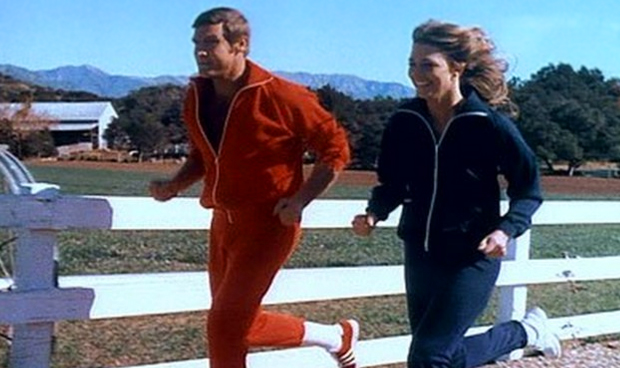 Fuller House may carry the legacy torch of the classic 1980s/90s sitcom, Full House, but an episode of the Netflix show's upcoming fourth season will make a nod to a 1970s legacy, reuniting Lee Majors and Lindsay Wagner.
The episode of Fuller House in question – which is set to be taped this week – will see former Six Million Dollar Man star Lee Majors and The Bionic Woman star Lindsay Wagner onscreen together for a team-up, reports TV Line. While Majors and Wagner are intrinsically linked by their continuity-connected 1970s TV shows, in which they respectively starred as cyborg secret agents, Steve Austin and Jaime Sommers, their reunion on Fuller House won't likely involve technologically upgraded appendages. However, don't be surprised if you hear the "dun-nuh-nuh-nuh-nuh" bionic sound effect at some point for good measure.
According to the episode description, D.J. (Candace Cameron Bure), Stephanie (Jodie Sweetin) and Kimmy (Andrea Barber) – collectively known as the "She-Wolf Pack" – attempt to embark on a wild girl's night out on the sea, which, unbeknownst to them, is a senior citizen's dinner cruise – a proverbial maritime Golden Corral early bird buffet. There, they meet ex-spouses James (Majors) and Millie (Wagner). While, as a couple, the duo used to run a detective agency, these days they field a love-hate relationship and, for Millie, a love for diamond jewelry.
While that is the extent of the confirmed details, expect plenty of references to the bionic shows, which dominated pop culture in the 1970s. The canon launched with The Six Million Dollar Man in 1974 on ABC, in which Majors played maimed astronaut/test-pilot Steve Austin, who was rebuilt and enhanced by technology to become a secret government agent. Its popularity would be spun off into The Bionic Woman (also on ABC, then on NBC for its final season), in which Wagner starred as Jaime Sommers, a former tennis pro who, having suffered similar injuries as Steve, undergoes the same upgrade to become an agent. The series frequently enjoyed crossovers, with both shows running until 1978. They were subsequently revisited in TV movies in the 1980s and 1990s, reaching a romantic crescendo with 1994's Bionic Ever After?, in which the bionic couple battle a terrorist's crippling computer virus before finally tying the knot.
In 2007, NBC launched reboot series Bionic Woman, starring British actress Michelle Ryan (Doctor Who) as Jaime Sommers, who frequently battled an evil bionic woman prototype, named Sarah Corvus, who was played by Katee Sackhoff (Battlestar Galactica). The reboot was cancelled after its initial 8-episode run.
Fuller House Season 4 has yet to reveal its Netflix release date. However, in comparison, Season 3 premiered its first half on September 22, 2017 and subsequently released its second half on December 22.