News
Silicon Valley Season 5 Release Date, Trailer and Cast News
Silicon Valley Season 5 comes to HBO this March. The latest trailer is here...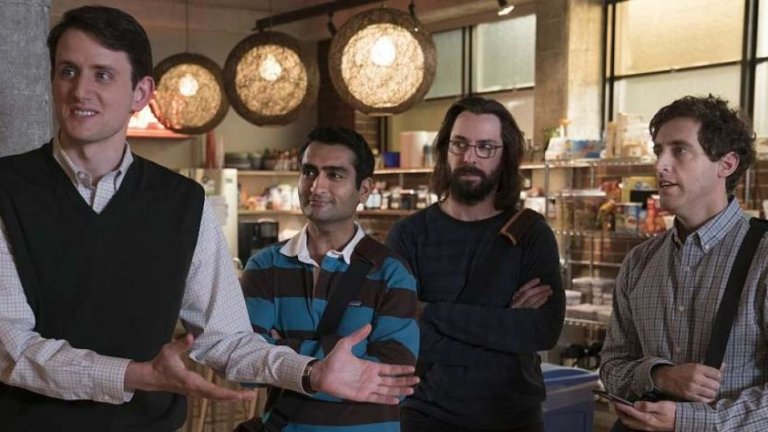 What will become of Pied Piper? We'll find out when Silicon Valley returns this spring on HBO. After T.J. Miller left the show with the conclusion of season four, Silicon Valley might have a different feel to it in the upcoming fifth season. 
Here's everything we know about Silicon Valley season 5:
Silicon Valley Season 5 Release Date
Just in time for Hooli-Con, Silicon Valley is back on March 25th on HBO. 
Silicon Valley Season 5 Trailer
Silicon Valley Season 5 Cast
Silicon Valley season 5 will feature Thomas Middleditch, Zach Woods, Kumail Nanjiani, Martin Starr, Josh Brener, Amanda Crew, Matt Ross, Suzanne Cryer, and Jimmy O. Yang. 
The series is leaving behind a major Pied Piper investor (and innovator!). Back in June when HBO renewed the series, Vulture reported that T.J. Miller would be leaving the series at the conclusion of season four.
The publication quoted an HBO rep on Miller's departure: "In Erlich Bachman, T.J. has brought to life an unforgettable character, and while his presence on the show will be missed, we appreciate his contribution and look forward to future collaborations."   
According to THR, series creator Mike Judge claims Miller did not want to be on the show anymore, so they wrote an open-ended sendoff in case Miller changed his mind. "When the season was done, we talked to T.J. and said, 'Do you want to come back for part of it?' And he just wanted to move on," Judge said.
Miller, in an interview with THR, disputed that claim:
They came to me and said, "Look, we're not going to pick up your contingency because we want to offer you doing five episodes out of the 10, or three episodes." And then I said, "Oh perfect, I had been wanting to ask if you guys would be open to me leaving the show." And then they suddenly said, "Wait, no, what? You can do whatever. What? What do you mean?" And that was so good of them. They said, "We just wanted you to have more time to do all of the things you're doing." And I said, "Well, the best way for me to be involved in the show is by no longer being on it."
Miller, who said he might be the hardest working man in show business, went on to say the production schedule had to shift because of his busy schedule and that Silicon Valley, despite being a hit, was just another this thing he had to do. His departure came months before the actor was accused of sexual misconduct in a DailyBeast report.
As for how this changes the dynamic of the show, Miller said Silicon Valley will again have to embrace the pivot in season five to fill the void left by Erlich Bachman.