News
Sick of It Trailer: Karl Pilkington Stars in Scripted Comedy Series
Karl Pilkington breaks away from Ricky Gervais's prodding to star in his own scripted comedy series, Sick of It.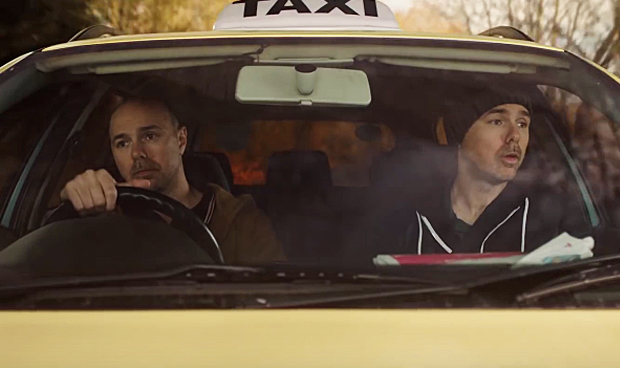 While the milquetoast persona of Karl Pilkington may be best known as the butt of Ricky Gervais's japes on the reality travel series, An Idiot Abroad, the man is about to make a different kind of comedic statement on his own as the star, writer and executive producer of the scripted comedy series, Sick of It.
However, don't expect Sick of It to be the platform on which Pilkington showcases Daniel-Day-Lewis-like range, since he's essentially playing a version of himself… twice over. Indeed, the Sky One-bound U.K. series will see Pilkington as a reclusive paranoid middle-aged man, yielding the twist of having two Karls for the price of one, since we see both him and the manifestation of his restless inner-voice. Thus, Sick of It distinguishes itself by being centered on the star's chemistry with himself.
Sick of It Trailer
The Sick of It trailer should resonate well with fans who miss Pilkington's hilariously whiny persona on An Idiot Abroad, on which he showcased a mindset that seemed to amalgamate the observational musings of Will Rogers with that of an angry hobbit. Moreover, much like the aforementioned travel series, this scripted offering appears to hinge on Pilkington's life-affirming arc of self-discovery as he is advised by his therapist to challenge himself and conquer his many fears.
Of course, Sick of It is primarily a comedy series, and the Alanis Morrissette-like sight of Pilkington driving a car and jamming out to music while his doppelganger rides shotgun (a concept that's not "Ironic,") seems designed to encapsulate the tone of this series.
Pilkington last fielded a scripted role on the Ricky Gervais series, Derek, on which he also served as a writer and executive producer. He is joined on Sick of It by co-star Sondra James (Spider-Man: Homecoming, Don't Think Twice).
Richard Yee, who directed Pilkington on An Idiot Abroad is serving as director for Sick of It.
Sick of It has yet to disclose its release date.
The series will air on Sky One in the U.K., with international distribution plans not yet revealed.