News
Shrill Season 2: Release Date, Plot, and First Look Images
Aidy Bryant will be back as Annie when Shrill season 2 returns to Hulu in 2020.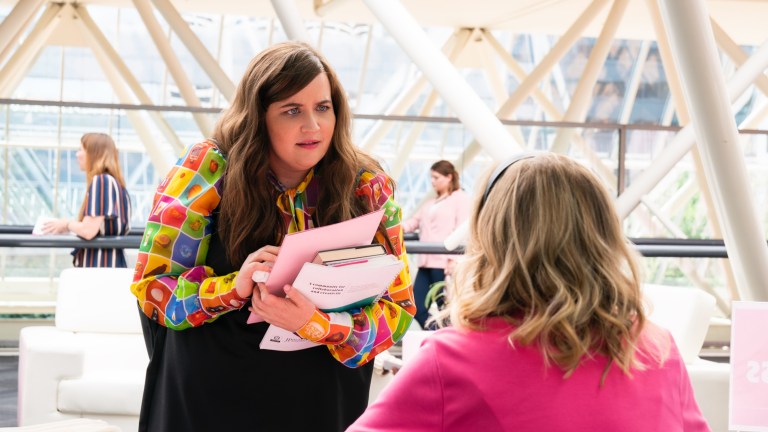 As recent seasons of Saturday Night Live and the first season of Hulu's Shrill taught us, more Aidy Bryant is a good thing. Hulu is giving the people what they want; Shrill season 2 is now confirmed with an eight-episode order. Season one, which contained six episodes, premiered in March to glowing reviews praising the show's body-positive subject matter (and dealing with online trolls) and Bryant's leading lady prowess.
The series is adapted from Lindy West's 2016 essay collection Shrill: Notes from a Loud Woman. West serves as an executive producer alongside Bryant, Ali Rushfield, and Elizabeth Banks. The series is produced by Lorne Michaels' Broadway Video.
Bryant stars as Annie, a budding journalist who challenges the perceptions of her body image. Absent the respect she deserves from her co-workers, hookups, and strangers, Annie, in season one, begins to unapologetically break old habits and find her voice. The series co-stars Lolly Adefope as her best friend and roomate Fran, Luka Jones as her boyfriend Ryan, and John Cameron Mitchell as her boss Gabe.
Bryant told Den of Geek at SXSW why she pushed to be involved with Shrill: "It was just the first time I ever saw myself in something," she said. "I was like, 'This is how I always felt.' And Lindy did such a beautiful job of crystallizing these things I had felt for a long time and always wanted to say." 
Shrill is part of a trio of critically well-received spring comedy launches for Hulu. Pen15 (read our review here) premiered in February and Ramy (read our review here). 
Shrill Season 2 Release Date
The series returns to Hulu on Friday, January 24th. 
Shrill Season 2 Plot
Hulu dropped a long synopsis that gives us insight into the plot of Shrill season 2: 
Annie starts the season on a high. She has faced her demons head on—her mom, her boss and her troll—and she's feeling pretty good. She also has her boyfriend Ryan by her side. But the high doesn't last long. Annie realizes that quitting her job was a hasty move. 
Things aren't perfect with Annie's mom either. She cleared the air, but the old problems are still there and there is way more to deal with. 
When it comes to relationships, Annie thought she wanted Ryan's commitment and love, but that may have been a hasty move as well. It's nice to have someone, but is Ryan really the right match for her? She's career-focused and ambitious and he's… not. Meanwhile, Fran is dealing with a break-up and figuring out what she really wants out of her life, too. 
This season Annie is no longer the doormat she once was, but it's not as easy as she thought to get what she always imagined she wanted.
Shrill Season 2 First Look Images