News
Showtime Drops Trailer for Nurse Jackie Final Season
Edie Falco is out of scrubs and drugs on the last season of Nurse Jackie.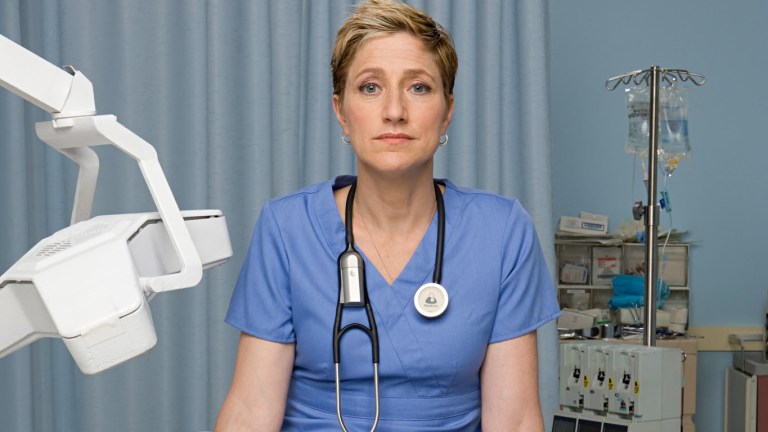 I like quiet. Quiet and mean, those are my people.
Nurse Jackie does not live a quiet life. The last time we saw her she spun out in full-blown freefall and her stash went flying right into the arms of the cops. It looked like Nurse Jackie was going to bring everybody down with her in her fall: the administrators who covered for her, the pharmacist who filled her prescription, assorted doctors and cops and rehab buddies. But it looks like Jackie Petyon is going to try and redeem herself, according to the new Nurse Jackie trailer from Showtime.
Edie Falco may still be best known as Carmela Soprano on The Sopranos, but Nurse Jackie is what the doctor ordered. She puts in such a conflicted, funny and tragic performance on a show where even the comedy give you white knuckles. Nurse Jackie is the funniest drama and the most dramatic comedy on TV.
Nurse Jackie begins its seventh and last season on April 26. Jackie will wake up after the crash in Bellevue Hospital, handcuffed to her bed, under arrest for four days while she went through drug-assisted rehab. She lost her nursing license, been stripped of her scrubs and is pushing a broom at All Saints Hospital, staying straight long enough to be a nurse again.
According to the Showtime synopsis: "The twisted and darkly funny Nurse Jackie is back with a new season of little white lies and little blue pills. Jackie realizes sobriety is the ultimate cover for getting high, and now she's saving lives at work, taking care of her kids and her boyfriend is loving the new her. She's got everyone fooled, but what goes up must come down. Don't miss Edie Falco in her Emmy winning role."
Nurse Jackie debuted in 2009 and nabbed Emmy awards for Edie Falco and Merritt Wever. Nurse Jackie's final season debuts April 12 at 9 p.m. on Showtime.
Like us on Facebook and follow us on Twitter for all news updates related to the world of geek. And Google+, if that's your thing.