News
Sherlock: Will We See The Woman Again?
Could we ever see Laura Pulver as Irene Adler, "The Woman" on Sherlock again?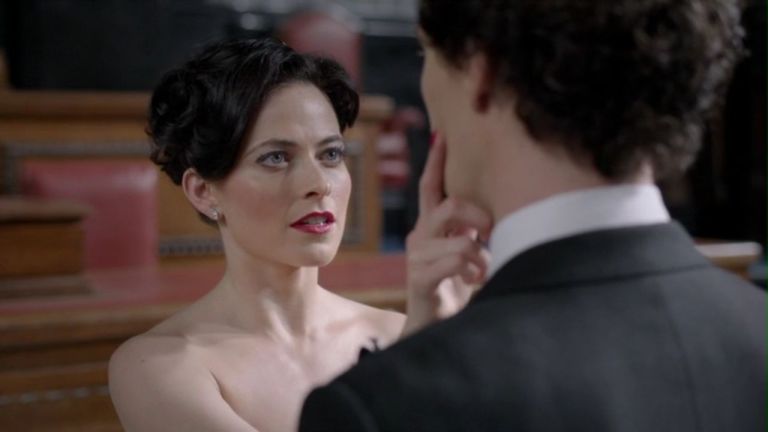 Lara Pulver has fond memories of her time on Sherlock. Despite it being several years since she appeared as the intellectual foil whom Sherlock dubbed simply as "The Woman," and Pulver having just recently completed a busy year both onstage in the West End revival of Gypsy (for which she won an Olivier Award) and in filming Underworld: Blood Wars, the English thespian still looks back on the series as an experience that put her and so many others on the pop culture map.
Hence when we spoke with her in December to discuss the upcoming Underworld release, invariably the subject turned toward Sherlock.
"It was one of the best experiences of going to work I've ever had," Pulver tells me while reflecting on her 90-minute bow in the series, "A Scandal in Belgravia." Indeed, it's a personal favorite for this writer too, remaining a highlight where Holmes met an enigma that absolutely fascinated and baffled him.
"It was such a gift, I agree with you," Pulver says. "I think it's such an extraordinary episode; it's beautifully crafted, beautifully written, and wonderfully shot. Paul [McGuigan] is just such a visual genius." Remarking on how the series as a whole has placed a spotlight on the cast and creators, she adds, "The show really has put so many of us on the map, it's kind of extraordinary."
Amusingly, however, there was real anxiety heading into her specific storyline before it aired. After all, consider the type of disruption Irene Adler presented Benedict Cumberbatch's Sherlock Holmes and Martin Freeman's John Watson. To this day, Irene remains the only woman who's truly diverted Sherlock's attention from the good doctor—even lingering in his mind palace as an unwanted distraction for a brief season 3 cameo.
On this dynamic, Pulver reflects, "I was slightly apprehensive how people, how fans, really, would take Irene, because they were so in love with the relationship between Sherlock and Watson. And then this woman coming in and pulling on his heartstrings, and what that meant for Sherlock? And yet, everyone couldn't have been kinder and more thrilled by our portrayal of the character and the telling of that story."
Still, Pulver stays a bit cautious about saying anything that might get hopes or expectations up for the return of Irene Adler on the streets of London in a future episode, suggesting that Sherlock creators Mark Gatiss and Steven Moffat may wish to leave that story as a standalone achievement.
"I think from Steven and Mark's point-of-view, I'm not sure how you top that episode," Pulver says. Yet, I'm quick to point out that Moriarty appears poised to return in some capacity to season 4… and he's dead.
"True," she laughs. "Anything can happen, [but] I have no idea… I have no idea what their plan is for the show. I have no idea if this is the last season, I have no idea if they'll want to carry on doing Christmas specials—the boys are so busy."
Nevertheless, it's still worth imagining what Irene Adler would say if she saw the events currently unfolding on Sherlock, not least of which includes Moriarty's digital resurgence creating an international incident so grand that the British government will overlook the fact that Sherlock had just executed a British citizen in cold blood.
When I ask Ms. Pulver how Irene would react to the sight of Sherlock and Moriarty's little spat going as public as the screens of Piccadilly Circus, the performer muses, "I think she'd be secretly smiling in the corner." She then curls a smile of her own before adding, "And then the text would appear. 'Let's have dinner.'"
Sherlock is currently airing on PBS. Underworld: Blood Wars is now in theaters.