News
Sherlock: Steven Moffat on series 5 possibilities
Er, Sherlock may be gone for some time. "There is no upper limit on how long we can do it. Holmes and Watson can be 60 or 70"...
In a new interview with the Radio Times, via Cultbox, Steven Moffat has been musing once more on the future of his other (other) hit series, Sherlock.
When asked if he might have a bit of spare time after the conclusion of his Doctor Who run to pen new episodes of the show, which stars Benedict Cumberbatch (currently busy with his Marvel films and other big projects) and Martin Freeman (who just signed on for another run of Crackle's hit tech drama StartUp) he remarked that "everyone is busy", which is, to be fair, true.
Moffat went on to add "I vaguely assume we will do it again at some point. I don't think it will be very soon. It's due a longer gap", before dashing hopes a little more with "It is still enormously successful, so there will always be a demand for it, I hope. And there is no upper limit on how long we can do it. Holmes and Watson can be 60 or 70".
Benedict Cumberbatch is currently the ripe old age of…er, 41. So maybe we'll not hold our breath for a new series of Sherlock any time soon?
Previously, in July…
Steven Moffat has just one episode left as Doctor Who boss, and he's already lined up a new project with Mark Gatiss: a Dracula series at the BBC.
And while this doesn't mean that Sherlock is finished, it does mean that fans will have to wait quite a while to see Benedict Cumberbatch and Martin Freeman clueing for looks once again.
In conversation with Gatiss, Radio Times mentioned that the gap between series of Sherlock is normally two years. Is that the sort of break we're looking at this time?
"Oh, even longer I would say", was the response from Gatiss, who appears in the show as Mycroft as well as writing it alongside Moffat and Steven Thompson.
"Everyone's really very up for it, it's just terribly difficult to schedule everyone", he explained. He also mentioned that there are "no immediate plans" to press ahead with more episodes. 
"It's not a lack of will" that's holding up Sherlock series 5, Gatiss said previously, on the podcast A Stab In The Dark.
"It's a nightmare to schedule. It was very, very hard to schedule the last series, because of Martin and Benedict's availability. And Steve's and mine."
Gatiss also mentioned the temptation to finish Sherlock altogether:
"There is always that Fawlty Towers principle of 'let's just leave it'. We've had the keys to Baker Street for a while, but one of the wonderful thing is that they're always shared. They were shared while we were making it. There's nothing wrong with saying: that was our version, somebody out there go and do their version".
Moffat has spoken about Sherlock's future, too.
"We did [the last series] a year ago, just about, and I've been flat-out on Doctor Who ever since," he told Digital Spy recently. "So I haven't really thought about it."
"Mark has been doing other stuff as well," he added, "so we haven't sat down and had a proper talk about what we would do with another series."
"I sort of assume we will", Moffat teased. "I sort of assume we'll come back."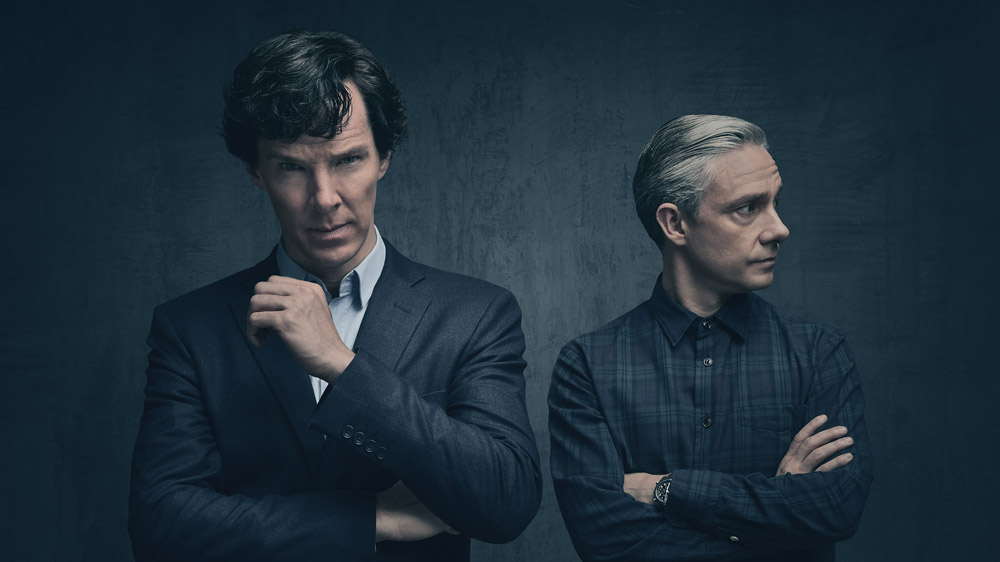 A few months before that, speaking to Broadcast, Moffat hinted that it wouldn't be the end of the world if Sherlock series 5 didn't end up happening.
"It's not like we haven't had our reward for doing that show," Moffat explained. "it's been such a phenomenon. Not doing it again would be fine. If that was it, then that would be it. None of us will starve in the street – well, I might."
As it stands, then, the schedules need sorting if Sherlock is going to return at all.
But, regardless of whether that happens, Gatiss and Moffat's Dracula show is an exciting alternative to look forward to.
We'll bring you more news as we hear it.