News
She-Ra Season 2 Trailer, Release Date, and Episode Count
She-Ra and the Princesses of Power will be back for season 2 on Netflix and we know when it'll air!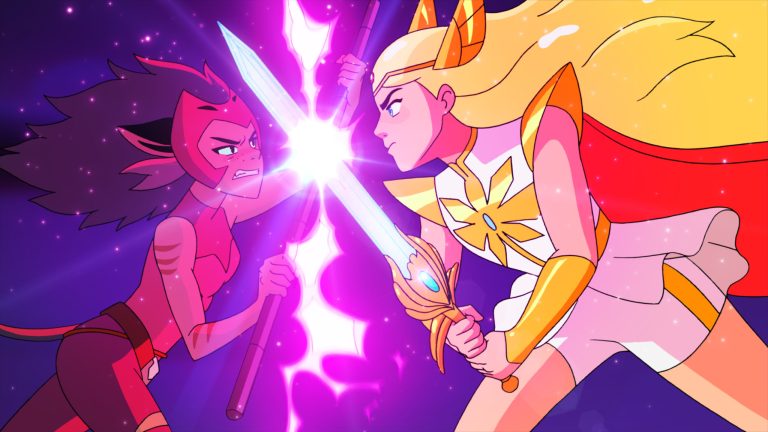 She-Ra, She-Ra! The Netflix reboot of the classic 80's She-Ra series was a huge success and, with the universe left wide open at the end of the first season, fans were waiting for a second season. Well wait no longer, She-Ra fans!
She-Ra Season 2 Trailer
The second season trailer screened at Wondercon and gives some delightful teases at what's to come.
She-Ra Wondercon Panel News
At the 2019 She-Ra Wondercon panel we learned a lot of great information about the second season including…
– Season 2 will be seven episodes.
– The first clip screened featured the Princesses taking on several robots as Catra, Entrapta, and Scorpia watch. There was an even a Mr. Freeze style pun. Frosta is also shown to be trying to be Glimmer's best friend.
– Catra is not fully prepared for her new role under Hordak.
– Adora is in an existential crisis and emotional crisis at the start of season 2. It will be her most "painful stretch of episodes".
– We will learn a lot more about Hordak this season and see inside his secret lab. A "friendship" will also be seen there.
– Catra wants to defeat the princesses because, in her eyes, they took her best friend
– Light Hope has Adora do exercises that are revealed to be a mind game that helps hone her skills.
– Mara is "the ghost hanging over the whole story." We won't find out much about her this season.
– Adora feels like she has to be perfect or everyone will die.
– "Let's make it clear. Bow is a princess," said Marcus Scribner.
– Bow is dealing with confidence issues as the team's tech master.
– The second clip featured Adora and Swift Wind. Swift Wind was trying to give Adora a pep talk but she was overwhelmed with all her new responsibilies. 
-Swift Wind is stoked about his new role about saving the world.
– The third clip had Glimmer and Bow fight against Catra. The two accidentally kidnap her and Catra makes them feel guilty about what happened to Entrapta.
– The fourth clip features Bow giving the details of a plan. While explaining the plan everyone looks like the 80's versions of the characters and some of the shots seem to be direct homages to how the original series was animated. 
– That episode will be one where we see the world through the characters eyes. Glimmer sees the world through a pink lenses and Frosta imagines herself eight feet tall.
– The fith clip has Scorpia talking about her love of Catra and asking other Horde soliders for gift ideas.
We've also got a poster for the second season, which you can see below!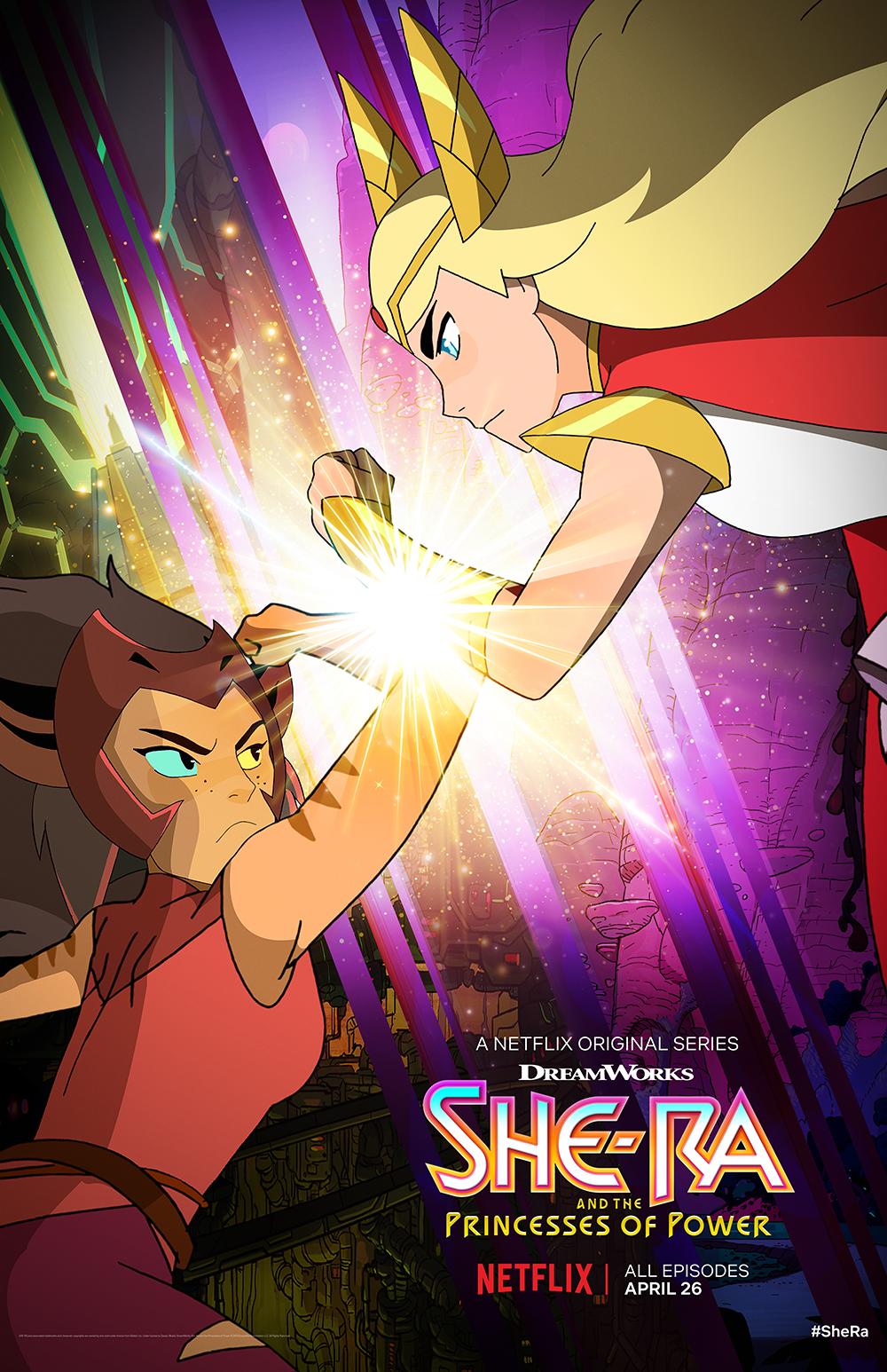 She-Ra Season 2 Release Date
We've learned straight from DreamWorks that season 2 of She-Ra and the Princesses of Power will drop on April 26th, 2019! This information came alongside of video that sadly doesn't have any new footage but does at least include the date. You can find that video below.
Sadly we don't know how many episodes will be included in the second season. It's likely it'll be another thirteen episodes but Netflix has dropped as little as six episode drops from other DreamWorks animated series.
We're extremly excited for this season. We can't wait to see more from the characters, especially Netossa and Spineralla who are in a confirmed queer realationship. They only appeared at the very end of season one so hopefully they'll play a much bigger role in season two. Of course we're excited to see all of the other characters as well, with the growing divide between Adora and Catra being of particular interest. 
As the show's mythology and world building deepens we are sure She-Ra and the Princesses of Power will get better and better. The series has already been hinting at the world of He-Man so we can't wait to see how She-Ra stars to incorporate more of the wider Masters of the Universe, well, universe! Stay tuned to Den of Geek for all things She-Ra season 2!
Keep up with all our She-Ra and the Princesses of Power news and reviews here.
Shamus Kelley is a pop culture/television writer and official Power Rangers expert. Follow him on Twitter! Read more articles by him here!