News
Marvel's She-Hulk TV Series on Disney+: Everything You Need to Know
Jennifer Walters, the biggest, greenest lawyer in the Marvel Universe is getting a Disney+ TV series as She-Hulk!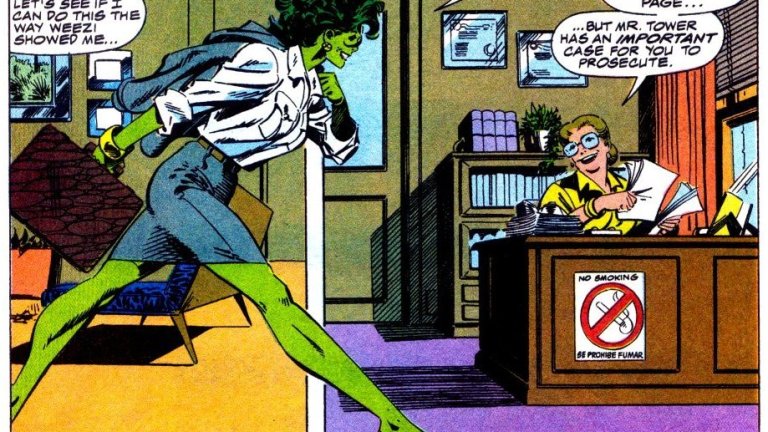 You'll just have to trust us on this one. Goofy name. Fun as hell character. You'll see for yourself when Marvel Studios eventually gets around to unveiling the She-Hulk TV series on Disney+. The series was announced by Kevin Feige alongside other new Marvel Disney+ shows like Ms. Marvel and Moon Knight (we also have a list of all upcoming Marvel shows here). The series was first announced at D23 back in August, but now The Hollywood Reporter has word that Jessica Gao (of Rick and Morty fame) will lead the writing team (a team which will also include Choose Your Own Disaster and The White Man's Guide to Male Writers of the Western Canon author Dana Schwartz) for the new series. If that's an indication of the kind of humor we can expect on this show, it's a perfect choice. 
Watch everything Marvel and more with a FREE Disney+ TRIAL, right here!
She-Hulk was created by Stan Lee and John Buscema in 1980 in the pages of (what else?) The Savage She Hulk. The recipient of a blood transfusion from her cousin, Bruce Banner, Jennifer Walters ends up with a certain green skin condition after receiving a batch of gamma-irradiated blood. But unlike Bruce at that point in his life, Jennifer can control her transformations. Well, she could…until she decided she just liked being She-Hulk better and spends all her time that way. And that includes when she's practicing law. The character has done time as a member of the Fantastic Four, the Defenders, and the Avengers, so there are plenty of opportunities for this series to play within the wider Marvel Universe. 
But what made She-Hulk evolved even further when writer and artist John Byrne took on the relaunched The Sensational She-Hulk book for Marvel, this time with a decidedly humorous edge. Seemingly patterning the book's rhythm after shows like Moonlighting, whose sharp-tongued main characters would often break the fourth wall, complain about the network, and address the audience about their plight, and adding a little touch of classic Looney Tunes, where characters would address the writer and artist directly about the action of the book, problems with the story, and conventions of the comic book form, She-Hulk was certainly…different. But just in case you thought it was a big deal that Deadpool pulls this kind of stuff, just know that Jen Walters was doing it years before Wade Wilson was even a twinkle in Rob Liefeld's eye.