News
Sharknado 5: Global Swarming Reveals Celebrity Cameos and More
Sharknado 5 reveals its title of 'Global Swarming,' along with a list of celebs sure to be consumed in cameos.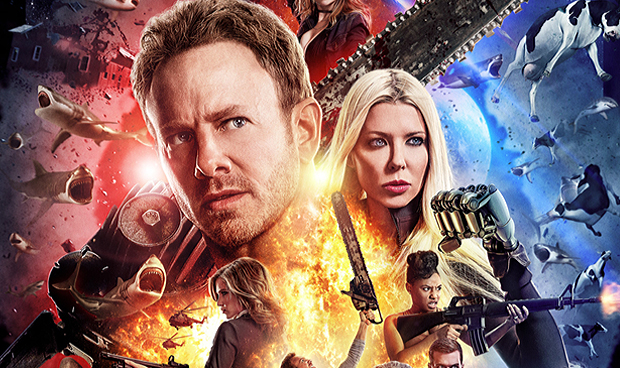 If, for some reason, the title and germane details of Syfy's Sharknado 5 has consumed you to the point of obsession, then consider today to be your point of sweet succor. Not only has the NBCU cable outlet revealed the full and proper title for August's fifth entry in America's favorite made-for-TV film franchise centering on wind funnels made of carnivorous oceanic predators in Sharknado 5: Global Swarming, but the list of its celebrity cameos is as curiously random as you probably prefer.
The imminent fifth outing of the Sharknado franchise – what was once a self-deprecating small-screen lark that has transformed into an annual event – will take things to a larger scale with the reveal of its title Sharknado 5: Global Swarming. Indeed, the Sharknado phenomenon may be at a point at which no amount of industrial austerity or hypothetical denial will save humanity from serrated-tooth consumption.
Global Swarming sees the return of hero Fin Shepard (Ian Ziering) and his wife, the now-bionic femme-fatale (who survived a Batman Jason Todd/Robin-like fan poll deciding her fate in the last film,) April (Tara Reid), who are travelling abroad with their young son when – surprise, surprise – a Sharknado outbreak occurs, this time on a global scale (as hinted in the Trumpism-lampooning promo poster below), hitting London, Amsterdam, Tokyo, Rio and more. Of course, with a realtively solid track record in fighting the phenomenon, the Shepards immediately go to work.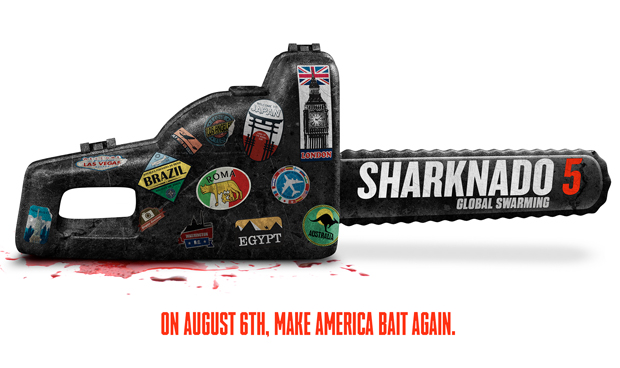 Of course, it wouldn't be Sharknado without the obligatory array of cameos from celebrities (B-level and below), delighting fans with memories from days of yore. Syfy's official list for the Global Swarming cameo roles consists of the following:
Fabio (Model) as the Pope

Tony Hawk (Professional skateboarder) as a masterful weapons operative strategist

Clay Aiken (Musician) as Llewelyn, a cutting edge technology genius

Olivia Newton-John (Musician) and daughter Chloe Lattanzi as Orion and Electra, two brilliant scientists who help defend Australia from a looming Sharknado

Bret Michaels (Musician) as a visiting artist that gets trapped in the storm

Margaret Cho (Comedian) as a fussy bride whose honeymoon is interrupted by sharks

Charo (Musician, Comedian) as The Queen of England

Gilbert Gottfried (Comedian) as storm chaser Ron McDonald

Al Roker, Kathie Lee Gifford and Hoda Kotb (Today hosts) as themselves

Greg Louganis (Olympic diving medalist) as Zico, a high-end art thief, and Tom Daley (Olympic diving medalist) as himself

Gus Kenworthy (Olympic freeskiing medalist ) and Jeff Rossen (NBC News investigative correspondent) as themselves

Porsha Williams (The Real Housewives of Atlanta) as Andromeda, an archeologist and member of the elite "Sharknado Sisterhood"

Tiffany "New York" Pollard (Flavor of Love) as Vega, a Brazilian black market artifacts dealer

Chris Kattan (Saturday Night Live) as The Prime Minister of England

Cat Greenleaf (Talk Stoop) and Dan Fogler (Fantastic Beasts and Where to Find Them) as themselves

Ross Mullan (Game of Thrones White Walker) as Dr. Wobbegon, a scientist who has made breakthroughs in meteorological studies to track Sharknado storms
Sharknado 5 Release Date
Sharknado 5: Global Swarming will premiere on Syfy on August 8.