News
Sharknado 5: Global Swarming Has Trailer & an SDCC Panel Because Why Not?
There is a trailer for Sharkando 5 that features sharks in tornados. So of course you want to know about its SDCC presence, right?!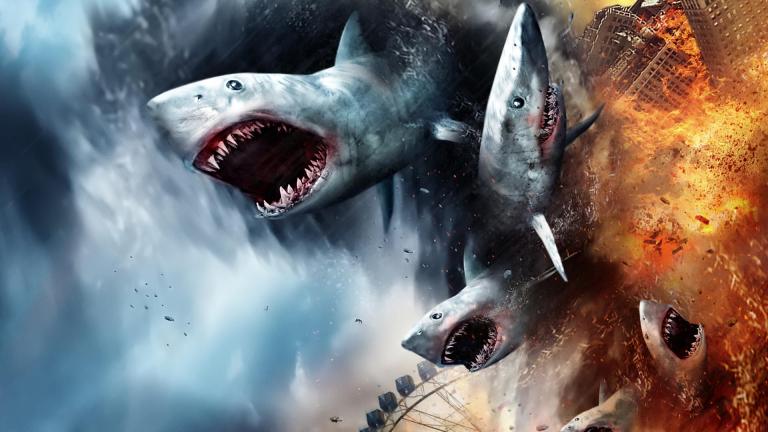 Like everyone else on this planet, I'll always remember the day I heard Sharknado was a thing. Just as in the versions you'll likely be telling to your grandchildren and possibly great-grandchildren when they're wee high, it was a moment of shock, incredulity… and joy. For surely, the world cannot be a cold, meaningless place if Syfy has combined two things that should be as commonplace as peanut butter and jelly, right?! There must be a God to allow such beauty into the world as that which comes with sharks inside of tornados.
And thus its jokes were all very funny in Sharknado, and the viewing parties were even more lit when Sharknado 2 graced our television screens. Hell, I still recall Sharknado 3: Oh Hell No! and how we all looked at each other in a shared moment of realization: do you still think this is funny? And to be perfectly honest, I did not realize there had already been a Sharknado 4, nor did I have the privilege of seeing such cinematic finery. Still here we are now on the precipice of Sharknado 5. You likely didn't know you wanted it—and, in fact, you probably very well do not—but it is here nonetheless!
Sharknado 5: Global Swarming has a trailer! (You see, it takes the phrase "global warming," a real manmade climate catastrophe that could disrupt the entire world and continue causing mass extinction in the centuries to come… and adds an "S" to the latter word. It's clever like that.) In the tantalizing video, there are promises of sharks attacking the Pyramids of Giza, Big Ben in London, and the Great Wall of China. Because after five years, the joke is still just so hilarious!
Right, guys? Right?!
Sharknado 5 SDCC Details
It's unclear yet who is attending, but Sharknado 5: Global Swarming will be blasting into San Diego Comic-Con's Room 6DE on Friday, July 21 at 6:45pm!
Sharknado 5 Release Date
Sharknado blows onto the Syfy channel on Aug. 6.
Read and download the full Den of Geek SDCC Special Edition magazine here!