News
Sex Education Trailer: Gillian Anderson and Asa Butterfield Netflix Comedy
The Netflix dramedy series Sex Education follows a socially-awkward teen boy and his sex therapist mother.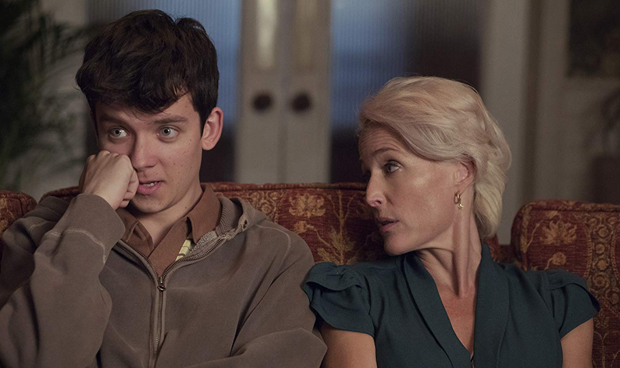 Gillian Anderson will star in Sex Education, an upcoming drama to stream on Netflix. The series follows Anderson's character, a sex therapist, and her teenage son, played by Ender's Game star Asa Butterfield.
Butterfield plays Otis Thompson, a socially awkward high school virgin who, while inexperienced himself, knows a great deal about sexual education because of his sex therapist mother. Otis teams up with "whip-smart bad girl" Maeve (newcomer Emma Mackey) to set up an underground sex education clinic for their classmates to answer all of their weird and wonderful questions. This series touts a rather amazing premise, and an intriguing starring duo.
Sex Education Trailer
As you can see in the trailer for Sex Education, the expectations of one's parents – often difficult in most circumstances – are especially problematic for pubescent high schooler Otis, whose awkwardness contrasts with the veritable cauldron of hormonal ribaldry at his school, especially since everyone knows about his mother's occupation as a sex therapist. However, with a little help from his enterprising unrequited crush, Maeve, Otis – in a dynamic akin to the 2007 Anton Yelchin teen therapist comedy, Charlie Bartlett – becomes the school's resident sex advice guru; one whose improved social standing has yet to resolve his own romantic woes.
Sex Education Release Date
Sex Education starts its bingeable eight-episode sessions on Netflix on January 11.
"It pretends to be a show about sex, but it's actually a romantic and funny show about love," producer Jamie Campbell told Variety back in November 2017. "It's an antidote to shows that present the teenage experience of sex as superhumanly confident and experimental. Our characters have an endless supply of sexual problems that need to be solved. Otis has the expertise to provide the answers, but has problems of his own, starting with the fact that he's never had sex himself."
The dramedy is created by emerging writer Laurie Nunn and will be will be directed by Catastrophe's Ben Taylor. Sex Education is being produced in the U.K. by British production company Eleven Film. It is set to be released sometime in 2019. Ncuti Gatwa (Stonemouth), Connor Swindells (Harlots), and Kedar Williams-Stirling (Will) also star.
Kayti Burt is a staff editor covering books, TV, movies, and fan culture at Den of Geek. Read more of her work here or follow her on Twitter @kaytiburt.
Joseph Baxter is a contributor for Den of Geek and Syfy Wire. You can find his work here. Follow him on Twitter @josbaxter.