News
Seven Seconds Trailer: Netflix Crime Series Starring Regina King
Netflix crime series Seven Seconds adapts a Russian movie with an American topical spin, headlined Regina King.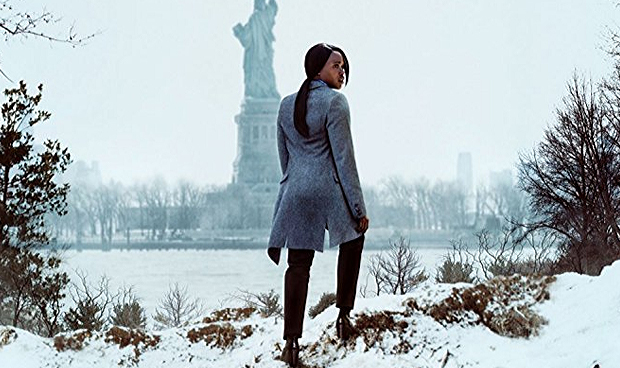 The fans of pathos-packed crime dramas who were delighted when Netflix gave AMC-cancelled crime drama The Killing a proper final season will likely want to binge the streaming giant's latest genre offering, Seven Seconds, which even comes from the creator of that show, Veena Sud.
The 10-episode series, which stars two-time Emmy-winning American Crime standout Regina King and former Grimm co-star Russell Hornsby, depicts shameful coverup of a most grievous Big Apple-adjacent murder.
Seven Seconds Trailer
The snow-mired mise en scène of the American Crime Trailer seems like a metaphor for the cold way the hit-and-run death of an African-American teenage boy is treated, especially since the culprit is a white cop. Indeed, the death of the boy, who was left to bleed out in the snow, would have been buried if not for the efforts of a determined detective in Latrice Butler (Regina King). Consequently, racial tensions begin to heat up the winter-frozen city, as the irresistible force of Butler meets the immovable object of the ass-covering cop in question, Peter Jablonski (Beau Knapp).
With the Seven Seconds trailer comes this premise-setting promo poster.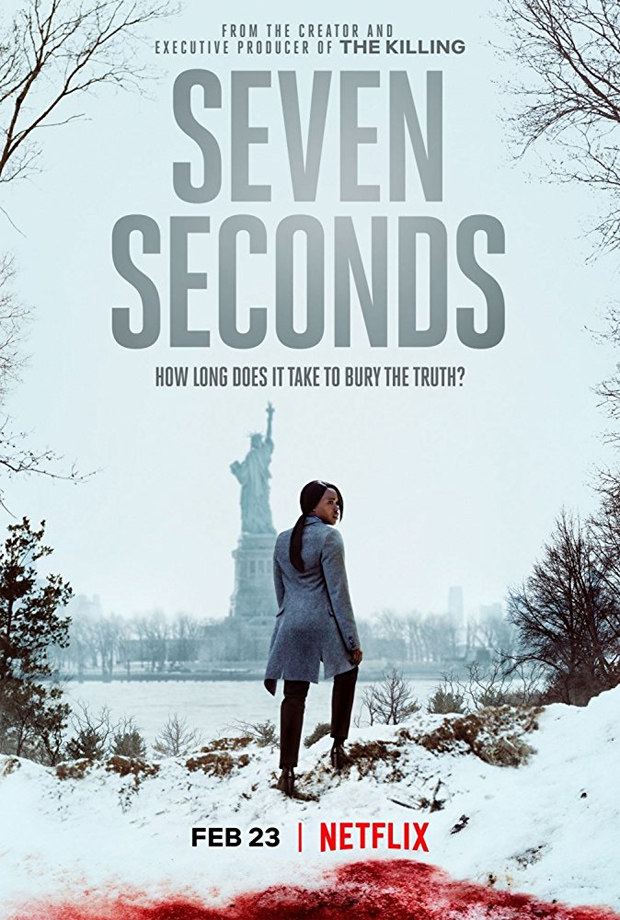 Seven Seconds Release Date
Seven Seconds will make its arrival on Netflix on February 23.
Seven Seconds Details
Seven Seconds, while showcasing a predicament that seems uniquely American, is actually based on the 2013 Russian film, The Major (Майор). The series is the brainchild of The Killing creator Veena Sud, who serves as executive producer alongside Gavin O'Connor, who will also direct.
As the official logline for Seven Seconds reads:
In an instant, life is forever changed for Brenton Butler and his family. After a white cop accidentally hits and critically injures a black teenager, a northeastern city explodes with racial tensions, an attempted cover up and its aftermath, and the trial of the century.
The original Russian movie source material, The Major, depicts the incident in question involving a police officer, an expectant father, who accidentally hits a teen with his car while frantically driving to the hospital for his child's birth; an accident that leads to a reprehensible cover-up by the cop's colleagues. Thus, Seven Seconds seems to manifest multiple points of view in the tragedy's escalating aftermath.
The series is yet another high-profile TV project for star Regina King, who nabbed two successive supporting actress Emmy wins (in 2015 and 2016,) for two different roles in anthology series American Crime. Her acclaimed career – launched as teenager on the 1980s sitcom, 227 – has seen TV runs on Big Bang Theory, The Leftovers, Southland, as well as roles in major films such as Ray, A Cinderella Story, Jerry Maguire and Friday.
Another notable cast member is Russell Hornsby, who plays a man named Isaiah Butler, a described "devout man" who is struggling to remain that way in the aftermath of the tragic incident in question, dealing with a crisis of faith amidst an atmosphere of increasing racial tensions. Hornsby, who comes off his co-starring run on NBC's cancelled monster-hunting fan-fave series, Grimm, has fielded numerous regular television gigs over the years on shows like Lincoln Heights, Playmakers, Haunted and Gideon's Crossing.