News
Seth MacFarlane, Patrick Stewart Head to Starz in Blunt Talk
Patrick Stewart will star in Blunt Talk, a comedy series from Jonathan Ames and Seth MacFarlane...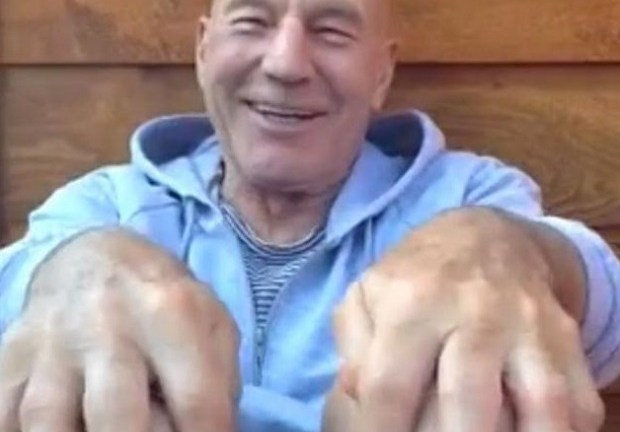 You know what we need? Patrick Stewart in a scripted half-hour cable TV comedy series. That's exactly what Blunt Talk, created by Bored to Death's Jonathan Ames along with executive producer Seth MacFarlane is. Blunt Talk will go straight to series, and Starz have ordered two ten episode seasons, which will begin airing some time in 2015, which suddenly seems awfully far away.
Here's the official word on Blunt Talk:
Blunt Talk is a character-driven comedy revolving around Walter Blunt (Patrick Stewart), a British import intent on conquering the world of American cable news. Through the platform of his nightly interview show, Blunt is on a mission to impart his wisdom and guidance on how Americans should live, think and behave. Besieged by network bosses, a dysfunctional news staff, numerous ex-wives and children of all ages, Blunt's only support is the alcoholic manservant he transplanted from the U.K. to join him in Los Angeles. The series follows the fallout from Blunt's well-intentioned, but mostly misguided decision-making, both on and off the air. 
Starz CEO Chris Albrecht says, "In the character of Walter Blunt, Seth, Jonathan and Patrick have found the alchemy that makes a borderline alcoholic, mad-genius-Brit the man you want fighting in America's corner. Seth and Jonathan have struck the right balance between biting wit and outright absurdity in building this world, and we cannot wait for Patrick to breathe life into Walter."
"We have wanted to work with Chris Albrecht for years. His instinct for character-driven series is unparalleled and he is not afraid to push the boundaries," said Modi Wiczyk, co-CEO of MRC. "We are lucky to have Seth, Jonathan and Patrick teaming up for this series and couldn't be prouder to be supporting them."
"I'm beyond thrilled to be working with Jonathan Ames and Sir Patrick Stewart," says Seth MacFarlane. "Jonathan's creative talent is formidable, and his writing style is wholly original, hilarious, and provocative. And of course, Patrick Stewart is one of the greatest actors alive today. His skill and versatility are unmatched, and he will excel as the star of his own show. Thank you Starz for allowing us to bring Walter Blunt to life!"
Jonathan Ames notes "It's been a delight to collaborate on Blunt Talk with two such talented and strange men as Seth MacFarlane and Patrick Stewart.  The only problem is that sometimes on conference calls Seth will uncannily recreate Patrick's voice, and I'm not sure who's talking, but other than that it's been smooth sailing.  I'm beyond pleased to have the opportunity to work with MRC, Chris Albrecht and Starz."  
Patrick Stewart says, "My career took an abrupt and radical left turn when Seth McFarlane created CIA Deputy Director Avery Bullock on American Dad. This new character, Walter Blunt, is not at all like Avery, thank God, because this is live action and I am a Knight of the Realm. Blunt is, however, much smarter than Avery and has his own TV show, which has to be better than being Deputy Director of the CIA."
No word yet on whether Mr. Stewart's buddy Ian McKellen will guest star. We can hope…