News
Servant Apple TV+ Series Plot, Cast, Trailer, Release Date, and News
Apple TV+ twisted thriller series Servant manifests from the mind of M. Night Shyamalan.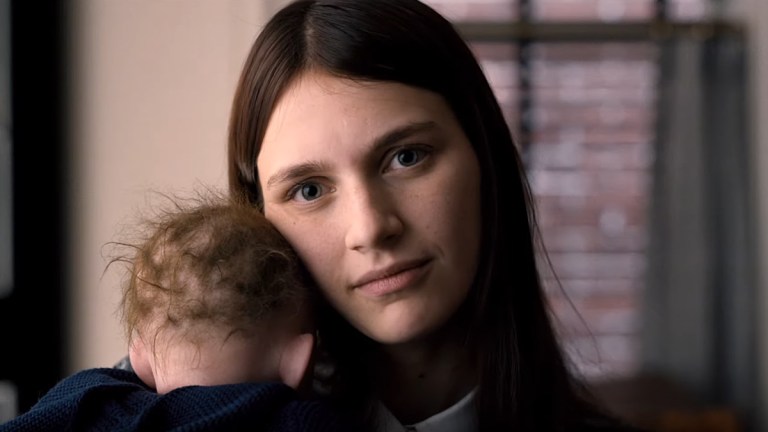 Servant marks M. Night Shyamalan's return to television, a medium in which he last endured the 2016 cancellation of his secretly-post-apocalyptic Fox television series, Wayward Pines, after two seasons. However, Shyamalan didn't have to wait long for his television hopes to rebound, since he subsequently closed a deal with Apple, which will provide his new thriller series a platform with its November-launching Apple TV+ streaming service.
Shyamalan's Apple deal yielded a 10-episode straight-to-series order for Servant, teaming him with writer and executive producer Tony Basgallop, of Berlin Station, 24: Legacy, 24: Live Another Day and What Remains fame for the mystery series, described as a "psychological thriller." Interestingly enough, Shyamalan's Servant will distinguish itself in terms of format, since – contrary to genre convention – it will manifest as a half-hour series, for which he's set to direct the first episode.
Servant Plot Details
According to Servant showrunner Tony Basgallop, the show is about a couple who tragically loses a child and tries to rebuild their lives.
Basgallop added to Den of Geek "And one of the methods they use to try and get over this loss is the introduction of a reborn doll, which is one of the very, very lifelike dolls that cost you somewhere in the region of six and 10,000 dollars each. They introduced a reborn doll to get over the grief but it hasn't worked, and Dorothy, the mother of the infant, is in a position to hire a nanny to watch after the doll while she returns to work."
…Creepiness will ensue.
Servant is a production of Shyamalan's Blinding Edge Pictures with Ashwin Rajan (Split, Wayward Pines) serving as executive producer, joined in that capacity by Jason Blumenthal (The Equalizer), Todd Black (Fences) and Steve Tisch (Forrest Gump) of Escape Artists, along with Taylor Latham.
Shyamalan's presence will undoubtedly boost Apple's array of developing television offerings, which includes the reboot of Steven Spielberg's beloved 1980s anthonoly series Amazing Stories, as well as a new space drama by Ronald D. Moore of Outlander and Battlestar Galactica fame, along with dramatic offerings from Octavia Spencer and La La Land, maestro Damien Chazelle, just to name a few.
Servant Cast
There's a plethora of cast members for Servant. Here are some of the notables.
Toby Kebbell, an English actor, has been seen in an array of recent high-profile pictures, notably reprising his motion-capture role as bellicose primate Koba in War for the Planet of the Apes, along with appearances in Kong: Skull Island, Gold, Ben-Hur, Warcraft and played a – let's just kindly say "unique" version of Marvel mega-villain Doctor Doom in the 2015 flop, Fantastic Four. Amongst his upcoming projects is a major role as villain Axe in the Vin Diesel-starring Valiant Comics movie, Bloodshot.
Lauren Ambrose and Nell Tiger Free were cast as co-stars for the series back in August. The plot is said to depict the ordeal of parents Dorothy and Sean Turner, who have hired young nanny Leanne to help care for their newborn. Of course, in prospective Shyamalan-esque fashion, a major twist will apparently occur.
Lauren Ambrose will play the mother, Dorothy Turner. Ambrose is an American actress, who's best known as the co-star of HBO's Six Feet Under. She comes into the Shyamalan show off a recent run on Fox's The X-Files revival, with other recent runs on USA's Dig, NBC's Law & Order: SVU and the BBC's Doctor Who spinoff, Torchwood. Moviegoers will remember her from films such as Wanderlust, Where the Wild Things Are, Diggers, Can't Hardly Wait and In & Out.
Nell Tiger Free will play the nanny, Leanne Grayson. Free, an English actress, gained early-career exposure to a worldwide audience in 2016 with a single-season run on HBO's Game of Thrones in the role of young Myrcella Baratheon, who was secretly the daughter conceived by Lannister siblings Jaime and Cersei. She recently banked a TV run on Amazon's Too Old to Die Young.
Rupert Grint is playing Julian, the younger brother of Dorothy (Ambrose). Grint, who, of course, is best known as Ron Weasley from the Harry Potter cinematic saga, has been quietly charting his own post-Potter path, fielding TV runs on Sick Note and Snatch, and recently redefined himself in the Amazon Prime Video John Malkovich-starring Agatha Christie/Hercule Poirot reboot series, The ABC Murders.
Servant Trailer
A new trailer for Apple TV+'s Servant has arrived. Titled "Jericho," this fittingly covers the origin of the show's inert, creepy little star. 
The full trailer for Servant has arrived, showcasing the arrival of a creepy nanny (Game of Thrones' Nell Tiger Free) hired to care for a creepy-in-its-own right doll that a couple keeps in place of their dead baby. – For good measure, it should be reiterated that this is creepy.
Just below are a duo of teasers, each one focused on distinct, though equally-creepy aspects of the series.
Servant Release Date
Servant will be released on Thursday, November 28 (Thanksgiving). The date was announced at New York Comic Con 2019 along with a fittingly creepy teaser. 
Joseph Baxter is a contributor for Den of Geek and Syfy Wire. You can find his work here. Follow him on Twitter @josbaxter.