News
Selena: Release Date and Trailer for Netflix Series with The Walking Dead's Christian Serratos
The Walking Dead's Christian Serratos stars as the iconic late singer, Selena, in Netflix's drama series.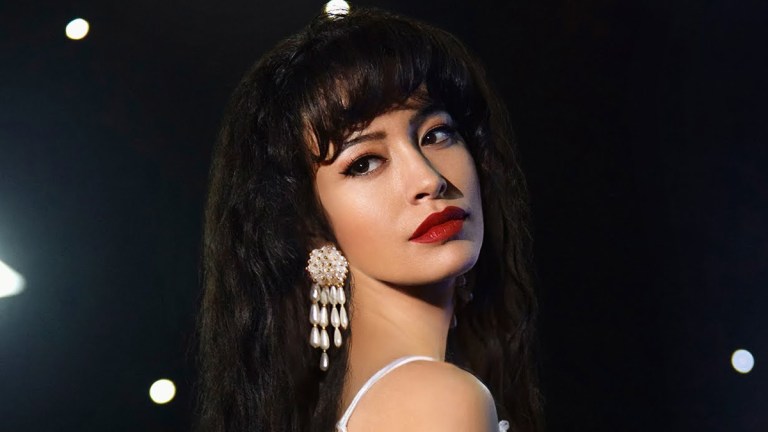 Popular-music-focused dramatizations have found new life, thanks to recent cinematic offerings like Bohemian Rhapsody and Rocketman, with many more currently on the industry docket. It's a notion that Netflix might have taken into consideration with a television project it just unveiled, set to chronicle the story of Selena Quintanilla-Pérez, the 1990s-era Mexican-American crossover pop sensation whose rise was tragically cut short upon being murdered by her friend and agent.
The Walking Dead's Christian Serratos temporarily put aside the zombie apocalypse to star on the Netflix television offering, titled Selena: The Series. The show is being released in "parts" (rather than seasons), with Part 1 arriving with six 1-hour episodes. Serratos – who's played Rosita Espinoza on the AMC series since 2014 – has major shoes to fill, not just because of the loftiness of portraying the still-beloved singer, but also because of director Gregory Nava's 1997 Selena film, which elevated star Jennifer Lopez to A-list status.
Selena: The Series Release Date
Selena: The Series is set to hit Netflix on Friday, December 4.
Selena: The Series Trailer
A new teaser for Netflix's Selena: The Series arrives on the occasion of its release date reveal.
The series came right out of the gate back in November 2019 with its first teaser, which briefly showed off its just-announced star, Christian Serratos, looking ever the uncanny facsimile of the eponymous singer.
Selena: The Series Story
As the official logline for Netflix's Selena: The Series reads:
"[Selena: The Series is] a coming of age story following Selena Quintanilla as her dreams come true and all the heart-wrenching and life-changing choices she and her family have to make as they navigate success, family, and music."
Besides being a character study, the series also seems to be showcase in what could have been, since Selena was on the verge of a mainstream crossover when, on March 31, 1995, she was fatally shot by her friend, agent and fan club manager, Yolanda Saldívar, in a hotel room meeting at a Corpus Christi Days Inn. Selena was only 23.
Selena: The Series Cast
Netflix's Selena: The Series has added seven more cast members, as reported by Deadline.
Set as series regulars are the following:
Julio Macias (On My Block) will play Pete Astudillo, "a charming singer and member of a two-man band known as Los Bad Boys, who is discovered along with Joe Ojeda and ultimately helps write a few of Selena's most popular songs."
Jesse Posey (First Love, Stitchers) will play Chris Perez, "the eventual lead guitarist who develops a relationship with Selena but will have to learn that there's more to winning her heart and being accepted into the family."
Hunter Reese Peña (Morning Ritual) will play Ricky Vela, "a talented keyboard player who hesitates to join the band at first, becomes one of A.B.'s most important collaborators, earning his trust as they compose hits for Selena."
Carlos Alfredo, Jr. (Mutt and Chopps) will play Joe Ojeda, "the second keyboard player who joins the band as Selena y Los Dinos begins to grow."
The following will serve as recurring cast members:
Juan Martinez (Triple Frontier, Edge of the World) as Young A.B, "[who] helps his father, Abraham, assemble the family's first band and also discovers his own abilities as a musician."
Daniela Estrada as Young Suzette, "a reluctant musician who accepts her role in her family's band as their drummer."
Paul Rodriguez, Jr. (The Curse of La Llorona) as Roger Garcia, "a shy guitarist for Los Dinos in their early years, who struggles to stay in the band as life on the road becomes more demanding."
…They will join the first batch of officially-announced cast members, who consist of the following:
Christian Serratos (The Walking Dead, Twilight) will play Selena Quintanilla, an incredibly talented and charming young woman from South Texas, who chases her musical aspirations with her family and becomes one of the most successful Latin artists of all time.
Gabriel Chavarria (War for the Planet of the Apes, The Purge) will play A.B. Quintanilla, Selena's oldest brother and the band's music producer, who constantly faces the pressure to deliver hits and ultimately forges the band's trailblazing signature sound.
Ricardo Chavira (Desperate Housewives, Santa Clarita Diet, Scandal) will play Abraham Quintanilla, Selena's father, a savvy musician whose encouragement of his children to work hard and dream big leads them to achieve global superstardom.
Noemi Gonzalez (The Young and the Restless, East Los High) will play Suzette Quintanilla, Selena's sister and best friend, who learns to embrace her role as the first female drummer in Tejano music history.
Seidy Lopez (Training Day) will play Marcella Quintanilla, Selena's mother and the cohesive, nurturing force in the family, who believes in achieving their dreams against all odds.
Madison Taylor Baez will play Young Selena, a happy-go-lucky child who learns what it takes to become an artist from her father.
As Jaime Davila, president and co-founder of Campanario Entertainment, expresses of the cast in a statement:
"Selena is an inspirational figure who's transcended generations. At Campanario, we've always known it was crucial for this series to find actors with the right mix of talent, charisma, and passion to honor Selena's legacy and the story of her family. Our casting director Carla Hool and her team have found an amazing cast to depict the Quintanilla family, and we're sure fans everywhere will be captivated yet again by Selena's incredible life."
The series will be produced under the purview of executive producers Jaime Dávila, Rico Martinez, Suzette Quintanilla, Simran A. Singh and Moisés Zamora.