News
Seinfeld to Leave Hulu for Netflix in 2021
Netflix has acquired the rights to legendary sitcom Seinfeld, which will join the streaming giant's library in 2021.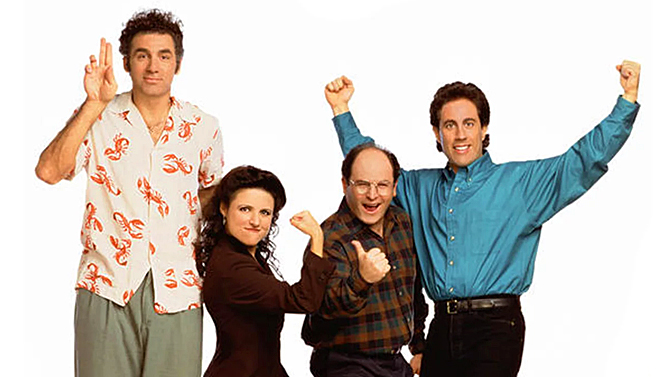 Seinfeld is Netflix-bound! – Yada yada, it premieres on the platform in 2021.
Netflix finalized a five-year deal with Sony Pictures Television to acquire the streaming rights to Seinfeld, as reported by The L.A. Times, also confirmed by Variety. Said deal will see the groundbreaking sitcom – which originally ran on NBC from 1989 to 1998, leaving behind a legacy of 180 episodes – depart its current home of Hulu for Netflix pastures worldwide in 2021. While the numbers for Netflix's deal are not yet known, Hulu's 2015 acquisition cost $160 million a year, or, around $875,000 per episode.
As Sony Pictures Television chairman Mike Hopkins expresses in a statement to The L.A. Times:
"Seinfeld is a one-of-a-kind, iconic, culture-defining show. Now, 30 years after its premiere, Seinfeld remains center stage. We're thrilled to be partnering with Netflix to bring this beloved series to current fans and new audiences around the globe."
Netflix's Seinfeld acquisition will certainly help fill a major gap left behind after a June deal sealed the imminent exit of sitcom catalogue mainstays (and, by most accounts, one of its most popular streaming performers,) The Office and Friends, with the former acquired by NBCUniversal for its imminently launching streaming service, and the latter headed for Warner Media's imminently launching HBO Max.
Further Reading: Seinfeld: From Flop to Acclaimed Hit
The Seinfeld deal was the climax of a bidding battle that sent Netflix competitors Hulu, Amazon, WarnerMedia, NBCUniversal and Viacom home hungry without their proverbial Soup Nazi Seafood Bisque. However, the five-year deal will ultimately leave Netflix on the hook for the collective sum of at least (although likely more than) $800 million, based on Hulu's deal; a hefty price tag that's being paid during a time in which the heretofore greenlight-happy streaming giant is making some uncharacteristic austerity measures in cancelling a plethora of its original series (ex. Santa Clarita Diet, One Day at a Time, Travelers, Chambers and ALL its Marvel shows). However, with more vacancies imminent as Disney prepares to pull its content off Netflix in favor of its own streaming platform, Disney+, it might be a small price to pay, contextually.
Interestingly, the 2021 debut of Seinfeld will come with some bells and whistles, namely the first-ever presentation of the series in 4K, 30 years after its debut. As Ted Sarandos, Chief Content Officer for Netflix lauds of the deal in a statement:
"Seinfeld is the television comedy that all television comedy is measured against. It is as fresh and funny as ever and will be available to the world in 4K for the first time. We can't wait to welcome Jerry, Elaine, George and Kramer to their new global home on Netflix."
That's right, folks, you'll soon be able to see Kramer's patient-viscera-bound Junior Mint take to fight – in all its chocolate, peppermint and delicious splendor – within the otherwise-sterile confines of an operating theater in full 4K resolution! So, if nothing else, the year 2021 already has that going for it.
Joseph Baxter is a contributor for Den of Geek and Syfy Wire. You can find his work here. Follow him on Twitter @josbaxter.