News
Secret Six TV Series in Development
The good news? DC's brilliant Secret Six is getting made into a TV series. The bad news? It's gonna be on CBS.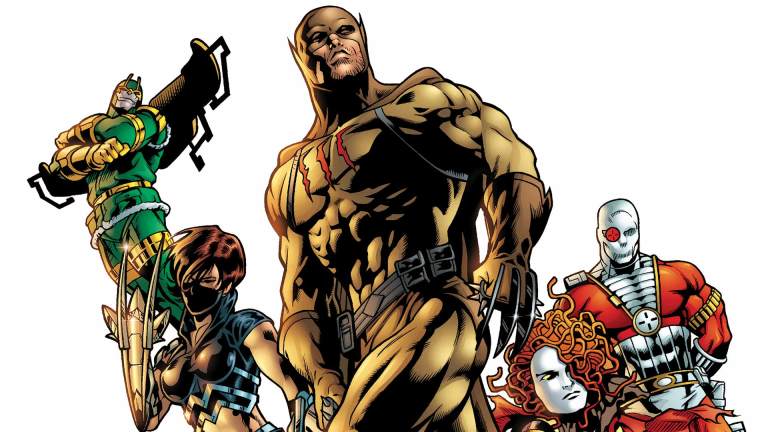 There's a Secret Six TV series in the works. Rick Muirragui (Suits) is writing a pilot for the Secret Six TV show, and if it goes forward, it will air on CBS.
The synopsis for the shows (via Variety) says it's about "six morally ambiguous strangers, each with their own unique specialties and secret pasts, who are brought together by an enigmatic figure who blackmails them into working as a team to expose the corruption of the corporate and political elite."
The Six are sent on their missions by the mysterious "Mockingbird." Kind of like Charlie from Charlie's Angels. The catch is that Mockingbird is probably a member of the team, and nobody knows who it might be.
CBS has worked on DC Comics projects before, as it was notably the home to the first season of Supergirl (before Kara flew over to her real home on the CW), and back in the day, it was where you could find the terrific John Wesley Shipp The Flash TV series. It's really easy to see how the overall Secret Six idea could translate into CBS' plug-and-play procedural formula, and I wouldn't expect to see anyone in costume on this show, let alone for it to exist as part of any currently existing shared DC TV universe (the Multiverse, however, is another story entirely).
While Secret Six is a flexible concept, I can't help but be a little disappointed that we're likely to see a pretty stripped down version of the team on TV. The greatest creative era in Secret Six history came under writer Gail Simone, who took characters like Catman, Deadshot (of Suicide Squad fame), Bane, Rag Doll (who is about to make his TV debut on The Flash), and other DC c-listers in an absolutely bonkers exploration of the underbelly of the DC Universe. That version of the team would work quite well over on the established Arrowverse, for example, and there were even elements of that story in the excellent Suicide Squad: Hell to Pay animated movie earlier this year.
Still, when a relatively obscure DC Comics property gets a show put into development by a network, we sit up and take notice. And look, Lucifer turned out to be drastically different from its comic book roots, and folks seem to love that show just fine. Let's just hope that if Secret Six goes forward, CBS treats it better than they did Supergirl, and that it isn't just another CSI show with a fancy name. Hopefully they retain just enough of the anarchic weirdness of what Gail Simone brought to the team, even if this isn't a traditional supervillains-make-good approach.
I'll update this as more information about the Secret Six TV series becomes available.
Mike Cecchini is the Editor in Chief of Den of Geek. You can read more of his work here. Follow him on Twitter @wayoutstuff.
Read and download the Den of Geek NYCC 2018 Special Edition Magazine right here!