News
Search Party Season 3 and 4 Move to HBO Max
Search Party season 3 is moving from TBS to HBO Max and the new streaming service threw in Search Party season 4 for good measure.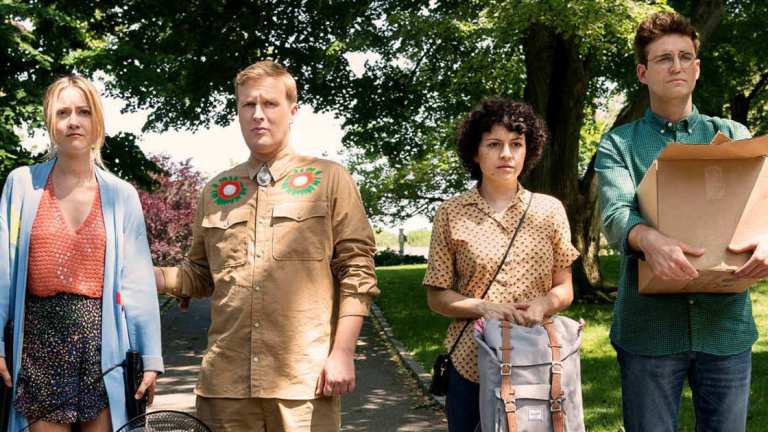 Way back in April of 2018, TBS ordered Search Party season 3. Now HBO Max has…re-confirmed Search Party season 3 and also ordered season 4. 
The consolidation of mass media companies into their own streaming services has created some awkward reshuffling and Search Party is just the latest example. After running for two seasons on TBS, WarnerMedia has apparently decided that Search Party is a better fit on new streaming service HBO Max. 
And that's fine as it's no secret that we're fans of Search Party 'round these parts. The half-hour dramedy Sarah-Violet Bliss, Charles Rogers, and Michael Showalter is a tonally unique, entertaining, and intriguing show built around a concept that can best be described as "what if Nancy Drew…but millennials?"
As it turns out millennial Nancy Drew is pretty great. Search Party Season 1 followed disaffected young Brooklynite Dory (Alia Shawkat) and her friends Drew (John Reynolds), Elliot (John Early), and Portia (Meredith Hagner) deciding to search for missing college acquaintance Chantal. Season two dealt with the extreme consequences that arose from said search and the season two finale set the show up to deal with a whole new set of fascinating and extreme consequences from this seeming good deed in season three. 
"With HBO Max we have the unique opportunity to continue this brilliant, acclaimed series and connect with even more of the younger, digital natives who have worshipped it the most," Kevin Reilly, chief content officer, HBO Max and president TNT, TBS and truTV said.
Search Party season 3 will find "the gang swept up in the trial of the century after Dory and Drew are charged for the semi-accidental murder of a private investigator. As Elliott and Portia grapple with whether or not to testify as witnesses, the friends are pitted against each other and thrust into the national spotlight as notorious public figures. As Dory's sanity begins to fracture, it becomes increasingly clear that they may not have brunch together for quite some time."
Given the circumstances at the end of season three, a Search Party Season 3 was almost assured but now it's official. During the original announcement, it was reported that Search Party creators Sarah-Violet Bliss and Charles Rogers were granted a new deal from TBS to create and produce more content for the network. It's unknown whether that deal with carry over to HBO Max.