News
Search Party Season 2 Premiere Date Set on TBS
Critics and audiences dig it, so TBS is doubling down on the mystery with Search Party Season 2.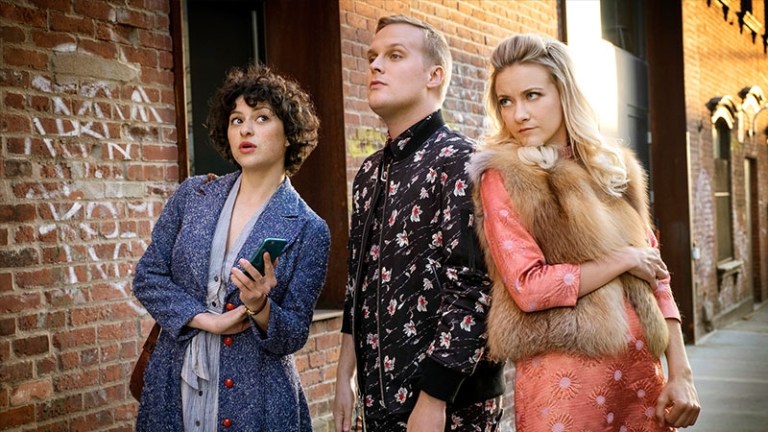 Search Party aired its inaugural season on TBS in November of 2016, headlined by Arrested Development's Alia Shawkat, putting a self-absorbed, device-glued generation into the mix of a mirthful mystery. The series resonated with audiences and TBS would subsequently confirm that Season 2 will arrive for a 10-episode run. – Since that greenlight occurred all the way back in December, the latest news finally gives us a date to mark for Search Party Season 2.
Search Party Season 2 Premiere Date
Search Party Season 2 is now officially set to premiere on TBS on Sunday, November 19 at 10 p.m. and 10:30 p.m (ET/PT). TBS will air two-episodes per week, with the finish line for the sophomore season arriving on December 17.
Search Party Season 2 Details
The single-camera satirical ode to the millennial hipster will return in 2017. The Alia Shawkat starring series follows Dory as she searches for her missing college acquaintance, Chantal (Clare McNulty), with the help of her ragtag team of craft cocktail-drinking friends.  
In its essence, Search Party was a mystery series. At the end of the first season the mystery is solved in what turned out to be one of the most ridiculous but completely accurate endings any true crime story has ever seen. Search Party really dressed itself up in a miniseries so it will be interesting to see what the co-creators Sarah-Violet Bliss and Charles Rogers will do with season two?
Dory and her friends found Chantal but made lots of waves in the process. Will season two simply follow the team as they deal with the aftermath of the search for Chantal?
Search Party is reliant on that dark aspect so fans can most likely expect more crazy plot twists.
The series is a perfect satirical portrayal of narcissistic millennials and unapologetically geared at the exact generation it pokes fun at. The entire first season of Search Party dropped on TBS.com over Thanksgiving weekend and quickly drew in over 1.1M viewers per episode. Of course that pales in comparison to other binge hits, however the network saw a strong concentrated appeal of an 18-34 demographic. And gained an outpouring of positive reviews and an a well-deserved 100 percent on Rotten Tomatoes. In our annual Best TV Comedy Staff Picks, Den of Geek named Search Party as the best new comedy series and No. 2 best TV comedy of 2016.
Search Party is executive produced by Bliss and Rogers along with Michael Showalter, Lily Burns and Tony Hernandez. Deadline also reports that the network will offer the chance to binge the entire first season again in the week between Christmas and New Year's.
Read and download the full Den of Geek SDCC Special Edition magazine here!