News
SEAL Team Trailer, Release Date, Cast and Everything to Know
CBS action drama SEAL Team sees David Boreanaz rebound from Bones to lead a team of upstart SEALs.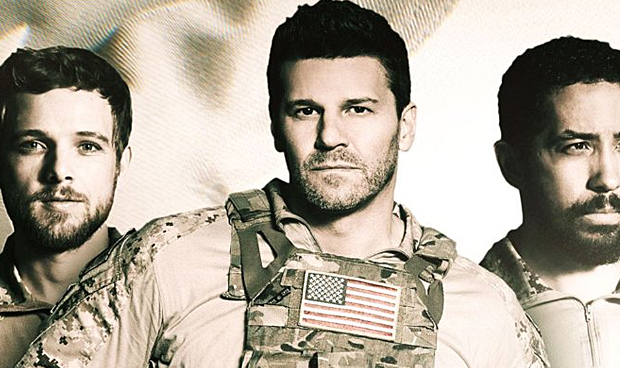 An invasion of military TV shows is set for fall 2017. With History Channel's Walton Goggins-starring Six nabbing a renewal and upcoming network entries set with Fox's Behind Enemy Lines movie-to-TV adaptation, NBC's For God and Country and even The CW taking a stab with Valor, it appears that the CBS Eye has fixed its gaze on its own genre offering with SEAL Team, which stars a Bones-fresh David Boreanaz.
SEAL Team CBS Latest News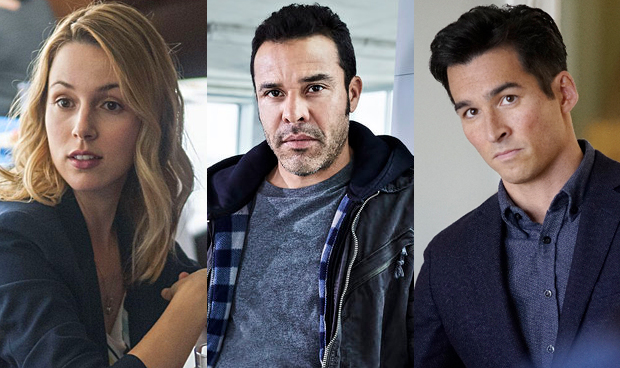 SEAL Team has added a new trio of actors in Alona Tal, Michael Irby and Jay Hayden (pictured above left to right), who will recur on the series, reports Deadline. Each are coming off main cast gigs of prominent shows.
Alona Tal will play Stella, described as a grad student who meets team trainee Clay (Max Thieriot) in a bar where SEALs tend to hang out. Tal is probably still best remembered by genre fans as hunter Jo Harvelle from Supernatural. She's coming off a recent lengthy run on Hand of God, with other TV runs on shows such as Hostages, Burn Notice, Cult, Prime Minister's Children, Cane and Veronica Mars.
Michael Irby will play Adam, a legend amongst the SEALs, described as a senior member of the Green Team instructors, who oversees the Green Team's drills. Irby comes off NBC's heavily reported housecleaning of the Taken main cast. In addition to his guest roles galore, he's also fielded several prominent TV runs on shows such as True Detective, CSI: Cyber, The Following, Almost Human, The Unit, Line of Fire, Haunted and Law & Order.
Jay Hayden will play Brian, a Green Team trainee peer of Clay (Max Thieriot). Hayden arrives fresh from his two-season run on ABC's The Catch. He's previously fielded TV runs on Criminal Minds and Battleground and appeared in films such as Wild Oats, Undrafted, It's Us, State of Emergency and The House Bunny.
SEAL Team CBS Trailer
SEAL Team provided a lengthy "first look" trailer for the series, showcasing the kind of ops in which the titular team will engage, as well as its interpersonal dynamic.
SEAL Team CBS Release Date
SEAL Team deploys to CBS on Wednesday, September 27 at 9 p.m./8 p.m. central.
Read and download the full Den of Geek Special Edition magazine here!
SEAL Team CBS Cast
David Boreanaz (Bones, Angel) will play Jason, the seasoned leader of the depicted SEAL assault team, who has apparently experienced over a dozen deployments. The role was originally fitted for Jim Caviezel, whose lengthy run on the CBS's Person of Interest recently ended. However, with the cited reason of "creative differences," Caviezel exited the pilot.
Jessica Paré (Mad Men, Lovesick) will play Mandy, a CIA analyst described as whip-smart and determined in her mission to rid the world of evil.
Max Thieriot (Bates Motel, Texas Rising) plays Clay a SEAL trainee and central character.
Parisa Fakhri (Agents of SHIELD, Dwelling) will play Naima.
Neil Brown Jr. (Dirk Gently's Holistic Detective Agency, Straight Outta Compton) will play Ray.
A.J. Buckley (Justified, CSI: NY) plays Sonny.
Toni Trucks (Franklin & Bash, Grimm) plays Diaz.
Donald Paul (Doomsday, Power) plays General Lionheart.
Additional recurring players will reportedly include:
C. Thomas Howell (Ray Donovan), as Ash Spenser, described as a former Navy SEAL and Clay's father.
James Liao (Unforgettable) as Lucien, described as a CIA analyst/chemical weapons expert.
SEAL Team CBS Details
SEAL Team centers on the lives of an elite SEAL unit during their training and implementation of dangerous missions on which any mistake can prove fatal and politically consequential. The pilot and, prospectively, the series, will be run by personnel connected to the celebrated FX series Justified with executive producers Benjamin Cavell, Sarah Timberman and Carl Beverly. They are joined in that capacity by Chris Chulack, an executive producer formerly of Shameless and ER. Cavell, who also wrote several episodes of Justified will pen the script for the pilot.
The initial casting of film and television veteran Jim Caviezel would have been a reunion, since he starred on CBS's 2011-2016 action drama Person of Interest. Now, with Fox ending the 12-season run of forensic procedural Bones, its star David Boreanaz steps in, bringing some repertory alpha male gravitas to SEAL Team. Boreanaz, of course, first made a pop-culture impact on Buffy the Vampire Slayer as the titular character's fanged love interest Angel; a role subsequently spun-off on Angel. However, Bones has been Boreanaz's primary platform since its 2005 launch, playing FBI Agent Seeley Booth. For Jessica Paré, who broke big on AMC's Mad Men, with recent roles in the 2015 film Brooklyn and 2016 rom-com Lovesick this could represent some unprecedented moments in the spotlight.