News
Scream Queens Season 2 Finale Trailer and Episode Guide
We've got the details on the Scream Queens season 2 finale and a full episode guide with reviews!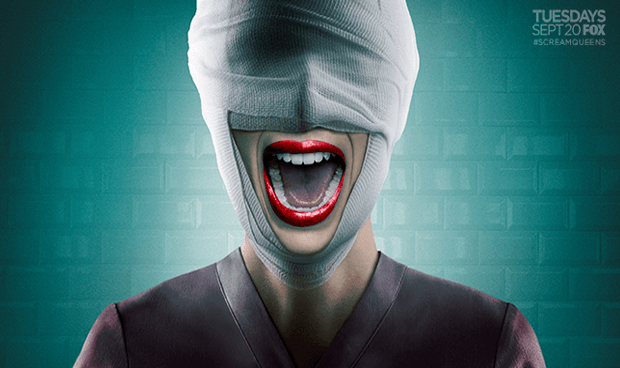 Scream Queens is back in pink scrubs for 13 new episodes of glamour, gore and the Green Meanie in Dean Munsch's questionable institute for incurable diseases. The administration is clueless. The Chanels are obviously clueless. The doctors are ripped, but clueless. None of this exactly helps when something in a Beelzebub-ish mask, brandishing a machete and covered in radioactive green gloop, terrorizes the hospital halls. 
So you don't flunk out of med school this season, we've put together a cheat sheet aka episode guide that tells you everything you may or many not want to know about Werewolf Syndrome, Infected Bubble Wrap Disease, and that thing you get from eating human flesh.
Scream Queens Season 2 Finale 
Scream Queens season 2 episode 10, "Drain The Swamp" airs on December 20th. I wonder where they got that name… 
Anyway, you can watch the trailer here for the season finale: 
Scream Queens Season 2: Where to Watch
Scream Queens airs Tuesdays at 9 p.m. on Fox. Previous episodes are available to stream on Fox's website and Amazon Prime. (Editor's note: Den of Geek participates in Amazon's Affiliate program.)
Scream Queens Season 2 Episode Guide: 
Descriptions via IMDb: 
"It's years after the horrors of Kappa House, and Dean Munsch buys an abandoned hospital, where she recruits doctors Brock Holt and Cassidy Cascade, and medical student Zayday Williams, plus the disgraced Chanels. And soon a new killer stalks the facility."
"Tyler, who has a hideous ailment visits the hospital in hope of a cure, but finds love instead; Chad returns to win Chanel back, discovering Brock's dark secret in the process; After another run-in with the killer, Cathy enlists the help of Denise Hemphill."
"Hester and a sole survivor of the Halloween massacre are questioned; Chad makes a shocking proposal to Chanel; A patient with an outrageous disorder brings Chanel #3 and Cassidy closer."
"Chanel attempts to make contact with the latest victim; A Halloween party is thrown at the hospital, in hopes of catching the killer; An outbreak surprises the hospital; Another victim falls."
Scream Queens Season 2 Episode 5: "Chanel Pour Homme-icide"
"Dean Munsch is forced to go to the authorities, which attracts new patients; Zayday and Chanel #5 visit someone with ties to the hospital; A new patient's arrival causes the staff to go mad."
"Dean Munsch and Chanel organize a blood drive to solve the shortage at the hospital; Ingrid plans her revenge; Hester finds a way to join the staff; A shocking revelation involving the Green Meanie occurs."
"Dean Munsch pitches a risky surgery to Dr. Holt, whose hand begins to express a different personality; Chanel #3 forces Cassidy to undergo a psych test; Ingrid sets a devious plan in motion."
"Wes checks into the hospital, to try and win back Dean Munsch; Brock questions his relationship with Chanel; Zayday and Chamberlain devise a plan to discover the Green Meanie's origins."
"The Chanels are overwhelmed when their TV idol, Dr. Scarlett Lovin visits the hospital; Hester calls a Green Meanie summit as the killers put their kill plan into effect."
Scream Queens Season 2 Episode 10: "Drain The Swamp"
"The Green Meanie sets their final plan for revenge in motion; Hester makes a bold move to secure her future; Brock performs a dangerous surgery to save Dean Munsch's life."
Scream Queens Season 2 Cast
What fresh hell is this? Emma Roberts is officially returning to her role as Kappa Kappa Tau sorority president Chanel Oberlin for Scream Queens season 2.  What was she supposed to do? True Tori was over.
The sorority sisters were all committed to a mental ward at the end of the first season of Scream Queens and they found it quite comfortable. It was fun, like a Friends episode, except someone's trying to murder all the friends.
Emma Roberts' aunt is Julia Roberts. She had her breakthrough role as Addie Singer in the Nickelodeon television series Unfabulous. Roberts played Madison Montgomery in American Horror Story: Coven, and Maggie Esmerelda in season four of Freak Show. She appeared in the films Blow (2001), starred in Aquamarine (2006), played the title character in Nancy Drew (2007) and Wild Child (2008). 
Attention all useless Kappa sluts. Scream Queens season 2 has another a newcomer this year. So let's all give a round of tolerant Radwell applause to their newcomer, James Earl. Chanel James will be playing Candy Striper, a regular role.
James starred on Cooper Barrett's Guide to Surviving Life on Fox. He also put in appearances on 17 episodes of Glee. James also appeared in the movies The Gridiron Gang and Lazarus.
The series recently added healers to the psych faciltiy that has beceome the new off-campus home for our favorite spoiled sociopaths. Taylor Lautner from the Twilight franchise will play Dr. Cassidy Cascade, one of the doctors at the mental hospital the former sorority girls are matriculating at. Dr. Cascade will become a suspect in the odd goings on at the hospital after it comes out that he's suffering from a strange malady himself. 
John Stamos has also joined the cast as a series regular. Stamos will play Dr. Brock Holt, described by TV Line as "a brilliant but secretive head surgeon employed at the hospital, where some of the most fascinating and bizarre medical cases are under observation."
Jamie Lee Curits adds her scalpel to this operation as Cathy Munsch, the buyer of the hospital where the Chanels work (or at least make themselves look like they know what they're doing).
Arrow alum Colton Haynes will join Scream Queens season 2, announced the actor on Instagram. He didn't share any details regarding his character.
Scream Queens Season 2 Trailers
We're back, idiot hookers! The first Fox promo for Scream Queens makes an incision into the second season, which checks Kappa Kappa Tau into the last place you'd ever expect a gaggle of space case sorority sisters who have just gotten out of prison to be, except as victims—a hospital. On the Scream Queens panel at San Diego Comic-Con, Emma Roberts diagnosed the Chanels as "trying to remain glamorous despite the fact that they're broke and have to work". Adding to the morbid hilarity are the blinged-out Mean Girls-ish nurse outfits (in varying shades of pink, of course) that could put late magenta maven Elsa Schiaparelli to shame. Even more bizarrely funny are the flashes of pink fabric, pink rhinestones and pink feathered peeptoes that are sewn on, stuck on and slipped on with all the precision of an autopsy.
Our surveillance cameras have an all-new glimpse into the hospital "where the incurable are cured"—per Dean Munsch, at least. The fact that every bizarre case wheeled into her cure emporium has a panic attack shouldn't count in the least, since sketchy doctors John Stamos and Taylor Lautner have but enough swagger to cover up any medical malpractice. The Chanel-clad Chanels, in ombre shades of pink that are at least in the same color family as innards and blood spatter, insist that the internet could make anyone an M.D. Whether they actually know what they're doing could be the difference between a patient and a corpse.
Good morning, idiot hookers. The Scream Queens Season 2 trailer shows that the Kappa sluts have graduated and are now considering pre-med studies.
Headmistress Cathy Munsch (Jamie Lee Curtis) got the Chanels (Emma Roberts, Abigail Breslin, and Billie Lourd) a gig in their local haunted hotel where they will learn from the best cutters in the business. Doctors played by ER's John Stamos and Twilight's Taylor Lautner, who has a reputation as being "Viagra for women."
The first look trailer shows clip snippets and interviews with the new and returning cast.
Scream Queens Season 2 Premiere Date
Scream Queens Season 2 arrived on September 20th. Full Episodes are available to stream on Fox's website and can be purchased on Amazon Prime.