News
Scooby-Doo! & Batman: The Brave And The Bold Trailer is Pure Joy
Life is good, because we're getting a new Scooby-Doo and Batman animated movie.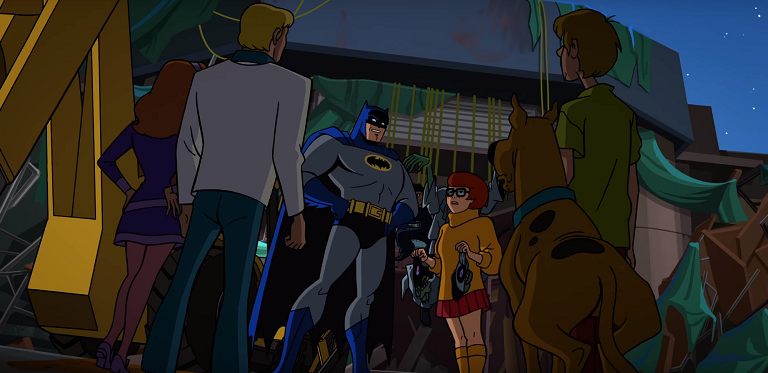 The world is a terrible place right now, but maybe not as terrible as I usually think. There are two things I am sure of in this world: Scooby-Doo is life affirming and wonderful, and Batman: The Brave and The Bold is the best interpretation of that pointy-eared fascist in at least a decade. There was a period of time when we had Scooby-Doo: Mystery Incorporated (the greatest version of the Scooby mythos of all time and I will die right here on this very hill) and Batman: The Brave and The Bold on the air, and the world made sense. Putting them together would just be excessive. 
Except it isn't. It's happening. I am so happy.
No, your eyes do not deceive you, that is indeed Detective Chimp hanging out with Mystery Inc. The new movie follows in the tradition set by two episodes of The New Scooby-Doo Movies in the 1970s, which had the voices of Adam West and Burt Ward team up with Scooby and friends for two episodes. Also, Batman and Robin popped up in the first issue of one of the best DC Comics of the last five years, Scooby-Doo Team-Up. I can't recommend that book enough.
Here's the official synopsis:
Super sleuths Scooby-Doo, Shaggy, Fred, Daphne and Velma join forces with the world's greatest detective, Batman, when they discover that villains from both of their respective rogues' galleries have also combined efforts to terrorize the city. With Scooby snacks in tow, the crime-fighting teams encounter classic Batman foes (Joker, Catwoman, Riddler, Penguin, Scarecrow, Poison Ivy, Harley Quinn) and allies (The Question, Aquaman, Plastic Man, Martian Manhunter) along with a bevy of fiends from Scooby-Doo lore (Spooky Space Kook, Gentleman Ghost, Miner 49er, Ghost Clown). As always, you won't know who the ultimate villain is until those "meddling kids" pull off the mask!
Diedrich Bader returns as Batman, and the impressive voice cast also includes Frank Welker (Scooby-Doo & Fred), Grey Griffin (Daphne and Black Canary), Matthew Lillard (Shaggy) and Kate Micucci (Velma). The guest cast includes Jeff Bennett (Joker), Jeffrey Combs (The Question), John DiMaggio (Aquaman), Nika Futterman (Catwoman), Nicholas Guest (Martian Manhunter), John Michael Higgins (The Riddler), Tom Kenny (Penguin, Plastic Man), Kevin Michael Richardson (Detective Chimp), Tara Strong (Harley Quinn, Poison Ivy) and Fred Tatasciore (Harvey Bullock).
Scooby Doo! & Batman: The Brave and the Bold will be released on digital on January 9, 2018. 
Read the full Den of Geek NYCC Special Edition Magazine right here!