Features
Sci Fi Fidelity Podcast: What We Do in the Shadows
Our genre television podcast hosts take on FX's vampire-themed single-camera comedy, What We Do in the Shadows.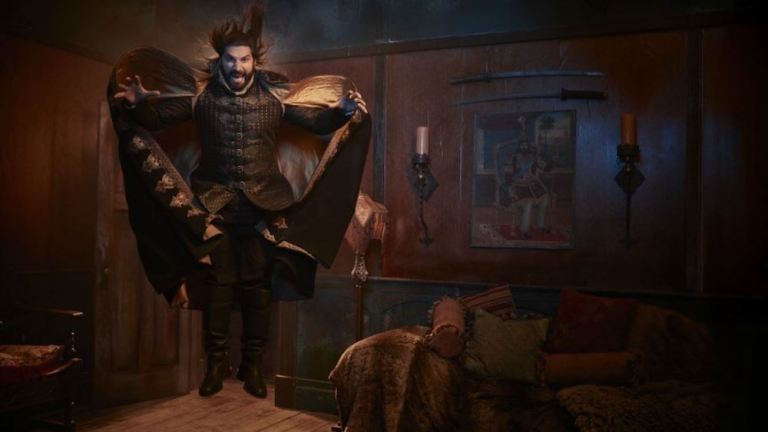 We don't often tackle comedies on our genre television discussion podcast Sci Fi Fidelity, but FX's What We Do in the Shadows is in a category all its own. Although it follows in the footsteps of shows like The Office and Parks and Recreation, the show's origins as a award-winning mockumentary film as well as its liberal use of supernatural elements and special effects make it one of the most unique comedy hybrids of the day.
In the spoiler-free portion of our podcast, we go over the cast of characters and the basic premise of What We Do in the Shadows. We also delve into the original movie a bit and talk about the inspirations that transfer well over to the TV series, including the fact that creators Taika Waititi and Jemaine Clement are on board for this iteration as well. Nandor, Laszlo, Nadja, Guillermo, and Colin all have their own unique personalities that pop from the very start.
Further Reading: What We Do in the Shadows Season 2 Ordered by FX
In the spoiler zone, we go deeper into the episodic content as well as the underlying mythology that carries through the first half of the season. Of particular note are a couple of secrets that Nadja keeps to herself at the beginning and the ongoing conflict that involves Guillermo's frustrated desire to become a vampire himself after long and loyal service to Nandor the Relentless. We speculate on how far What We Do in the Shadows will take some of these storylines as part of our discussion.
Sci Fi Fidelity explores a variety of genre television shows, develops lists of favorite examples in a given area of interest, and shares interviews with people behind the scenes of the series we love. Subscribe wherever you get your podcasts so that you never miss an episode, or simply listen to our discussion of What We Do in the Shadows below.
Subscribe: Apple Podcasts | Spotify | Stitcher | Acast | RSS
Michael Ahr is a writer, reviewer, and podcaster here at Den of Geek; you can check out his work here or follow him on Twitter (@mikescifi). Dave Vitagliano has been writing and podcasting about science fiction television since 2012. You can read more of his work here.