Features
Sci Fi Fidelity Podcast: The OA Part II
Our genre television podcast hosts take a deep dive into the metaphysical mysteries of the second season of The OA on Netflix.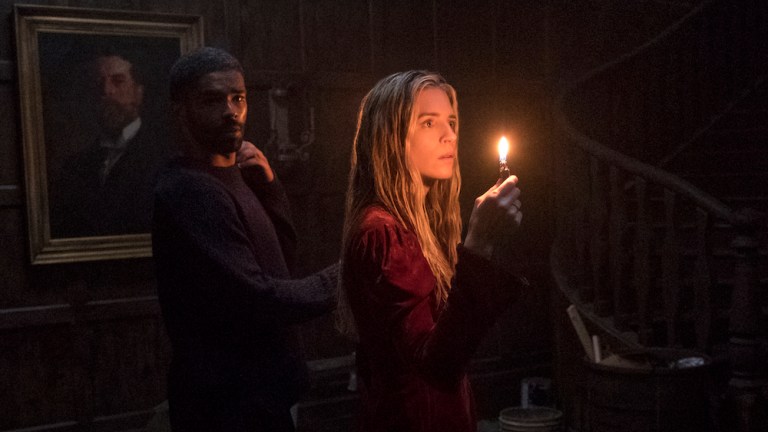 Having missed discussing The OA season 1 on Sci Fi Fidelity, we knew we wanted to discuss Part II when it came out, but the wait was a long one. When the deeply mysterious and metaphysical series finally returned, it was worth the delay, and although our podcast follows a two-episode rule for in-depth discussion, we definitely dove deep into the later episodes and the ending in our spoiler zone (starting at 39:33).
Whereas The OA Part I relied heavily on the ambiguity of how much of Prairie Johnson's story was true, Part II answers that question unequivocally, and a big part of our discussion centers around whether that central mystery is somewhat ruined by the answers given. Fortunately, that aspect of the series is supplanted by the wonderment at the nature of the multiverse we're suddenly confronted with. How does it all work?
Further Reading: The OA Season 2 Review (Spoiler Free)
Although we don't discuss in depth the road trip of Steve and the others Prairie left behind at the end of The OA's first season, we instead concentrate on the initial investigation into Curi and the missing girl Michelle as well as the nature of Prairie's arrival in a new dimension inside the body of Nina Azarova. Our main focus is on what she learns and how she can act on her knowledge.
Make sure you've seen all of The OA Part I and at least the first two episodes of Part II before enjoying this week's Sci Fi Fidelity. The podcast takes on two new or returning genre television shows per month along with a list-style discussion topic and a special behind-the-scenes interview with someone that's a part of the shows we discuss. Be sure to subscribe so that you never miss an episode, or simply listen to the latest installment below!
Subscribe: Apple Podcasts | Spotify | Stitcher | Acast | RSS
Michael Ahr is a writer, reviewer, and podcaster here at Den of Geek; you can check out his work here or follow him on Twitter (@mikescifi). Dave Vitagliano has been writing and podcasting about science fiction television since 2012. You can read more of his work here.