Features
Sci Fi Fidelity Podcast: From the Set of The Expanse
Showrunner Naren Shankar and lead actor Dominique Tipper spoke to us from the set of The Expanse to tease elements of the coming season.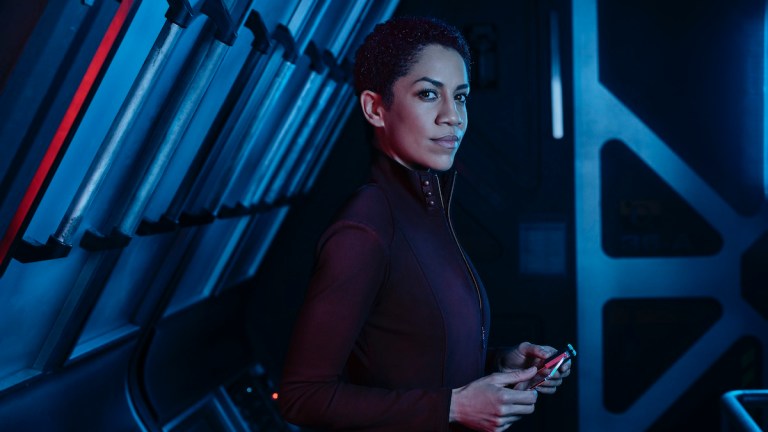 Dominique Tipper, who plays Naomi Nagata on The Expanse, was the very first interviewee we ever had on the Sci Fi Fidelity podcast back when we began in September of 2016, just when the Syfy show was getting started, and showrunner Naren Shankar visited with us in February of 2017 during season 2. Now, the two key players in the success of this space science fiction TV show join us once more from the set of season 5, which is currently filming in Toronto, to preview season 4. We asked them to tell us more about the storyline to come taking place on Ilus, the first planet encountered by humans beyond the Ring gates.
The first thing Tipper had to mention was the challenge for Naomi, with her brittle Belter bones, to be planetside for the first time. "We very much get to see this season what it takes for a Belter to change themselves and show what they need to do to their body to step foot on a planet or be in atmosphere," she tells us. "And so I think there's a lot of things riding on Naomi going to Ilus… She's the only Belter perspective in the group, and also her own curiosity and for her and Holden as an option. So there's a lot riding on it for her personally."
Not that Ilus is all that hospitable! Tipper told us how cold it was on location on the Ilus set, while Shankar appreciated its sparse beauty. "When you see even the first episode of season 4, it's a beautiful location," he says. "We were looking for a desolate frontier, and we shot in an active quarry. We used a lot of drone photography to get the vistas, and it's really quite striking. And what you're seeing in there is actually — we did virtually nothing in terms of visual effects cleanup or changing it. That's the way it looks; it looks alien as hell."
more: The Expanse's Cara Gee Talks Indigenous Representation
Even though the show will be going down the gravity well to a barren landscape this season, Shankar assures us that there will be plenty of space-based conflict that The Expanse fans love. "It wouldn't be The Expanse if you didn't have certain kinds of scenes… We've got three different kinds of ships: an Earth ship, a Belter ship, and the Rocinante in orbit around an alien planet with machines that were created by the protomolecule that are slowly coming to life. Surely what bad things could happen with that? Nothing! Nothing!" he laughs. "So yes, there are plenty of opportunities for showcasing the elements that The Expanse has come to be known for."
Part of the familiarity that we all appreciate about The Expanse comes from the Rocinante crew being challenged in ways that play to their skills, such as Alex's excellent piloting or Naomi's engineering expertise. "That's the great thing about season 4. Even with the introduction of all the new characters, there are play-ins to all of the characters that we know and love in a way that just keep adding to the richness of the characters," Tipper says. "And we definitely see a bunch of situations where all our favorite traits from everyone in the Roci crew gets tested."
Tipper and Shankar skirted delicately around spoilers when we asked them about character backstories that might be addressed in The Expanse season 4, but Shankar did give us one tidbit with regard to his fellow interviewee. "We do get into backstories — and some very interesting backstories! There's a lot of Naomi's past that comes up in the course of season 4," he teases. "We see Marco, the person that she was involved with that we've been talking about for some time, and you get a lot of interesting insights into that. That's one of the big actual reveals of the season."
For more insightful moments, fans will have to wait until The Expanse season 4 returns on Amazon Prime Video on December 13, 2019. Be sure to subscribe to Sci Fi Fidelity so that you never miss an episode! Each week we review a currently airing show, discuss a topic of interest to genre television, or interview someone from behind the scenes of our favorite series. Plus, this week we announce the winners of our The Art and Making of The Expanse giveaway! Find us in your podcast app of choice or simply listen below!
Subscribe: Apple Podcasts | Spotify | Stitcher | Acast | RSS
Michael Ahr is a writer, reviewer, and podcaster here at Den of Geek; you can check out his work here or follow him on Twitter (@mikescifi). Dave Vitagliano has been writing and podcasting about science fiction television since 2012. You can read more of his work here.