Features
Sci Fi Fidelity Podcast: Star-Crossed Lovers
The discussion topic this month on Sci Fi Fidelity deals with alien-human love stories on television, and we've got some classics!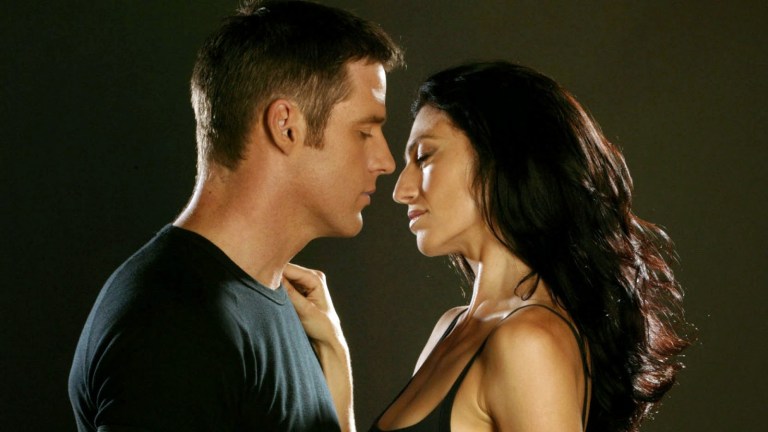 Aliens and humans sometimes fall in love in science fiction television despite their differences, and as Valentine's Day approaches, we were inspired by an earlier article to talk about our favorite couples. The discussion topic for this month on Sci Fi Fidelity also springs from the arrival of Roswell, New Mexico on the CW, which concentrates on the romance of its story perhaps more than any other show on our list. We also sought to fine tune some of the questionable examples from earlier, since Odo and Kira and Fry and Leela were not technically alien-human lovebirds.
Related: Why Roswell, New Mexico Only Works in Today's America
We kept some of the expected classics such as Aeryn Sun and John Crichton from Farscape, pictured above, and Dick and Mary from 3rd Rock from the Sun, but we put our own twist on choices from Doctor Who (the only currently airing show on our list) and the original Roswell. Plus we add a couple of new sci-fi romances to the mix to make up for the "cheating" in the article from before. You'll have to listen to the podcast to hear what we came up with.
Each month, the Sci Fi Fidelity podcast reviews two genre television shows that deserve your attention, shares an interview with someone behind the scenes, and discusses a topic like this one with each of the two hosts selecting three examples from currently airing shows or series from the past. Each 20-30 minute podcast comes weekly at noon Eastern on Sundays (or earlier if you subscribe below).
We welcome listener feedback for our discussion topic, and we'll share your contributions on the podcast! Just watch for and respond to the announcement on Twitter or Facebook, or you can send us an email to share your choice. We also welcome ideas for upcoming discussions! Listen to our "star-crossed lovers" discussion below or subscribe wherever you get your podcasts.
Subscribe: Apple Podcasts | Spotify | Stitcher | Acast | RSS
Michael Ahr is a writer, reviewer, and podcaster here at Den of Geek; you can check out his work here or follow him on Twitter (@mikescifi). Dave Vitagliano has been writing and podcasting about science fiction television since 2012. You can read more of his work here.