Features
Sci Fi Fidelity Podcast: Patrick Macmanus Talks Life After Happy!
Our genre television podcast hosts talk to Happy! executive producer Patrick Macmanus about the end of Happy! and what's next.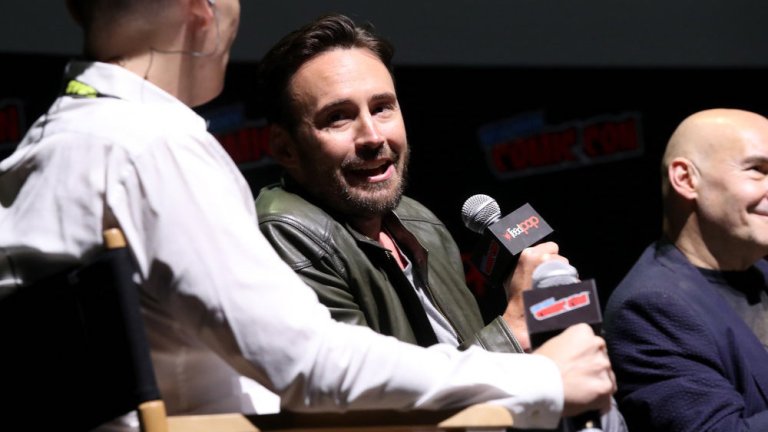 Before we knew that Happy! was canceled, we had a chance to speak to one of the executive producers of the show, Patrick Macmanus, who talked to us about season 2 of Happy! on Syfy and where the show might have gone had it been renewed for a season 3. The good news is that Macmanus has an overall writing deal with Universal Content Productions (UCP), so he will likely show up again on one of NBCUniversal's family of networks.
Macmanus also spoke to our Sci Fi Fidelity podcast hosts about a couple of adaptations in the works. The first has us Kurt Vonnegut fans very excited: a television version of the mind-bending, anti-war novel, Slaughterhouse Five. "I'm both lucky and cursed to have been given this project," Macmanus told us. "When UCP originally asked me if I wanted to do it… I immediately jumped at it and said, 'Of course I do!' And then I sat down and really thought about what I had done and realized that I may have just shot myself in the face! How do you do Vonnegut?"
further reading: Happy! and the Art of Adaptation with Patrick Macmanus
We have faith in Macmanus' ability to find a way, not only with Slaughterhouse Five but also with his true crime podcast adaptation of Dr. Death, which tells the story of the shocking malpractice of Christopher Duntsch, whose misdeeds resulted in the paralysis or death of many of his patients. "I actually found adapting Dr. Death to be relatively easy," Macmanus said. "I love the underlying theme of it, which is that it isn't about a bad guy doctor run amok. It's ultimately about a system and how a system has protected this guy."
Hear all about Macmanus' projects new and old by subscribing to Sci Fi Fidelity wherever you get your podcasts. We release new episodes every Sunday covering currently airing TV shows, discussing topics of interest, and interviewing people behind the scenes. Or simply listen to the latest episode below!
Subscribe: Apple Podcasts | Spotify | Stitcher | Acast | RSS
Michael Ahr is a writer, reviewer, and podcaster here at Den of Geek; you can check out his work here or follow him on Twitter (@mikescifi). Dave Vitagliano has been writing and podcasting about science fiction television since 2012. You can read more of his work here.