Features
Sci Fi Fidelity Podcast: Outlander Season 5
Our Sci Fi Fidelity podcast hosts share their appreciation for the time travel elements of Outlander as they talk about season 5 on Starz.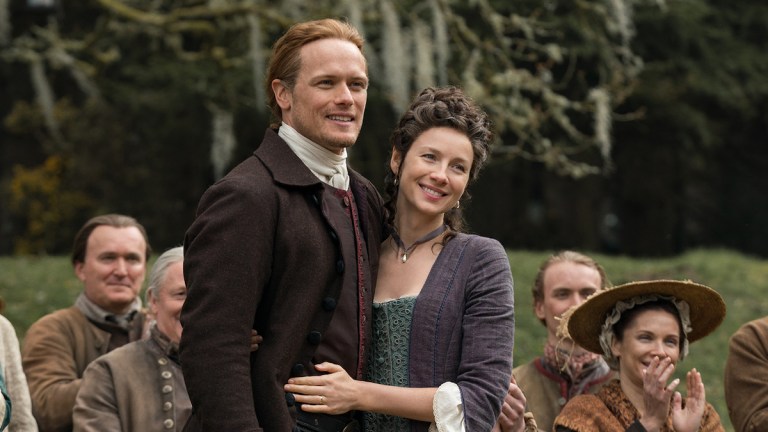 Outlander is long overdue for a discussion on Sci Fi Fidelity even though some might argue it's more of a historical drama than a science fiction offering. However, we couldn't resist sparing the time to admire the time travel implications of the first few episodes of season 5 which has main character Claire increasingly dismissive of any consequences her life-saving measures might have on history as we know it. For that reason alone, it deserves an episode of the podcast, but we also acknowledge the success of the show given how long it has lasted and found a sizable fandom on Starz.
Before we dive deep into the first two episodes, as is our wont, we take some time to look back at the story that has led Outlander across two decades and as many continents. Claire Randall's time as a World War II surgical nurse has served her well over the seasons, and her relationship with highlander Jamie Fraser has stood the test of time and periods of separation. In fact, it's the passage of time that led to their daughter Brianna being born, which has been a key part of their relationship and a central part of season 5 thus far.
After Outlander's Scottish origins, it has been interesting to watch the show explore American history more recently. The drama within Fraser's Ridge and Jamie's dilemma of cooperating with the redcoats while remaining true to his roots and his countrymen who defy the unfair rule of the British provides a majority of the compelling conflict of the show, while Jamie's relationship with his godfather Murtagh is a huge source of tension for the viewers. We spend some time figuring out the best course of action for both of the headstrong Scots while acknowledging that trouble lies ahead regardless of what happens.
But it's the fact that Claire is willing to disregard what might happen to history if she invents penicillin a century before its time that captures our time travel loving attention in the podcast. We applaud Brianna's sense of caution while understanding that Claire places priority on saving lives, not preserving any kind of timeline. Time travel is also at one of the core decisions the family needs to make: whether or not to send Brianna and Roger back to the twentieth century for the sake of their child.
That is, of course, if the baby is Roger's and can make the journey through the stones. The story of Brianna's rape and the nearness of the perpetrator Bonnett really sets our nerves on edge for this part of the Outlander story, and her obsessive drawings give us as much trepidation as it does Roger. Season 5 has really done a great job of setting up several narratives that have us on the edge of our seats while still taking the time for a joyous wedding and the intimate celebration that has become a hallmark of the show.
There's not much of a spoiler zone in this edition of the podcast since only three episodes of Outlander had aired at the time of recording, and the third one was a bottle episode that wasn't all that enjoyable. Nevertheless, we have high hopes for more intrigue and adventure to come for the series, which has become fan phenomenon from one of our favorite showrunners, Battlestar Galactica's Ronald D. Moore. Be sure to subscribe to Sci Fi Fidelity so that you never miss an episode! Each week we review a currently airing show, discuss a topic of interest to genre television, or interview someone from behind the scenes of our favorite series. Find us in your podcast app of choice or simply listen below!
Subscribe:
Apple Podcasts
|
Spotify
|
Stitcher
|
Acast
|
RSS