Features
Sci Fi Fidelity Podcast: Michael Emerson's Evil Antagonist
Michael Emerson tackles another 'villain with shades of gray' role in Evil, the supernatural courtroom drama coming to CBS this fall.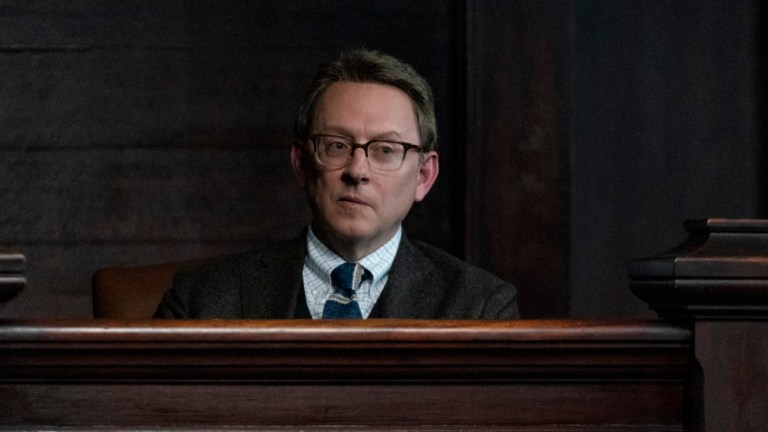 Michael Emerson is no stranger to playing likable villains, having entered most genre fans' awareness as Ben Linus in Lost, and now he's playing another charming antagonist in CBS' upcoming supernatural courtroom hybrid, Evil, beginning on September 26, 2019. Fans of Emerson's other notable lead role as the morally ambiguous Harold Finch in Person of Interest will no doubt enjoy his return to the network in another genre-defying show attempting to capture both mainstream audiences and those who enjoy more metaphysical fare. We spoke to Emerson about what drew him back to the small screen for this project.
One obvious incentive was getting to work with Robert and Michelle King, who created the immensely successful The Good Wife for CBS and who will be running Evil as well. "Courtroom drama is kind of their specialty; they're really comfortable there," Emerson says. "They know how to write that stuff, but they're good writers on all fronts I think. So this one is not so much courtroom centered. It's a little more investigation into strange events and also into their own heads about what do they believe in or what are their fears or is there anything supernatural in their lives."
Evil follows a skeptical psychologist (Katja Herbers of Westworld) as she works with a priest-in-training (Mike Colter of Luke Cage) to solve unresolved cases of the unexplained in a very Mulder-Scully The X-Files framework. "It does echo that setup of the odd couple investigating mysterious events," Emerson concedes. "In this case… because the Kings are such good writers about courtrooms, this has a lot to do with claims or accusations of demonic possession in cases of capital murder and other kinds of cases. But the ongoing story is the leads looking into cases of what seems to be supernatural intervention in the affairs of man."
related: Westworld Creators Think Their Dystopia Is Humanity's Best Chance
Emerson plays Leland Townsend, an expert defense witness who hides his true involvement in the violent crimes being investigated behind a charming personality. "He's a likable guy: friendly, helpful," says Emerson. "Butter wouldn't melt in his mouth, but he has a secret life, a really dark and dangerous one. And he's going to be a thorn in the sides of our heroes throughout the series. I'm not sure myself what his real deal is, but he knows a whole lot more about a kind of demonic underworld than anyone would've guessed."
Having famously played Ben Linus on Lost, called by Variety "one of the greatest villains in television history," and more recently the villainous hacker Cayden James in Arrow, Emerson admits he loves to play the bad guys. "I'm really attracted to ambiguity, and I like mystery, and I like not knowing. I like to keep an audience off balance," he says. "Plus I just have to say, a villain, as I sometimes play, is far more interesting work than to play the good guys. I'm not sure I know how to play an unadulterated good guy. There are traps you can fall into; I suppose you could end up playing serial killers for the rest of your life, and I don't really relish that. But I do like shades of gray, and I think Mr. Townsend is definitely gray."
Some might say Emerson is perfect for a courtroom drama seeking to build a deeper mythology, having won his two Emmys for The Practice in 2001 and for Lost in 2009, and if Evil can combine the two audiences, it should find success. "It's interesting that way and a departure for CBS I would say because I don't remember a CBS show that had a horror component in it," Emerson observes. "There's some scary stuff in this show, which is interesting. I'll be curious to see how it flies and what the audience reaction is. When they played the trailer for it at the upfronts, the audience gasped at a couple of points in it, so that's a positive. And there seemed to be a lot of excitement about it; people like the thrills and chills, and I think they may get them from Evil."
Viewers will be able to decide for themselves if Evil has the magic formula when the show premieres on September 26, 2019 at 10/9c on CBS and CBS All Access. The full audio of this interview, including more discussion of Evil, Lost, Person of Interest and Michael Emerson as an actor, is available as part of our Sci Fi Fidelity podcast. Each week we review a currently airing show, discuss a topic of interest to genre television, or interview someone from behind the scenes of our favorite series. Find us in your podcast app of choice or simply listen below!
Subscribe: Apple Podcasts | Spotify | Stitcher | Acast | RSS
Michael Ahr is a writer, reviewer, and podcaster here at Den of Geek; you can check out his work here or follow him on Twitter (@mikescifi). Dave Vitagliano has been writing and podcasting about science fiction television since 2012. You can read more of his work here.