Features
Sci Fi Fidelity Podcast: Raising Dion and the Power of Family
Our genre television podcast hosts talk to Jazmyn Simon about Netflix's Raising Dion and her role as the budding superhero's aunt.
The premise for Raising Dion may seem simple: a single mother struggles to raise her seven-year-old son when suddenly he begins to manifest superpowers. But this family drama from creator Dennis Liu and executive producer Michael B. Jordan is anything but a typical superhero tale. When the show premieres on October 4, 2019, audiences will certainly see a boy with powers, but they will also experience the community that surrounds him, including family members like his "Auntie Kat," played by Jazmyn Simon, who spoke to us about her role and the series at large.
Simon herself recently had a baby boy with her husband and Ballers co-star Dulé Hill, and even as a cast member of Raising Dion, witnessing the story of a single mom touched her, particularly during a flashback scene in which Nicole (Alisha Wainwright) tells her husband (Michael B. Jordan) that she's pregnant. "I cried when I saw that because it was such an emotional scene and the struggle of her having to be a single mother because at that point… you already know that he has superpowers," says Simon. "And so you know that she's going to have a real struggle and that Dion's going to have to work through some stuff. And the flashback just meant so much to me, and I'm like, 'Oh no, girl! You have no idea what you're getting into! Motherhood is hard!'"
Simon's character is Nicole's sister Kat, who tends to mother her younger sibling even though she's only a year older. "The background with Nicole and Kat's characters is their parents are doctors, and so both Nicole, played by Alisha Wainwright, and myself went to medical school," Simon explains. "But Alisha is the free spirit of the bunch, and she wanted to be a dance major. So she drops out of medical school while Kat continues on to medical school and becomes a doctor. So their parents continue to financially support Kat through college; however, with Nicole, because she dropped out and wanted to be a dance major, her parents cut her off. So she had to find her own way, and that plays out a little bit in her interactions with other people and with Kat."
Kat's protectiveness does prove quite useful in Raising Dion, but it also creates some friction between the sisters when Dion's powers begin to present themselves. "Because Nicole is a free spirit, a lot of times Kat doesn't believe what's going on with Nicole," says Simon. "She thinks that the situations that Nicole is in is because she's put herself in those situations. So you see a couple of funny bits. Because Kat is a doctor, she thinks about checking her sister into a mental institution because she just can't believe that this little kid has superpowers — because she's a doctor; she believes in science."
Simon is no stranger to playing doctors having played one as Julie Greane in HBO's Ballers, but in Raising Dion, her medical profession will be much more prominent. "In real life, I'm afraid of blood, so people have graciously written me in as a doctor so I can live vicariously with fake things, with fake cadavers and fake knee surgeries and fake IV bags on Raising Dion," says Simon. "I never had one surgery or had to do anything on camera on Ballers, so at least on this show I'm actually doctoring. I get to do some doctor stuff, which was very hard. I was like, 'Excuse me, med tech, can you show me how to do that? I have no idea what I'm doing!' It's a lot of work to be a fake doctor, guys."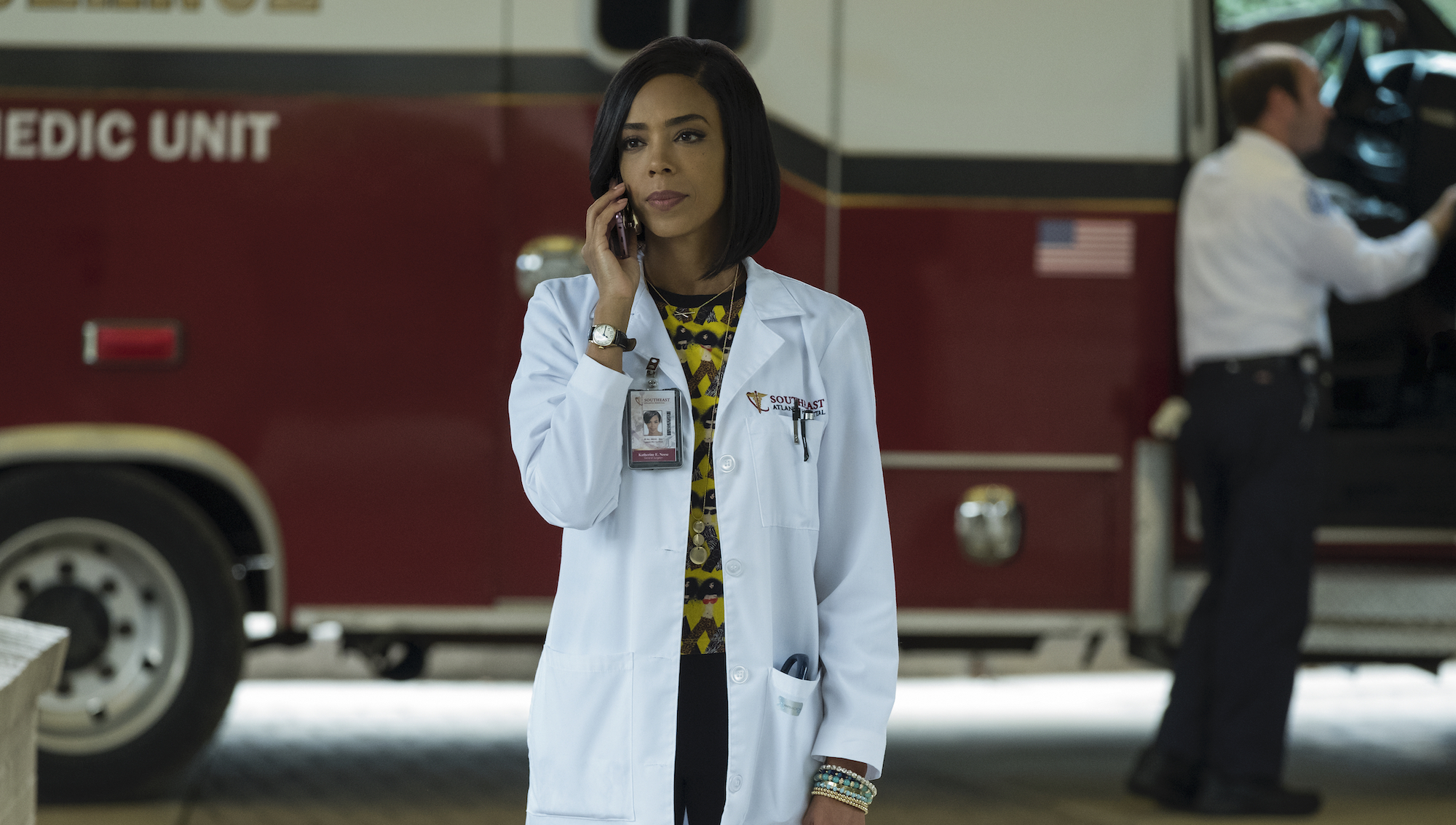 Kat also happens to be a lesbian character, but Simon notes that her sexuality doesn't inform her story in Raising Dion, nor should it. "I am really looking forward to people seeing that that didn't matter that she was a lesbian. It didn't change anything about her," notes Simon. "It's kind of like an aside; she's in a relationship and it happens to be [with] a woman. Because I think in today's society we have an image of what a lesbian is and what they're supposed to be like and their demeanor, and in no way does Kat fit any of that. She's just a woman that's in love with a woman… and I think that's very important for all people to be displayed on television as their normal selves… They didn't write her and say, 'Now do lesbian things.'"
The same approach holds true for other characters in the show, like Dion's school friend Esperanza, who's in a wheelchair. "Sammi [Haney], who plays Esperanza, is a little scene stealer… with her cute little bubbly personality and her little quippy comebacks," says Simon. "I think she's just so talented, and that's one of the many things that I love about Raising Dion is because it's such a diverse cast. Not just racially diverse or ethnically diverse; Sammi who plays Esperanza has brittle bone disease, and so she's in a wheelchair. And she just shows you that even though I have this issue, I can still overcome it. I can still be a star, and I can still act, and I can still represent for other kids that are in wheelchairs."
more: Raising Dion Release Date, Trailer, and Everything to Know
Even filming and setting Raising Dion in Atlanta felt like the right choice for the show and its diverse cast, according to Simon. "I'm glad that Atlanta got showcased as Atlanta, and it is a character on the show," she says. "Racism is not a unique thing to Atlanta, but I'm glad that we do touch on a couple of topics in the show about Dion going to an all-white school and how that's affecting him. And he's such a little boy that he doesn't really understand what's happening. I think that speaks true to any walk of life, any city… Atlanta is a melting pot, but beyond being a melting pot, there is upward mobility for blacks in Atlanta. It's cool to be a black woman in Atlanta! There are mayors and attorneys and doctors and business owners, and you see that and it's alive and it's well."
There are many points of view that viewers will come to Raising Dion with, and some might tune in because of Michael B. Jordan's involvement as executive producer and as Dion's father, who will appear in flashbacks. "At the beginning of the series he's already passed away, but you get to see his sparkling smile throughout the entire series," Simon assures us. "He pops in here and there, and when he does, he dazzles us like Michael B. Jordan can and does in a flashback capacity, and I'm not giving anything away by saying that because we know that she's a single mom… We are very lucky to have him in front of the camera as well as behind the camera. I think that the people that might not tune in will lay eyeballs on it because Michael B. Jordan is attached."
Others might have seen Dennis Liu's original short film or the comic and be anxious to see the story adapted for television. "When the role came my way, and I watched the short, I was completely blown away," admits Simon. "Dennis is a genius in my opinion because he's an Asian guy, and he wrote this story about a single black mother and her black child who has superpowers… I loved the short; I love our show; I loved the comic book, and I'm really excited for everybody to see what his mind created. It just goes to show you that people don't have to do just one thing…  and I'm glad that Michael B. Jordan and Outlier and Kenny Goodman saw this and believed in it, and brought it to MACRO and brought it to Netflix, and now it's come to life."
Raising Dion will be coming to Netflix with nine episodes on October 4, 2019, and the full audio of this interview is available on our Sci Fi Fidelity podcast. Be sure to subscribe so that you never miss an episode! Each week we review a currently airing show, discuss a topic of interest to genre television, or interview someone (like Jazmyn Simon) from behind the scenes of our favorite series. Find us in your podcast app of choice or simply listen below!
Subscribe: Apple Podcasts | Spotify | Stitcher | Acast | RSS
Michael Ahr is a writer, reviewer, and podcaster here at Den of Geek; you can check out his work here or follow him on Twitter (@mikescifi). Dave Vitagliano has been writing and podcasting about science fiction television since 2012. You can read more of his work here.